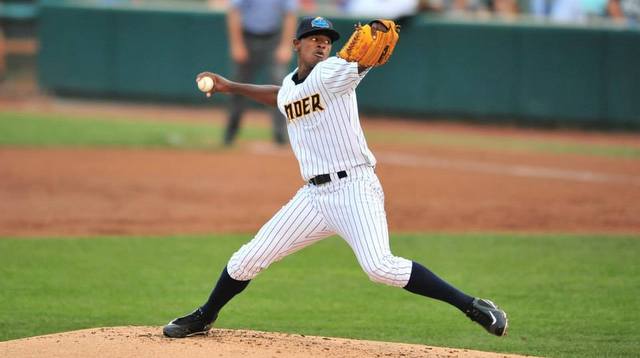 At this point it goes without saying the Yankees have some major injury risks in their rotation heading into next season. We've been talking about it all winter. CC Sabathia, Michael Pineda, and Masahiro Tanaka were all hurt for significant periods of time last year and Ivan Nova is still on the mend from Tommy John surgery. There's no way to feel comfortable with this group from a health standpoint.
Of course, the Yankees did actually deal with a ton of rotation injuries last year, and they were still able to cobble together a decent staff. At one point five of the six best starters in the organization (Sabathia, Pineda, Tanaka, Nova, David Phelps) were all on the disabled list, yet Brian Cashman & Co. dug up a Chris Capuano here, found a Brandon McCarthy there, and made it work. Even with the injuries, the rotation had the fourth highest fWAR in baseball (14.9). It helps that no one can hit anymore.
As with Shane Greene last summer, the Yankees will inevitably have to dip into their minor league pitching reserves at some point this summer, and it appears Bryan Mitchell is first in line for a call-up after making his MLB debut last year. Chances are the team will need more than one fill-in starter though. That's just baseball. Getting through a season using only five or six starters never happens these days. Add in the Tanaka, Sabathia, and Pineda injury risk and the Yankees are even more likely than most to need extra starters.
New York's top prospect heading into the 2015 season is soon-to-be 21-year-old right-hander Luis Severino, who is the team's best right-handed pitching prospect since pre-2008 Joba Chamberlain. In their midseason updates, Baseball America and MLB.com ranked Severino as the 34th and 62nd best prospect in baseball, respectively, and he's only climbed further up those rankings since. You will find no argument that he is one of the top pitching prospects in all the land.
The Yankees have very clearly put Severino on the fast track — he made 14 starts for Low-A Charleston, four for High-A Tampa, and six for Double-A Trenton in 2014 — and there's little reason to think they'll slow him down now. I don't expect him to start the season with Triple-A Scranton but he'll be there soon enough, likely by May or at the latest June. Once he's there, it's only a matter of time before he gets the call to the show. The Yankees usually don't let their top pitching prospects spend much time in Triple-A. It's just a quick stop on the way to MLB.
There is a very clear path for Severino to join the big league team at some point in 2015, likely around midseason after a last little bit of token fine-tuning in the minors. His performance speaks for itself — he had a 2.46 ERA (2.40 FIP) at those three levels last year — but we can't forget there is more to prospecting that stats. Severino himself admitted he needs to improve his command of the outer half of the plate and the consistency of his slider at MLB's Rookie Development Camp recently. Here, look:
Improving location and the consistency of his breaking ball are real issues Severino has to address and things that can be improved and worked on in the minors, where wins and losses don't matter. Severino might be able to get by without pitching to both sides of the plate or by hanging a bunch of sliders against minor leaguers, but the big leagues are unforgiving. Execution is more important than potential.
Even if Severino does master the outside corner and learn how to throw his slider where he wants, when he wants, there is still the issue of his workload. Severino threw 44 innings plus some unknown amount in Extended Spring Training in 2013 and then 113.1 total innings in 2015. That puts him on track for what, 150 innings in 2015? Maybe 160 if you really want to push it? Perhaps that will be enough — Greene threw 145 innings last year, but only after that weird April in which he went up-and-down a bunch of times and never really pitched (6.1 total innings in April — but more than likely it only makes Severino a temporary solution until he has to be shut down.
The workload is just something the Yankees and Severino will have to deal with. I hope they have learned from the Joba fiasco in late-2009 and will simply shut young pitchers down when they approach their innings limit rather than try something silly like 35-pitch starts or something like that. (My goodness that was such a mess.) There are innings Severino will be able to contribute to the big league team before the shutdown, but only a finite amount, and the quality of those innings is a total unknown.
A quick search shows 40 instances (featuring 31 different players) of a pitcher age 21 or younger starting at least five games in a season for an AL team since the turn of the century, and, of those 40, only 17 had a league average or better ERA. Just four have done it since 2007. Here's the list. It's not often pitchers this young get a somewhat extended shot in MLB, and those who do are rarely more than serviceable. It's one thing if the Yankees call up Severino in 2015. It's another if they call him up hoping he makes an impact rather than simply allowing him to get his feet wet.
Believe me, I would love nothing more than to see the Yankees bring up a hotshot pitching prospect and have him dominate this coming season. And with all due respect to Greene, I don't mean someone like him. Someone like Severino, who is among the best pitching prospects in the game and could be a rotation fixture for years to come. That would be amazing. I don't see how anyone could realistically expect that though. Severino might get a chance to help the Yankees in 2015, but if it comes in a spot where they need him to make a difference, he'll be coming up under the wrong circumstances.