We've been having some pretty serious technical problems here — the front end of the site was working fine for the most part, but the back-end was completely borked, hence the recent lack of posts — but things seem to be working fine now.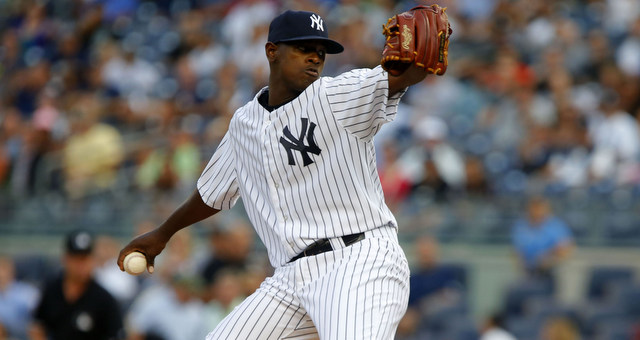 Top pitching prospect Luis Severino made his big league debut Wednesday night, holding the Red Sox to two runs in five innings. He struck out seven, didn't walk anyone, and allowed only two balls to be hit out of the infield. I was planning some kind of breakdown post, but when I started writing it I found myself jumping all over the place, so I guess it's better to put it in thoughts format. Here it is, a day late because of our technical issues.
1. Overall, Severino looked very impressive while also looking very much like a 21-year-old kid making his MLB debut. He faced 18 total batters and a) threw only five first pitch strikes, b) went to six three-ball counts, and c) threw at least five pitches to 12 batters. On the bright side, he got to 14 two-strike counts. Otherwise Severino was behind in the count a whole bunch and had lots of long counts, which is one of those "21-year-old kid making his MLB debut" things. Severino also put a 2-0 fastball on a tee for David Ortiz, which he promptly hit halfway up the right field bleachers. Not the most well-pitched at-bat: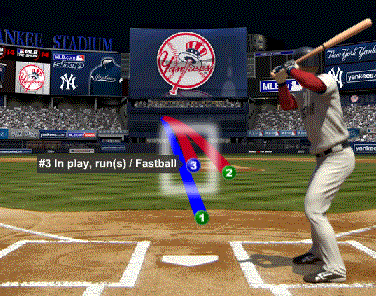 Yeah. Rookie mistake. Don't do that again, Luis. Giving up a long homer to Ortiz is something of a baptism for a rookie Yankees starter, I suppose. At least Severino got his out of the way early. Otherwise yeah, the long at-bats were annoying but expected. They come with the territory when breaking in a rookie hurler.
2. The initial PitchFX data said Severino threw only four changeups, but that didn't seem right. The reclassified data at Brooks Baseball shows he threw 17 changeups, which makes much more sense. That matches up with the eye test. The data says Severino had a nice pitch mix — 51 fastballs, 26 sliders, 17 changeups — and that backs up the scouting reports. He was billed as a guy with a big fastball (averaged 96.5 mph) and secondary stuff that ranged from ordinary to excellent depending on the day, though he is not afraid to throw anything at any time. Severino's a 21-year-old kid, remember. He's not a finished product. His offspeed stuff is still being refined. That he threw plenty of sliders and changeups was very encouraging though. Lots of pitchers get fastball heavy early in their careers — especially if they have mid-90s heat — because they're most confident in that pitch. Severino used everything.
3. I'm curious to see how Severino's fastball plays going forward. Yes, he has a ton of velocity (topped out at 98.3 mph) but his stride is pretty short, so he's releasing the ball further away from the plate. David Robertson sat 91-92 mph for the most part but hitters reacted like it was 97 because he had that long stride. Severino's kinda the opposite. He's not that tall (6-foot-0) and the Red Sox swung and missed only three times at his heater, or 5.9%. The league average swing-and-miss rate for a four-seamer is 6.9%. It's one start, so we have to watch this going forward, though I do wonder if Severino's fastball will "play down" relative to the velocity because of his lack of extension, so to speak.
3. Severino almost seems to be throwing a cutter, not a slider. The break is so short and he throws it very hard. Look at this thing: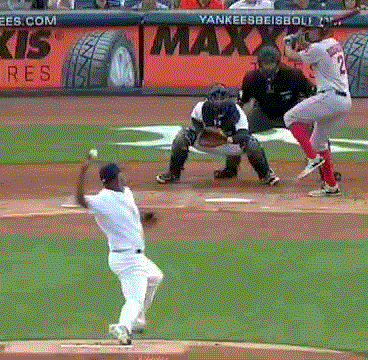 PitchFX clocked Severino's slider at 90.3 mph, which is bonkers. The fastest slider among qualified starters this year belongs to Jake Arrieta at 90.2 mph, and Arrieta does not throw a normal slider. Jacob deGrom (89.6 mph) has a slider in the "Severino range" and that's about it. It's unusual to throw a slider that hard. The Yankees are a cutter organization, they teach one to most pitching prospects — Manny Banuelos and Ian Clarkin both added one, for example — so it wouldn't be a surprise if Severino added one as well. If Severino was indeed throwing a slider, then boy is it short and snappy.
4. It could simply be a product of facing so many left-handed batters, but geez, Severino loves that outer half to righties/inner half to lefties. He lived there all night (this is from the catcher's view):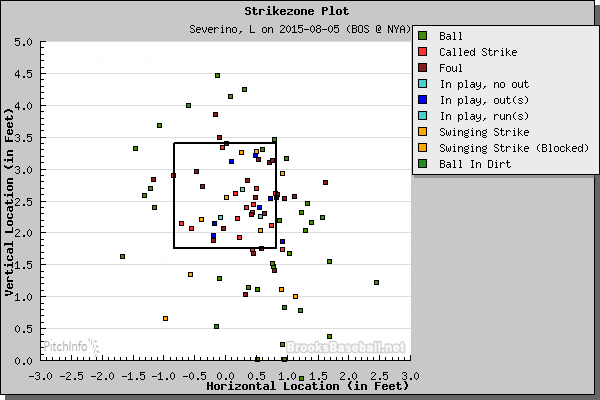 That's another thing to watch going forward. Every pitcher has a comfort zone and maybe Severino's is that side of the plate. His fastball is so good and his slider/cutter is sharp, so it won't be a huge problem if he gets predictable and lives on that side of the plate every start, but at some point you want to see him come inside to righties and stay away from lefties, just to keep them honest. Again, one start, no big deal right now. Just something to watch.
5. I still wish the Yankees would have traded for a starter at the deadline and yes, I still would have traded Severino for David Price or Cole Hamels. Give me the no-doubt ace. The last two months of a postseason race are not exactly the ideal time to break in a rookie starter, at least not to me. Don't get me wrong, Severino looked very good and I'm excited to see him again on Tuesday. But, for the purposes of winning the division and making a deep run in October, another starter sure would have helped. This rotation is basically the bare minimum for contention.