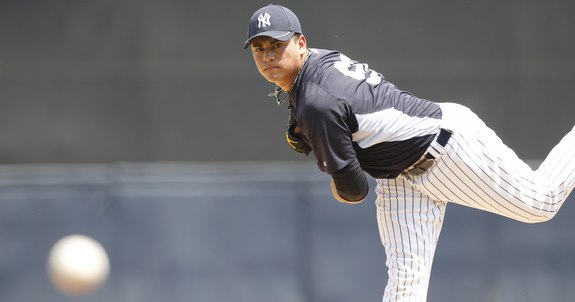 The Yankees had a very position player heavy farm system coming into the season. In my stupid little Preseason Top 30 Prospects List, their top six and ten of their top 14 prospects were position players. Two of the four pitchers in the top 14 are with Low-A Charleston and another is an injury prone Triple-A reliever. The other is lefty Manny Banuelos, who was the team's top prospect as recently as 2012.
Banuelos hurt his elbow twice during that 2012 season — first he suffered a bone bruise, then he tore his UCL during the rehab and needed Tommy John surgery — and he did not pitch at all last year. Banuelos missed close to two full seasons due to the injuries but he is fully healthy now and back pitching in the minors. Last night's two-out, three-walk outing was a disaster, but overall he has 23 strikeouts and eight walks in 22.1 innings this year, which is pretty good following elbow reconstruction.
The Yankees have limited Banuelos to short, three-inning outings for the most part. Considering there is a lot of talk right now about the recent rash of second Tommy John surgeries (Jarrod Parker, Kris Medlen, Brandon Beachy, Cory Luebke, Daniel Hudson, etc.) stemming from teams and players being too aggressive during the first Tommy John surgery rehab process, I'm glad the Yankees are taking it slow with Banuelos. Here is his game log:
Banuelos was scheduled to work three innings in that April 19th start but got knocked out early because his pitch count was getting out of control. The same thing happened last night, though according to Nick Peruffo, Banuelos was scheduled to throw four innings for the first time this season. (He was scheduled to throw innings five through eight following Bryan Mitchell, who started and is working his way back from his own elbow injury.)
The Yankees took it very easy on Banuelos for the first five or so weeks of the season but now they are beginning to stretch him out. I'm sure he'll throw four innings a handful of times before progressing up to five innings and eventually six. Obviously they're doing this because of the elbow surgery, but that's not the only reason. Banuelos is on some unknown innings limit this year and the Yankees want to make sure there are plenty available later in the season so he could help the big league team down the stretch.
"He'll increase (the length of his outings) over the course of the year," said VP of Baseball Ops Marks Newman to Chad Jennings recently. "We don't want to cut back at the end of the year. You never know, if he makes great progress, maybe he's a Major League option (at some point). We don't want to run out of innings by September 1st or August 1st … We're going to make sure we have enough innings left at the end of the year."
The idea of taking it easy early in the season so there are plenty of innings left later in the year always makes me a little nervous because Banuelos could get hurt at some point — not necessarily re-injure the elbow, he could roll an ankle covering first base or something — and then he falls short of his prescribed innings total, leaving everyone stuck doing this again next year. I usually like getting the innings in early and shutting the guy down in the second half, especially prospects. That said, Banuelos is returning from a long layoff and major surgery, so I'm more than fine with it in this situation. That he might be in position to help the MLB squad in the second half is just a bonus.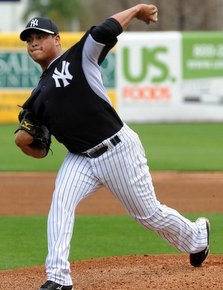 Banuelos was said to be very advanced for his age — he just turned 23 in March even though it feels like he's been around forever — before the injury but he was not big league ready, pitching to a 4.32 ERA (~3.88 FIP) with a 10.9% walk rate and a 1.83 K/BB ratio in 58.1 Triple-A innings before getting hurt. He had a 2.89 ERA (~3.45 FIP) with a 9.0% walk rate and a 2.73 K/BB ratio in 311 combined minor league innings before getting to Triple-A, so his trademark command had deserted him a bit. That's one of the things he will need to iron out in the coming weeks before becoming a legitimate big league option.
The good thing is that Banuelos' stuff has returned following elbow surgery, which is something we take for granted at times. Baseball America ranked him as the team's 11th best prospect before the season and noted he was sitting "at 93-94 in simulated games last fall" in their Prospect Handbook, plus we saw him throw both his changeup and curveball in Spring Training. Harnessing that stuff is his biggest issue and that's where the injury really hurts. It's a lot of lost development time. He has to make up for a lot of lost innings.
Most importantly, Banuelos is healthy. He's healthy and he's pitching, something he wasn't able to do for nearly two years. (Sunday is the two-year anniversary of the last time he pitched before this season.) Helping the Yankees later this season would be some major icing on the cake and I don't think the team should be counting on him as anything more than a token September call-up. I know the big league staff is a bit of a wreck and the carrot has been dangled, but right now Banuelos should be focused on improving his command, getting innings under his belt, and putting himself in position to make the 2015 team. It looks like he is very much back on track following the elbow problems. It's exactly what the Yankees wanted and needed to see from him this year.