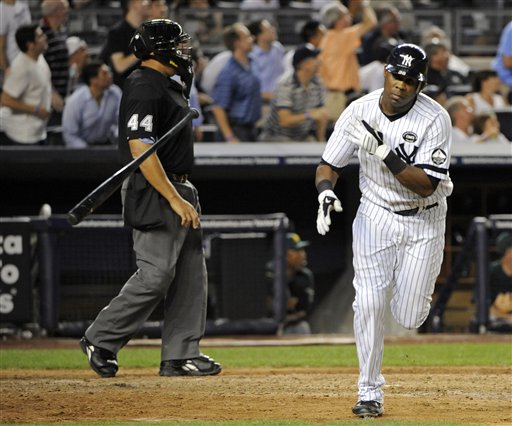 Marcus Thames has been everything the Yankees could have possibly asked him to be and then some. He was brought in to hit lefthanded pitching and has done just that (.300/.352/.454, .354 wOBA), but he's also been much better than expected against righthanders (.268/.347/.549, .382 wOBA). He's produced numerous big hits throughout the year, like this walk-off homer against the Red Sox, this walk-off single against the Blue Jays, this go-ahead homer against the Jays, and of course this go-ahead single against the same Rangers' club that the Yanks will face in the ALCS starting Friday. As good as Thames has been this season, his team is going to need just a little bit more out of him against Texas.
Although neither team has officially released their ALCS rotation yet, the Rangers are expected to start the series with C.J. Wilson and Colby Lewis before giving the ball to Cliff Lee in Game Three. Tommy Hunter is your probable Game Four starter. It's highly likely that each team will win at least one game at some point, meaning that Texas will be able to give the ball to a southpaw three times in the first five games of the series (Wilson twice, Lee once). These aren't your everyday lefthanders either. Wilson annihilates batters of the same hand (lefthanded batters had just a .205 wOBA with just five doubles and no homers off him this season) and Lee … well … is Cliff Lee.
Even though Curtis Granderson has improved immensely against lefties since working with Kevin Long (.380 wOBA vs. LHP since the changes that, ironically, took place in Texas), his offensive ability is likely to be somewhat compromised during those three games. Ditto Brett Gardner, even though he was more than respectable against lefties this season (.332 wOBA, .351 vs. RHP). Alex Rodriguez was uncharacteristically awful against lefthanders this year (a solid .335 wOBA, but Alex is held to different standards than mere mortals) as well. That's why they need Thames to be on top of his game, he's got to pick up the seemingly inevitable slack.
The good news is that Marcus has already shown he can do that, albeit in a tiny sample. When Mark Teixeira was away with his birth-giving wife in early August, Thames not only stepped in as the three-hole hitter for two games, he basically replaced (or even improved upon) Tex's production as well. He went 5-for-10 with a homer in the two games (started by Wilson and Lee of all people), with one of the hits being that go-ahead single linked above. He took Frank Francisco deep one inning before that to bring the Yanks to within one. Of course it was all or nothing for Marcus that series, because he struck out in the five plate appearances in which he didn't get a hit. That's the trade off you get with a guy like him though.
The Twins learned the hard way that the Yankee lineup is extremely deep with no easy out(s), especially their two lefties Francisco Liriano and Brian Duensing. Thames was a big reason for that, as he has been all season, but the team still needs a little more out of him. They know that, he knows that, the other team knows it, everyone does. Thames has been worth every penny of his $900,000 salary so far this season, but the job isn't done yet.
Aside: That's easily my favorite picture of the season so far. So badass. Here's that play, if you're curious…Also, check out this Wall Street Journal piece on Thames. Mike Sielski spins a great tale of Thames' friendship with former Yankee farmhands Jeff Nettles and Drew Henson as well as his time in Detroit.