In the box score, a 10-6 loss doesn't look nearly as lopsided as last night's Yankees/Rays affair was. Just one day after a heartbreaking loss to the Red Sox, the Yanks had to contend with a very hot first-place Tampa team. Jason Barlett homered to start the game, and the Yanks never caught up. Joaquin Benoit had to get the save after Andy Sonnanstine gave up four runs with two outs in what was a 10-2, but it just wasn't close.
Towering Hits: A home run for the bad guys, a home run for the good guys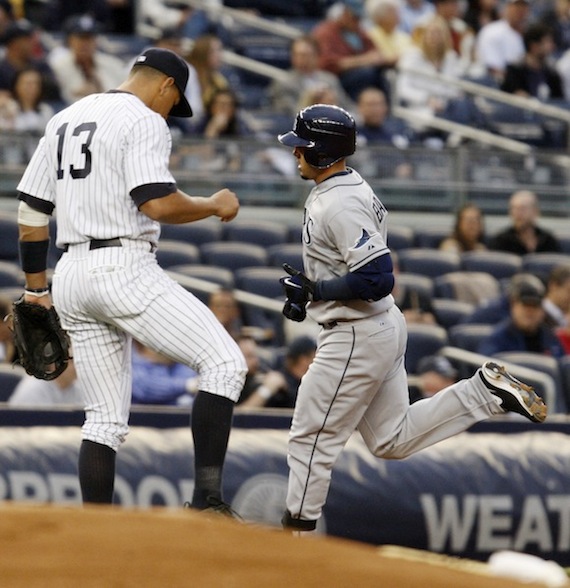 When the visiting team leads off with a home run, it sets a certain pace for the game. With that one swing, Tampa dropped the Yanks' win expectancy from a neutral 50 percent to 40.9 percent, and Bartlett's shot was the biggest one-AB swing in the game. For the Rays' short stop, it was his first home run since he led off against Joba Chamberlain Sept. 9 with a blast into left field at Yankee Stadium.
Still, despite the WE swing, it wasn't what I would consider to be the biggest hit of the game. That honor belongs to John Jason's ground rule double. As the fourth inning rolled around, we could clearly see A.J. Burnett struggling with his stuff. Two walks and a hit batter doomed Burnett in the third, and this time around, a pair of infield singles and a double steal had the Rays set up with two runners in scoring position and no one out. John Jaso laced a ground-rule double into left field, plating two. The Rays would add two more runs — both with two outs — as A.J. Burnett couldn't stifle the potent heart of the Tampa lineup.
Burnett just flat-out did not have command tonight. He toughed it out through 6.2 mostly to give the bullpen a rest, but he faltered in the big spots when he needed a third out in the fourth inning. His 67 strikes and 49 balls are telling.
For the Yankees, they're big hit belonged to Alex Rodriguez. While his booming shot off the restaurant in straightaway center field did little to alter the game, I opted to highlight his shot because he's flashing the power again. After ending April with a .250/.337/.440 triple-slash line and just two home runs, A-Rod has powered four over the fence this month. He now finds himself with a .295/.379/.503 line for the season. Small victories.
Biggest Out: A double play, a bases-loaded threat
For the Yanks, two at-bats loom large. Down 6-2 following A-Rod's home run, the Yanks seemed on the verge of mounting a rally. Robinson Cano singled, but then Francisco Cervelli tapped into a double play. Despite his dash down the line, the relay throw beat the Yanks' catcher by half a step, and the team seemed ready to roll over with the bottom of the order up.
Yet, the Bombers had something in them. On the next play, Marcus Thames hit a single to left, and instead of tossing his bat behind him, he threw it in front of him. It rolled down the line, and in an effort to avoid slipping, Thames twisted his ankle. He is day-to-day with a strained ankle, but the Yanks do not anticipate a DL stint.
Following Thames' freak injury, Juan Miranda walked, and Randy Winn — now just 1 for his last 12 and 3 for his last 24 — reached on an error. Derek Jeter came up as the tying run with two outs and grounded out to short. Jeter ended the game with his OPS below .700, and nearly 70 percent of his batted balls have been grounders. Hopefully, Jeter's bad play at the plate is just a slump, and as a A-Rod has this month, so too will Jeter snap out of it soon. That out effectively sealed the deal for Tampa as the Yanks' win expectancy dropped to 6.7 percent.
Death by Bullpen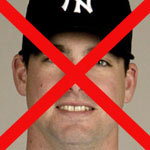 Where would this game have been though without another disastrous night from the bullpen? Hoping to keep the score close without burning through his top relievers, Joe Girardi gave Boone Logan the ball. He retired Gabe Kapler in the 7th, and that's the only nice thing I can say about this outing.
To start the 8th, Logan walked the left-handed Jaso on eight pitches and then gave up an RBI double to Sean Rodriguez. For Logan, it was another night where he faced three batters, retired one of them and saw another two runs added to his ERA.
With Logan out, Girardi went to Mark Melancon, and Melancon disappointed. He allowed the run he inherited from Logan to score and two others in eighth. Gabe Kapler struck out, but the damage had been done. Tampa Bay had a 10-2 lead and even a two-out, four-run rally by the Yanks could put the tying run only in the on-deck circle.
For the Yanks' bullpen, tonight marked the fourth straight day of pain. Since the Joba/Mariano meltdown against the Twins, Yanks' relievers have now allowed 19 runs — but only 16 earned — over their previous 10.1 innings spanning four games. Tonight, the only complaining I can do is over the fact that Boone Logan is still with the team; he shouldn't be. Otherwise, the Yanks aren't going to go to their overworked relievers in a four-run game, but the bullpen has to get outs to keep the team in the game. It's been downright ugly.
Paul O'Neill Rule
Because this entire game could be filed under "annoyances" — after all, the Rays scored a run from second on a fly ball to deep center — let's instead hope that the Paul O'Neill Rule will be in effect later tonight. That rule stipulates that a team which scores late in the game has momentum coming into their next contest. The Yankees will send Andy Pettitte (5-0, 1.79) to the mound at 7:05 p.m. with, well, someone in right field to staunch the bleeding. The Rays will counter with James Shields (4-1, 3.00), and hopefully, that late offensive burst will carry over into the final game of this two-game set.
WPA Graph
That ninth inning rally was mere smoke and mirrors. The Yanks' WE peaked at 2.3 percent after Ramiro Peña's RBI single.