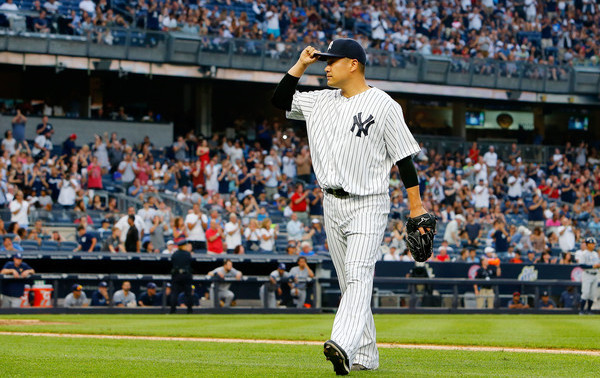 Even after two straight losses, the Yankees are still only two games back of the second wildcard spot with 19 games to play. FanGraphs puts their postseason odds at a slim 9.6% as of this writing, but hey, that's better than the 2.3% they were at nine days ago. Those odds can change real quick from one day to the next.
At 24-15, the Yankees have the second best record in the AL since selling buying for the future at the trade deadline. (The Royals are 25-14.) Gary Sanchez has had a monumental impact, Aaron Judge and Tyler Austin have had their moments, and young hurlers like Luis Cessa and Bryan Mitchell contributed too. The Yankees would not be where they are without these kids.
As productive as many of them have been, the young players are not the only reason the Yankees have climbed back into the wildcard race. That was never going to be the case. The Yankees weren't going to call up a bunch of prospects and let them carry the team into October. Some of the holdover veterans have contributed too, and in fact, the Yankees have veteran players in very important spots.
Front of the Rotation
It's easy to forget Masahiro Tanaka is still only 27 years old, isn't it? He's two months younger than Chris Archer and five months younger than Jacob deGrom. And yet, despite his relative youth, Tanaka is very much a veteran pitcher. He's thrown 477 innings with the Yankees on top of over 1,300 with the Rakuten Golden Eagles, with whom he won a championship and a pair of Sawamura Awards (Cy Young equivalent).
There's something reassuring about having a veteran ace on the staff. During his heyday from 2009-12, you knew CC Sabathia was going to go out every fifth day and give the Yankees a quality outing. Even his bad starts weren't that bad. We watched Andy Pettitte and Mike Mussina do the same for years and years. That's Tanaka now. He's very good, rarely bad, and every fifth day he's going to give the Yankees a good chance to win. (Remember when he couldn't pitch on normal rest? He's allowed six runs in 31.1 innings in his last five starts on normal rest.)
Back of the Bullpen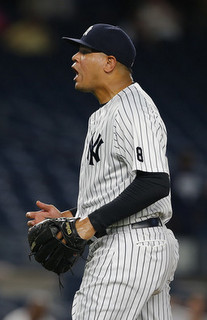 At this point Dellin Betances qualifies as a veteran, right? I think so. This is only his third full season, but he's already been a three-time All-Star, and Dellin's been throwing high-leverage innings for well over two years now. Relievers don't have the longest career life span in this game. Betances is a grizzled veteran compared to most bullpen guys.
Add in Tyler Clippard and Adam Warren, and each of the Yankees' three end-game relievers has been around the block. Veteran relievers melt down just as easily as rookies (see: Nathan, Joe), but there's always going to be the element of the unknown with kids. How do they handle intense late-season games with postseason implications? There's less wiggle room in the eighth and ninth innings because there's not much time to score any necessary runs. The more unpredictability you can take out of the bullpen, the better.
Top of the Lineup
As we've seen over the last three weeks or so, Brett Gardner and Jacoby Ellsbury really ignite the offense when they're both hot at the same time. The Yankees look like an entirely different team when those two are causing chaos. It's imperative they stay hot for the Yankees to reach the postseason, and when it comes to setting the table for the offense, the Yankees have two veteran leadoff men. They need them too; none of their young players fits the leadoff hitter mold. I guess maybe Mason Williams, though asking him to do that right away seems like too much, too soon.
In the Clubhouse
Even after their sell-off, the Yankees kept most of their leadership core intact. Andrew Miller and Carlos Beltran are gone, ditto Alex Rodriguez, but team leaders like Sabathia, Gardner, Brian McCann, and Mark Teixeira remain. Both McCann and Teixeira have had their roles reduced and that's surely tough for a veteran player. They haven't complained though. They continue to go about their business and help the young players. Young players are great! You need them to win these days. There also needs to be a leadership core in place to help those young players develop into winners, if not immediately than down the road.
* * *
At the end of the day, talent reigns supreme. It doesn't matter how many veterans you have or where they fit on the roster if the performance is there. Can having experience and good leadership help that talent translate into good performance more frequently? I firmly believe the answer is yes. The Yankees have turned their season around because their young players have (mostly) performed and brought a lot of energy to their team. The veterans still play a big role though, and they still occupy some very important spots on the roster.