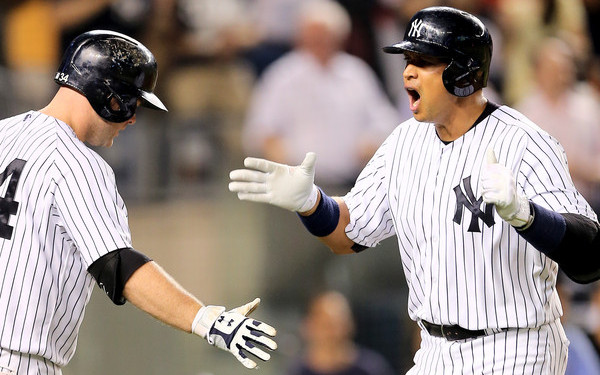 The Twins always seem to cure whatever ails the Yankees, don't they? The offense was sputtering, then the Yankees scored eight runs in back-to-back games. The bullpen was short, then CC Sabathia recorded an out in the seventh inning for the first time in a month and a half and only the second time in three months. A-Rod slumping? Grand slam. The Twinkies are always good for a pick-me-up.
The three-game series with Minnesota ends this afternoon and the Yankees are going for the three-game sweep, allowing them to stay atop the AL East. It seems like the only team capable of putting up a fight against the Blue Jays is the Yankees, isn't it? New York has won five of its last six games. Time to make is six of seven. Here is the Twins' lineup and here is the Yankees' lineup:
It's a little cloudy in New York and there's a slight chance of rain for most of the afternoon. Not a major storm or anything, but possibly some showers on and off. Hopefully nothing that interrupts the game. First pitch is scheduled for 1:05pm ET and you can watch on YES locally and MLB Network nationally. Enjoy the game.
Injury Updates: Michael Pineda (forearm) threw his bullpen today with no issues and will make another minor league rehab start Friday … Mark Teixeira (leg) is still really sore and is not even available to pinch-hit. The good news is the Yankees still don't consider this a DL issue and he remains day-to-day … Dustin Ackley (back) hit off a tee yesterday and will take more swings today.