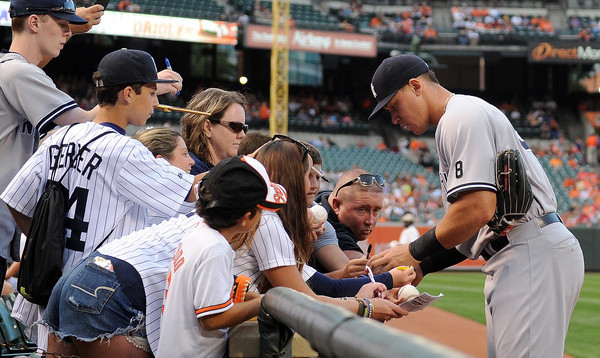 This afternoon's series finale is the most important game of the season. Those are Joe Girardi's words, not mine. He called it that following last night's loss. The Yankees have been shut out the last two days, and if you go back to last weekend's series, they've been shut out three straight times by the Orioles. Yikes.
The back-to-back shutout losses dropped the Yankees to 4.5 games back of the second wildcard spot. They haven't been that far back in almost two weeks, believe it or not. Today's game is the difference between 6-6 and 7-5 during this 12-game stretch against wildcard competitors. Either way, it's not good enough. Here is the Orioles' lineup and here is the Yankees' lineup:
It's again cool and cloudy in Baltimore, though the sun is supposed to be make an appearance later on. This afternoon's game is scheduled to begin at 1:35pm ET and you can watch on YES. Try to enjoy.
Injury Updates: Didi Gregorius (arm) is still sore after being hit by a pitch yesterday. He was originally scheduled to be in today's lineup … Mark Teixeira (neck) is out with some soreness. His neck has been giving him problems on and off all season.