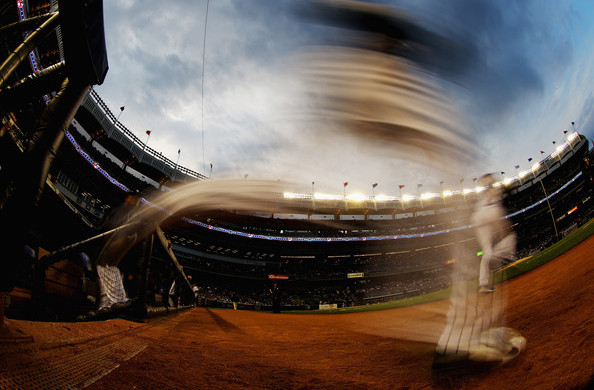 The Yankees have six games remaining this season, all at home. Three with the Red Sox, then three with the Orioles. They are mathematically still alive in the postseason race, and for those final three games with the O's to mean anything, they need some combination of Yankees wins and Orioles losses totaling at least five these next three days. If that happens, New York could sweep that final series and force a Game 163 tiebreaker. (Well, the Tigers and Astros and Mariners could throw a big wrench into this, but humor me.)
Of course, that means having to root for the small time Blue Jays these next few days since the Orioles are in Toronto. The Yankees' tragic numbers is two, so even if they miraculously sweep the BoSox this week, they could be knocked out should the O's win two of three from the Jays. One thing at a time though. Get a win over the Red Sox tonight and hope the stupid Blue Jays beat the stupid Orioles in stupid Rogers Centre. Here is the Red Sox's lineup and here is the Yankees' lineup:
It's cloudy and cool and weirdly humid in New York today. There is no rain in the forecast tonight and that's most important. Tonight's game is scheduled to begin at 7:05pm ET and you'll be able to watch on YES locally and ESPN2 nationally. Enjoy the game, folks.
Injury Update: Masahiro Tanaka (forearm) played catch today and "felt nothing at all." He's going to long toss tomorrow, and he wants to make his start Saturday regardless of whether the Yankees are in the race or not.
Red Sox Rotation Update: Drew Pomeranz has forearm soreness and won't make his schedule start Thursday. Lefty Henry Owens will go instead. He hasn't pitched in a game since September 5th.