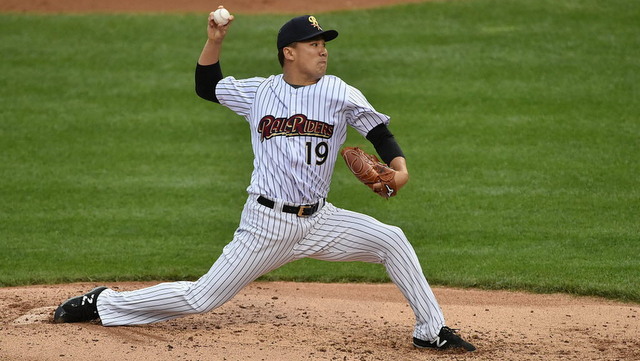 Earlier today, Joe Girardi told reporters Masahiro Tanaka is flying west today to meet the Yankees in California, and he is expected to return to the rotation early next week. "In a perfect world he would start sometime in Seattle," said Girardi, referring to the team's three-game series with the Mariners from Monday through Wednesday.
Tanaka, 26, has been out exactly one month now with wrist tendinitis and a minor forearm strain. He's made two Triple-A rehab starts — one good, one not so good — and was able to get his pitch count up to 62 yesterday, in his second start. Girardi said Tanaka will be limited to 80 pitches in his return next week.
First off all, hooray Tanaka! The Yankees have played it very safe with their ace and they've insisted the injury was minor the entire time. Tanaka was reportedly upset at being placed on the DL too. There's no reason to think they're rushing him back or that they're being too aggressive. He's healthy. He's just not stretched out.
Secondly, I'm interested to see how they get Tanaka on the roster. Michael Pineda and CC Sabathia will start Monday and Tuesday, and they're not coming out of the rotation, but Chris Capuano is starting Wednesday and the Yankees are off Thursday. Will Tanaka replace Capuano in the rotation? Or just push him back?
As far as the 25-man roster spot, the easy move would be sending Jacob Lindgren back to Triple-A, but I hope that doesn't happen. Chasen Shreve could (undeservingly) get sent out, or Esmil Rogers or David Carpenter could be cut loose with Capuano or Adam Warren sliding into the bullpen. Intrigue! We'll find out soon enough.