Got eight questions for you this week — one long one and seven short-ish ones. If you want to send us questions or comments or anything else throughout the week, use the Submit A Tip box in the sidebar. We get a ton of questions each week, so don't take it personally if we don't answer yours.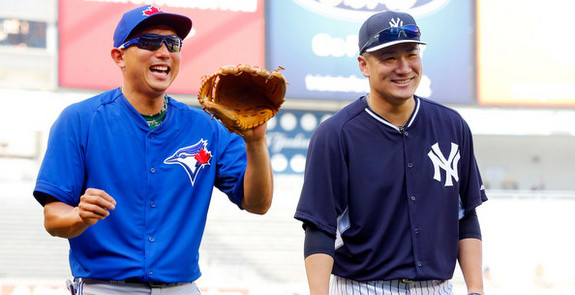 Jeb asks: It'll never happen, but what do you think Masahiro Tanaka would net in a trade?
Oh man. Ace-caliber pitchers almost never get traded, especially not 25-year-old ace-caliber pitchers signed for another three and a half years (I think you have to assume Tanaka will use the opt-out in his contract). Cliff Lee was 30 and he had a year and a half left on his deal when he went from the Indians to the Phillies. Roy Halladay was 32 with a year left on his deal when he went from the Blue Jays to the Phillies. Those are the most recent examples of ace trades.
You have to go back a few years, but I think there are three comparable trades we can reference when talking about a potential Tanaka trade. Allow me to reiterate this is all hypothetical and for fun. The Yankees aren't trading Tanaka. Even if they did decide to sell, he's someone they could keep and rebuild around. Here are those three comparable deals:
Josh Beckett (Marlins to Red Sox): Beckett was 25 at the time of the trade and had three years of arbitration remaining. He landed the Fish two high-end, MLB ready prospects in Hanley Ramirez and Anibal Sanchez, plus two throw-ins. The Red Sox had to take Mike Lowell (77 OPS+ in 2014) and the $18M left on his contract to make it happen.
Dan Haren (Athletics to Diamondbacks): Haren was 27 at the time of the trade and had two years plus an option left on his contract. He was dealt for six young players, most notably Brett Anderson, Carlos Gonzalez, and Chris Carter. Anderson and Carter were both very good prospects in High-A. CarGo was in Triple-A.
Gio Gonzalez (Athletics to Nationals): Like Beckett, Gio was 25 at the time of the trade. Unlike Beckett, he was four years away from free agency. Washington gave up two good but not great MLB ready arms (Brad Peacock and Tom Milone), a top Single-A pitching prospect (A.J. Cole), and a good Triple-A catching prospect (Derek Norris) to get the lefty.
Based on these deals, any package for Tanaka would have to start with two very good prospects, including one who could step right onto the MLB roster in an everyday capacity like Hanley, CarGo, or Norris. There would also have to be two or three other lesser pieces involved, MLB ready or otherwise. Tanaka is far more expensive than those three at the time of their trades, which is an issue. Few teams can actually afford his contract. Let's assume the Yankees will eat some money just to make life easy.
Okay, so let's rosterbate. The Cubs had interest in signing Tanaka and could offer a top position player prospect like Javier Baez, Jorge Soler, or Albert Almora as package headliner. (I assume Kris Bryant is off limits.). The Dodgers are always looking to add and Joc Pederson is a natural fit as a center piece. The Tigers as protection if Scherzer leaves? Unless they offer Nick Castellanos, I'm not sure there's a fit. The Cardinals have a bunch of outfielders to offer, including Stephen Piscotty if they don't want to move Oscar Taveras. A trade with the Red Sox would never happen but Mookie Betts would definitely make sense.
Keep in mind I mentioned those prospects as the start of a trade package. The Yankees would need to get one of those guys plus another very good piece (Zach Lee or Julio Urias from the Dodgers? Arismendy Alcantara from the Cubs?) and a few secondary pieces. If they aren't going to get at least one potential star player plus several other young high-upside players close to the show, it's not worth it. A Hanley/Anibal package would be the best case scenario given what we know about how things worked out for the Marlins.
Paul asks: Assuming #HIROK retires or otherwise leaves the Yankees after this year, do you think #TANAK will take number 18?
I think so. It seems likely Hiroki Kuroda will be gone after the season, either due to retirement or simply letting him walk, right? I guess he could come back at a discounted salary if he finishes strong. Anyway, the No. 18 is a big deal in Japan, it's the ace number. Daisuke Matsuzaka and Kuroda both wear it (Yu Darvish wears No. 11) and Tanaka wore it in Japan. It's a very symbolic thing to them and I think Tanaka will jump at the chance to wear that number again.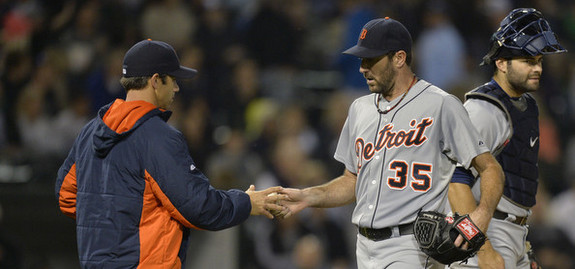 Mike asks: For the last two months Justin Verlander has not been vintage Verlander. Is this a case of just plain old struggling or are the innings catching up to him?
Verlander has been terrible — 7.83 ERA and 5.56 FIP in his last seven starts and 43.2 innings — but he isn't the only former ace to fall off a cliff recently. Obviously the Yankees have CC Sabathia going through the same thing, and the Giants have seen both Tim Lincecum and now Matt Cain slip in recent years. It happened to Haren not too long ago as well. These guys aren't breaking down like Josh Johnson, they just stink all of a sudden. It's kinda scary, no? I don't know what's wrong with Verlander and neither do the Tigers fans who have been trying to figure it out like we've been trying to figure out what's wrong with Sabathia. I recommend this Grant Brisbee post for coping with Ace Sucking Syndrome (ASS).
A different Mike asks: Jim Bowden claims that the Rays may be willing to trade Price within the division. He thinks the trade could get done if the Yankees "overpay" by including Gary Sanchez, Luis Severino, and Peter O'Brien in the package. Do you a) think the Rays would accept this offer and b) think this is an overpay?
No, I don't think the Rays would accept that offer and no, I don't think it's an overpay. That'd be a steal for the Yankees. We're talking about getting a legitimate, AL East proven left-handed ace in exchange for a Single-A pitching prospect, a power prospect without a position, and a catching prospect who hasn't hit much in Double-A and is being benched for disciplinary reasons. You have to give up something to get something, and Sanchez and O'Brien are among the team's most expendable prospects. Dealing Severino would sting, but again, he's in A-ball. You deal him for a guy like Price every day of the week.
Austin asks: Are Derek Jeter and Tanaka the only Yankees All-Stars? I think Brett Gardner and Dellin Betances should be added to the team, but will Farrell add them?
At this point I think Jeter and Tanaka will be the only Yankees elected to the All-Star Game. Jeter is still leading the fan voting at shortstop and Tanaka has been awesome. He's a candidate to start the game. Keep in mind that Brian McCann is second in the catcher voting behind Matt Wieters, who is done for the season following elbow surgery. McCann might start at catcher by default. I think Betances deserves to go because he's been one of the five best relievers in baseball this season, but deserving to go and actually going are two different things. Gardner's been awesome (so have Jacoby Ellsbury for that matter) but I can't see him going to the All-Star Game. There are too many great/more popular outfielders in the AL.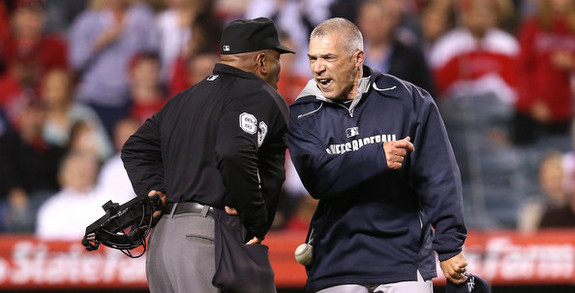 Ghost of Horace Clarke asks: Better manager, Joe Girardi or Joe Torre?
On the field, Girardi is clearly the better manager. He's better with the bullpen and more open-minded to platoons and shifts and stuff like that. Torre was very old school and straight forward. We have no way of knowing who is better in the clubhouse, but Torre was a master at dealing with the media and that counts for something. It's easy to drum up controversy in New York and that very rarely happened under his watch. Girardi has improved in that department but he's no Torre. There's no debate who the better on-field tactician is, however.
Ron asks: OK. Am I the only one who notices that whenever McCann has an at-bat, he squints so much that you can barely see his eyes. Does this not beg to ask if he has a vision problem?????
McCann's facial expresses are pretty funny. They're definitely one of my favorite sidebars of the season. Anyway, McCann has actually had vision problems in the past. He had LASIK surgery in 2007 but was dealing with blurred vision in 2009, so he wore custom-made prescription glasses for the remainder of the season. McCann has another LASIK procedure the following winter and has had no trouble since. I think the squinting and funny faces are just quirky mannerisms, but I suppose he could be having eye problems again. I think he would speak up if that were the case given his history though.
Yet another Mike asks: Taylor Dugas — How come nobody talks about this kid? He's 24 and is stuck in Trenton. He has decent numbers especially his .422 OBP.
Dugas was just promoted to Triple-A Scranton yesterday, so he isn't stuck in Double-A any longer. The Yankees selected him in the eighth round of the 2012 draft out of Alabama and he's hit .293/.422/.368 (~138 wRC+) with more walks (138) than strikeouts (103) in 226 minor league games, including .294/.403/.424 (134 wRC+) in 54 games with Trenton.
Dugas is a left-handed hitter with no power and only okay defense, so his usefulness is limited. Keith Law (subs. req'd) said "he squares up all kinds of pitching and I would be very surprised if he didn't hit his way to some kind of major league role, maybe even as the heavy side of a platoon" following the draft that year, though Baseball America (subs. req'd) basically said Dugas is Sam Fuld without the defense. Dugas obviously can control the strike zone, his performance has been great, and he is on the right side of the platoon. He doesn't have the sexiest tools but he is putting himself in position to have some kind of big league role for the Yankees, maybe even as Ichiro Suzuki's replacement next year.