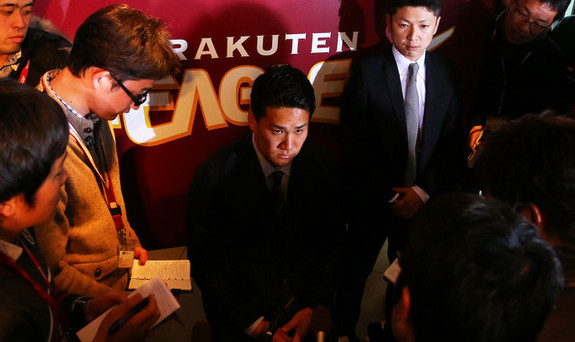 In about an hour, the Yankees will (finally) introduce Masahiro Tanaka with a press conference on Yankee Stadium. As you may have already heard, he spent nearly $200k to charter a massive Boeing 787 from Tokyo to New York over the weekend, which the New York Post is already trying to turn into a controversy. If you're not going to use your $155M contract to charter 787s around the globe, well then I just don't get the point of it all. Here are some stray Tanaka links from around the web.
The Transition From NPB To MLB
Buster Olney (subs. req'd) had some really great stuff about the transition from NPB to MLB in his blog today. The whole thing is worth reading, but the most important takeaway is that Tanaka has already embraced the Yankees' throwing program as he prepares to go from starting every seven days to every five days.
"This is not something unusual. It's like a guy moving from the AL to the NL. He's going from 20 to 25 starts to 32, and you're forced to work and make adjustments," said Brian Cashman. "You can't make someone do something they're not comfortable doing. That would be doomed for failure."
We've already heard that Tanaka was using an MLB ball during his between-starts bullpen sessions last year, but Olney says teams were impressed with the quality of his splitter with the MLB ball during the World Baseball Classic last spring. Daisuke Matsuzaka had trouble throwing his splitter over here and it essentially took away his best pitch. Make sure you check out Olney's post, it's well worth the read.
Scouting Reports
Tim Dierkes polled several non-Yankees officials who have extensively scouted Tanaka, and in general they are very optimistic. More than I expected, really. They all agreed he has three better than average big league pitches — one evaluator said they like his slider more than his splitter — and an extra gear for his fastball in tight spots. At least one deemed him a number one starter.
"He pitches inside, he doesn't pitch away from contact a lot," said one evaluator. "Some guys in Japan, they're not as aggressive. He has more of a Western style that he's not afraid to go up and in, he's not afraid to pitch inside. He pitches kind of with a little chip on his shoulder."
He's Not Kei Igawa
This goes without saying, but Jack Moore went through the trouble of writing it up anyway. Tanaka and Igawa have pretty much nothing in common outside of their nationally, as Tanaka was a considerably better pitcher in Japan with better stuff. There is no comparison statistically — Jack didn't mention that Igawa's inferior stats also came in Japan's DH-less league — and the idea that Tanaka will be another Igawa is click bait at best and intellectually dishonest at worst. Tanaka might be a total bust, it could happen, but if he does, it won't be for the same reason as Igawa, who simply lacked the stuff for the big leagues.
Some Quotes
Nothing really groundbreaking here, but the Japan Times has some quotes from Tanaka before he left for New York over the weekend. "I've heard that the New York media can be severe," he joked, "but I don't want to be overly concerned about what's going on around me. I would rather focus on the things I need to do."