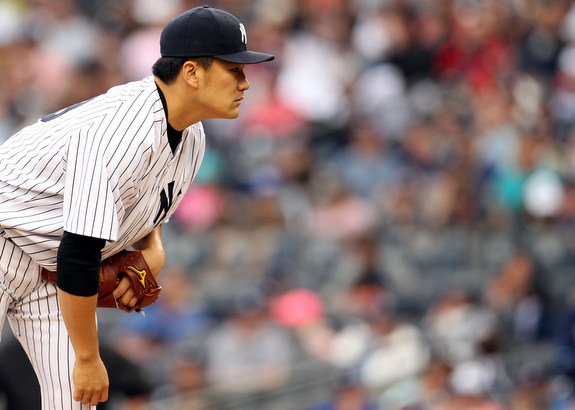 "Overall, I think my stuff wasn't really there tonight."
That's what Masahiro Tanaka told Brian Heyman following last night's start. A start in which he held the most powerful offense in the league to one run in six innings while striking out ten in the Yankees' biggest game of the season to date. His stuff "wasn't really there."
That's not the first time Tanaka has been hard on himself following an excellent start — he called the beginning of his first MLB season "okay" a few weeks ago — and it won't be the last. That's just who he is. We heard all about Tanaka's off the charts competitiveness when the Yankees signed him and we've seen it firsthand for 14 starts now.
And my gosh, what a collection of 14 starts they've been. Tanaka leads the league with a 1.99 ERA and his 2.70 FIP is the sixth best. His 7.06 K/BB ratio would be the fourth best in AL history among qualified starters. Two of the three spots ahead of him are 1999 and 2000 Pedro Martinez, arguably the two greatest pitching seasons in the history of the universe. His 24.5 K-BB% would be the 17th best in history.
By any measure, Tanaka has been one of the best pitchers in baseball this year. Not one of the best rookie pitchers. Not one of the best AL pitchers. Not one of the best Japanese-born pitchers. One of the best pitchers in all of baseball, period. No qualifiers. When friend of RAB Drew Fairservice ranked the best starters in the league recently, he ranked Tanaka first, ahead of the usual suspects. That's coming from a Blue Jays fan.
The performance has unquestionably put Tanaka among the game's elite. It's everything else that puts him over the top. The fact that he's doing it in a tiny home ballpark. That's he's doing it while pitching on a five-day schedule for the first time in his life. That he's doing it while transitioning to a new league with a tougher travel schedule. And, most impressively, that he's doing it in a new city with an entirely new culture. Oh, and he has all the pressure of pitching for the New York frickin' Yankees on his shoulders.
The Yankees paid a handsome price for Tanaka and the contract was heavily criticized because he had never thrown a pitch in MLB. How many times did we hear that? "He's never thrown a pitch in MLB!" More times than I care to count. Well, now Tanaka has thrown a pitch in MLB. Over 1,400 of them in fact. And at this point he is exceeding even the biggest expectations and hitting on best case scenario stuff. I don't know how anyone could have possibly predicted he would be this good, this soon.
Tanaka has emerged as not only the team's ace, but as a rock in the rotation, a stabilizing force that sets everything right every fifth. He has been one of the best pitchers in the game in terms of pure performance, and when you add in all the cultural adjustments he's had to make, no pitcher has been more impressive. It would have been totally understandable if Tanaka had an inconsistent, up and down rookie year. Most Japanese imports do. He hasn't though. Instead it looks like he's been here for years.
The Yankees did years and years worth of homework and they landed themselves a gem in Tanaka. He's already an elite pitcher and at only 25 years old (!!!), he is a true franchise player the team can build around going forward. Tanaka is their present day ace and will be the cornerstone of the post-Derek Jeter Yankees.