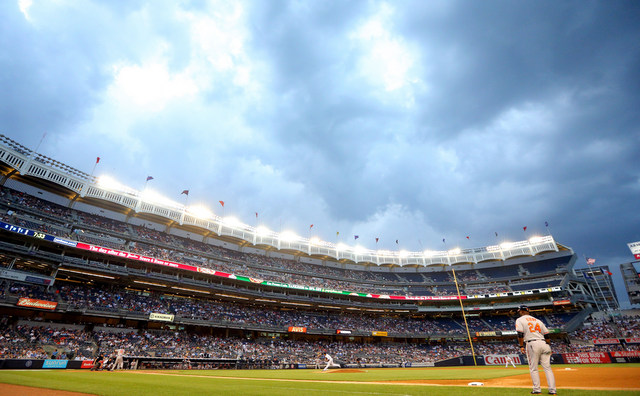 Thanks to last night's win, the Yankees are ten games over .500 for the first time since September 13th, 2013. Yes, I too was surprised to find they were ten games over at one point in 2013. The Yankees haven't been eleven games over .500 since the preview day, September 12th, and that's what they're looking to accomplish tonight. Eleven games over .500 and a bigger lead in the AL East.
Ivan Nova is on the mound tonight and he has been rather uneven since coming back from Tommy John surgery. That's not really surprising, but it doesn't make it any more enjoyable to watch. For now, all the elbow reconstruction has done is turn Nova from an inconsistent starter into an inconsistent starter with an excuse. Hopefully he shoves tonight. Here is Baltimore's lineup and here is New York's lineup:
It's a wonderful day for baseball in New York. Clear skies and warm but not super hot. Pretty great. First pitch is scheduled for 7:05pm ET and you can watch the game on YES locally and ESPN nationally. Enjoy, y'all.
Injury Update: Mason Williams (shoulder) is heading to Tampa tomorrow to continue his rehab. He's been throwing and stuff, and the trip to Tampa usually means the player is ready to really ramp up his workouts. That doesn't mean minor league rehab games are imminent, but Williams is getting closer.