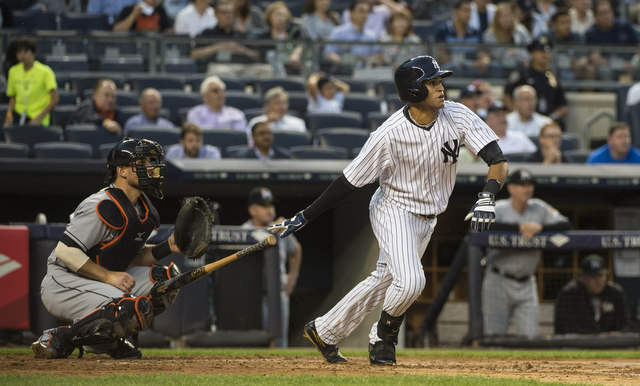 Last month, after selling at the trade deadline, the Yankees committed to a youth movement and have been rewarded with a historically great stretch by Gary Sanchez. Aaron Judge and Tyler Austin have had their moments as well, ditto Luis Cessa and Bryan Mitchell. Sanchez is a rarity. Very few come up and have that much instant success. The other guys have had their ups and downs.
This youth movement really started last season, when Luis Severino and Greg Bird were called up in the second half. That happened after the Yankees cycled through several young outfielders in the wake of Jacoby Ellsbury's knee injury in May. Ellsbury got hurt, Slade Heathcott came up and played well, but then he got hurt. Ramon Flores came up, didn't play all that well, then got sent down.
Mason Williams was the third young outfielder the Yankees used the replace Ellsbury, and like Heathcott, he had some success right away before getting hurt. Williams jammed his shoulder diving back into first base on a pickoff throw, and when rest and rehab didn't work, he needed season-ending surgery. It sidelined him for a full calendar year. That's rough. Williams had just come up and was playing well, then bam, down for a year.
The 25-year-old Williams spent most of this season in Triple-A after returning, and it was another outfielder injury that brought him back to the big leagues this month. Two injuries, really. First Aaron Hicks pulled his hamstring, then Judge strained his oblique. At that point the Yankees needed another outfielder, so while they wanted to leave Williams in Triple-A to get more at-bats, they had no choice but to call him up.
In seven games since coming back Williams has gone 7-for-18 (.389) at the plate — he should have had another hit, but Joe Kelly threw out his glove and snagged a would-be single with the bases loaded — while playing his typically strong defense. He's 13-for-39 (.333) in 15 big league games so far, which is pretty great. Williams came back from shoulder surgery and didn't miss a beat in Triple-A. Now he's in the show and again producing.
Williams has always been supremely talented. There were some production and work ethic issues in Double-A a few years ago, but the proverbial light bulb went on last year, and he seemed to begin realizing his potential. Then the injury happened. Williams went from top prospect to suspect to reclamation project, all before his 25th birthday. Right now he's in the process of reestablishing himself after the shoulder surgery.
It's nice to see Williams having success again, and not just in his brief September cameo with the Yankees. In the minors too. He put up a .309/.327/.399 (106 wRC+) batting line in 47 minor league games after coming back from surgery this year. This success, along with his track record and raw tools, have me wondering two things.
1. What would have happened if he didn't get hurt? This is a fun hypothetical. Say Williams never hurts his shoulder diving into first base last year. What happens? Does he continue to play well and force his way into the team's plans? Williams could have made the Hicks trade unnecessary. It could have been him getting all those at-bats in right field when Alex Rodriguez was benched and Carlos Beltran was at DH earlier this year. There was an opportunity for playing time last year, and Williams lost out on it because of his injury. Sucks.
2. Where does he fit going forward? The Yankees have a lot of outfielders right now. Brett Gardner and Ellsbury are the established veterans at the MLB level. Judge and Hicks are the young guys. Williams is next in line with others like Jake Cave and Clint Frazier right behind him on the depth chart. His only path to playing time right now is injury. Judge is out for the year and Joe Girardi has said he won't push Hicks hard after his hamstring injury, so Williams will play these last eleven games.
But what about next year? Does Williams go to Triple-A again? I guess that wouldn't be a bad thing. He's only played 51 games at the level, plus he has an option for next year, so they might as well use it. Right now Williams is the fifth outfielder, the up-and-down guy. Maybe Gardner will get traded this offseason. Or maybe Hicks goes. Perhaps Judge won't win the right field job next spring. Something like that is going to have to happen for Williams to continue getting a look at the MLB level. That or injury.
The problem for Williams isn't that the Yankees have a lot of other outfielders, it's that they have a lot of other outfielders just like him, specifically Gardner and Ellsbury. The speedy defense-first left-handed hitter. How many of the same player do you need? It would be cool to have an outfielder who can hit the ball out of the park, wouldn't it? Maybe even two. Williams could be trade bait, Triple-A depth, the fourth outfielder … none of that would surprise me going forward.
For now, the most important thing is that Williams seems to have come back well from his shoulder surgery. His talent and athleticism are pretty obvious. The kid looks the part of an exciting young player. The question is whether the Yankees can make room for Williams in the near future, and if not, how does he get another opportunity? He's playing well now and that's great. Williams has shown the shoulder is sound, giving the Yankees yet another outfield candidate going forward.