Last night the Yankees snapped their five-game losing streak thanks largely to yet another Gary Sanchez homer. His three-run blast in the seventh inning gave the Yankees a 5-2 lead. It was his 17th (17th!) home run in 42 games since being called up. Pretty incredible. Without him the Yankees would not be even remotely close to a wildcard spot right now.
Before Sanchez played hero, Michael Pineda gave the team 5.1 strong innings, during which he struck out eleven and generated 19 swings and misses. Pineda also allowed two runs on five hits, and of course the big blow came with two strikes and two outs. Brad Miller's two-run triple came on a slider too far up in the zone …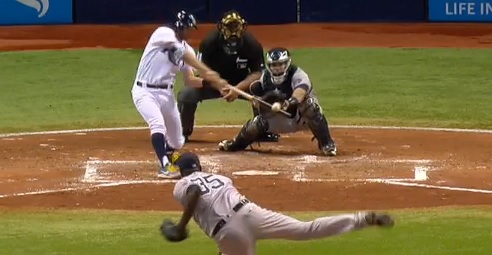 … which is the kind of mistake pitch Pineda has thrown all season. Going into last night's start opponents were hitting .193/.248/.287 against Pineda with two strikes this year. That sounds really good! Except the MLB average is .176/.246/.279. That's the average pitcher. Someone with a ferocious slider like Pineda should beat those numbers pretty easily.
Following last night's game, Pineda is sitting on a 4.89 ERA (3.62 FIP) in 30 starts and 165.2 innings. He's on pace to have one of the worst 200-strikeout seasons in baseball history. Seriously. Pineda has 195 strikeouts right now, and with two starts to go, he should get over 200 easily. Here's the list of pitchers to strike out 200 batters with a 4.80+ ERA and a 3.60+ FIP:
1999 Pedro Astacio: 5.04 ERA and 4.57 FIP with 210 strikeouts
1996 Mike Mussina: 4.81 ERA and 4.04 FIP with 204 strikeouts
1986 Mark Langston: 4.85 ERA and 3.95 FIP with 245 strikeouts
1938 Bobo Newsom: 5.08 ERA and 4.53 FIP with 226 strikeouts (in 329.2 innings!)
Moose! How about that? I never would have guessed Mussina had a season like that. Anyway, those are four pretty good pitchers. Mussina was excellent and so was Langston for a long time. Newsom went to a bunch of All-Star Games back in the day. Astacio is the worst pitcher of the bunch, but hey, he played 15 years in the big leagues.
The thing is, this doesn't feel like a blip for Pineda. That 1996 season was out of the ordinary for Mussina. Ditto 1986 for Langston. Pineda has been pitching like this since his 16-strikeout game last year. I don't know if the 16 strikeouts have anything to do with it — did he push too hard and hurt himself or change his mechanics? — or if it's just a coincidence, but that's how far this goes back. This isn't new.
Why does Pineda struggle so much despite a quality fastball/slider combination, good extension thanks to his 6-foot-7 frame, and good control? There's no shortage of theories. The three most common:
He loses focus. When a guy gets beat with two strikes and/or two outs all the time, it's easy to think he loses focus and doesn't execute. On the other hand, it could be he's trying too hard and makes mistakes because he's trying to be perfect. Point, it's possible this is a mental thing.
His command stinks. Command and control are different. Control is basic strike-throwing ability. Getting the ball over the plate. Pineda can do that. Command is dotting the corners and living out of the middle of the zone. Pineda can't do that. He's a classic good control/bad command pitcher.
He lacks a third pitch. Pineda has a changeup. I've seen it with my own eyes. He just rarely throws it. Pineda threw four changeups out of 98 pitches last night. He's thrown 7.8% changeups this year. Hitters know that when push comes to shove, they're getting a fastball or a slider. The changeup is not even on their mind.
When it comes to stuff like this, I always assume the problem is not one specific thing. Throwing twice as many changeups going forward probably won't fix everything, you know? It's not that easy. Chances are Pineda's results don't match his stuff because he doesn't throw enough changeups and his command stinks and he loses focus and a bunch of other stuff too.
Anyway, I have no idea where I'm going with this. I was just watching Pineda last night and again wondering how a guy with those underlying skills — two pitchers in baseball have a 25+ K%, 45+ GB%, and a sub-7 BB%: Pineda and Noah Syndergaard (thanks Katie!) — can manage to be below-average at preventing runs for over 300 innings now. It's hard to believe.
Pineda's upcoming free agency really complicates things. The Yankees have, at most, another 32-34 starts to determine whether he should be considered part of the future. Ideally the decision would be made this offseason so the Yankees could trade Pineda if he's not part of the future. That's better than losing him for a draft pick, or maybe nothing. In reality, the club may want more time to evaluate him.
Two years ago when Pineda returned from shoulder surgery, he looked like someone who had a chance to pitch near the front of the rotation for a few years. He was that good in limited time in 2014. Pineda took a step back last year, and an even bigger step back this year, and that ain't good. Not at his age and not with his stuff. Pineda is a classic enigma, and the Yankees don't have much time left to solve this mystery. They'll have to make a decision about his future relatively soon.