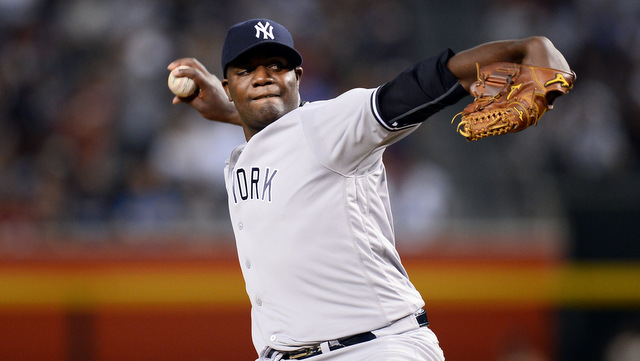 Remember back a few years after the Jesus Montero-for-Michael Pineda trade, when there was that big rush to declare a winner? Pineda blew out his shoulder and Montero had a decent year in 2012, so the Mariners won the trade. Then Montero faded and Pineda returned with a vengeance in 2014, so the Yankees won the trade. There were a few back-and-forths along the way, sometimes on a game by game basis.
Ultimately the need to declare a trade winner is pointless. Now, more than four years after the trade, one thing is clear: neither team got what they wanted out of the deal. Montero did not blossom into the big righty bat the Mariners sought, and Pineda did not develop into a pitcher who could pitch near the front of the rotation. Both showed flashes but have fallen short. We can say that with certainty now more than four years later.
Pineda's latest dud was a five-inning, five-run mess against the Diamondbacks on Tuesday night that looked like most other Pineda starts these days. He fell apart with two outs in the inning, made miserable two-strike pitches, and let things snowball out of control. Nearly a quarter of the way into the season, Pineda ranks 101st in ERA (6.60) and 88th in FIP (4.96) among the 103 qualified starters. You can't even hang your hat on his peripherals anymore.
"It's easy to say it will turn, but it's been too long," said pitching coach Larry Rothschild to George King after last night's game. "We are almost a quarter of the way through his starts. We need to straighten it out, especially in the stretch. He is going through a major bump in the road right now. He gets ahead in the count and the numbers worsen. From the stretch position the quality of pitches are not the same. We need to fix that."
Pineda is very much a good control/bad command pitcher. He can throw strikes (6.9 BB%) but rarely quality strikes, and there was no better example of that last night than the two-strike sliders he hung to Nick Ahmed and Paul Goldschmidt in the second and third innings. Pineda got ahead in the count, had a chance to escape the inning, then put a cement mixer slider on a tee and paid for it. Throwing strikes is generally good. Throwing strikes down the middle is not.
In a few ways Pineda is a microcosm of the 2016 Yankees. He is so obviously talented with a chance to be an excellent player, but he's not only not performing as expected, he's going backwards. Pineda was fantastic around a lat injury in 2014, then he took a step back in 2015, and now he's taken an even bigger step back in 2016. Sometimes players struggle and that's just baseball. But with Pineda, he seems to be getting worse with each passing month.
At this point it's hard to see how Pineda not only factors into the team's long-term plans, but their short-term plans as well. Pineda is part of the problem, not part of the solution. Yes, there's a lot of season left and he is under team control next season too, but we've been waiting for things to click and for Pineda to turn the corner for a long time now. Again, all he's done is gone backwards. There have been no signs of progress.
The shoulder surgery a few years back total sucks and it's impossible to know what kind of effect that has had on Pineda. Maybe he was doomed to disappoint from the start. Or maybe he was headed for the front of the rotation before his arm gave out. Either way, the Pineda the Yankees have right now is not very good and he seems to be getting worse. His inability to emerge as a rotation force is one of the reasons the Yankees have settled into this stretch of mediocrity that is going on four years now.