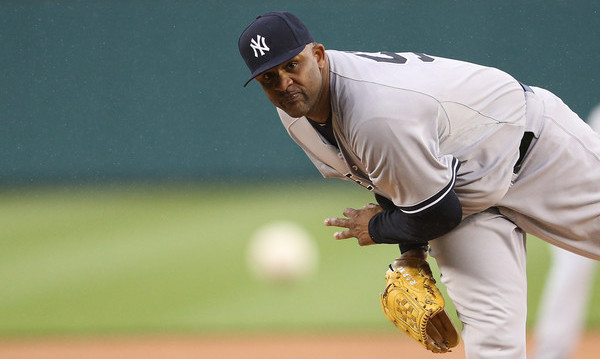 Wins are a terrible way to evaluate a pitcher but that doesn't make CC Sabathia's 0-5 record any less of an eyesore. The Yankees are 1-5 in Sabathia's six starts and 19-7 whenever anyone else starts this year. Sabathia hasn't picked up a win since April 24th of last season, nine starts ago. The Yankees are 1-8 in those nine starts since CC's last personal win. That's rough, man.
You know that's wearing on Sabathia, who is fully aware of how poorly he's pitched the last three years, and you know his teammates are aware of it as well. After all, they bear some responsibility for that 0-5 record. Despite his decline, Sabathia is still the leader of the pitching staff — and the team in general, for that matter — in the clubhouse, so you know everyone wants to get him that first win. Tonight's a good night to do it, no? The Yankees are playing too well for their erstwhile ace to be 0-5. Here is Tampa Bay's lineup and here is New York's lineup:
Not a good weather night for baseball in St. Petersburg. It's hot (low-90s) and grossly humid, and it's supposed to rain a little later as well. Typical Florida, really. Thank goodness for Tropicana Field's dome, I guess. Tonight's game is scheduled to begin at 7:10pm ET and you can watch on YES. Enjoy the game.
Injury Updates: Masahiro Tanaka (wrist, forearm) threw long toss today and made ten pitches on flat ground, including some breaking balls and splitters. He will throw a 30-pitch bullpen session tomorrow, which will be his first time throwing off a mound since landing on the DL two weeks ago … Jacoby Ellsbury is fine, just a routine day off. He's available off the bench if necessary.
Awards!: What happens when you strike out 16 batters in a game? You win an award, that's what. Michael Pineda was named the AL Player of the Week today, MLB announced. He's the second Yankee to be named AL PoW this season — Mark Teixeira won it two weeks ago — and the first Yankees pitcher to win it since Mariano Rivera in September 2011. Congrats, Big Mike.