The following is a guest post from a longtime reader who goes by A Rare Ellsbury Fan in the comments. He's a high school freshman and wishes to stay anonymous. AREF wrote about the perpetually enigmatic Michael Pineda.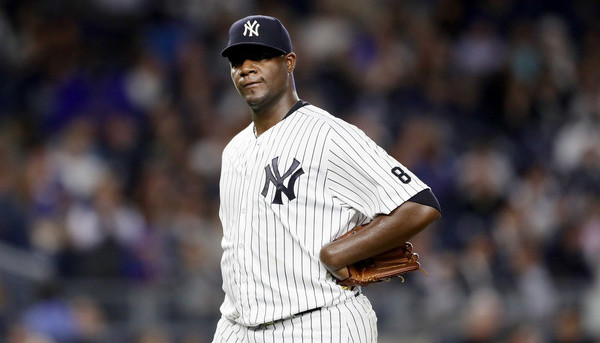 For the first three (somewhat) healthy seasons of Michael Pineda's Yankee career, the Yankees and fans have been left wanting more. Before the 2014 season, the only expectation on the shoulders of Michael Pineda was for him to finally put on the pinstripes and take the mound. After a dazzling 2011 rookie campaign in which he earned an All-Star selection with the Seattle Mariners, Pineda missed the entire 2012 and 2013 seasons with various arm and shoulder injuries. Since he finally got back on the mound in 2014, we have witnessed some very different shades of the man we affectionately (sometimes) refer to as "Big Mike."
Unusual Dominance
The 2014 season was by far Pineda's best in pinstripes and also statistically the best of his career, in an injury and suspension riddled sample size, admittedly. The big right-hander pitched to a 1.89 ERA (2.71 FIP) and allowed only 56 hits in 76.1 third innings. He kept balls in the park at an astounding rate (0.59 HR/9) while peculiarly inducing the most fly balls of his Yankees career (42.3%) and the lowest strikeout rate of his career (20.3%).
The first thing that jumps into my mind when I see these numbers is the luck factor. While there are many pitchers who make a living on weak fly balls, that has never really been Pineda's MO besides that season. Also, in a homer prone ballpark in Yankee Stadium, the increase in fly balls should mean an increase in home runs, a far cry from the minuscule homer rate that he actually gave up in 2014.
Is it possible that Pineda was just generating weaker contact in 2014? Sure, and that likely contributed to some to it. Is it also possible that Pineda was a little fortunate that more fly balls weren't leaving the park? That's a likely possibility too. One thing that we do know, however, is that something doesn't quite add up here.
First Signs of Trouble
After a strangely successful first half of the 2015 season, in which Pineda allowed 115 hits in 106.1 innings pitched to go along with a solid 3.64 ERA, the first real signs of trouble for Big Mike came in the second half of 2015. In that half, it seems as if Pineda's string of good luck finally came to a screeching halt. Pineda maintained a similar hit to IP ratio (61 in 54.1 IP), but his ERA ballooned to a dreadful 5.80.
Overall, Pineda finished with a 4.37 ERA (3.34 FIP) with 156 strikeouts and 176 hits allowed across 160.2 IP, the most since his aforementioned 2011 All-Star season. You may have noticed the increased strikeout rate (8.74 K/9) which jumped nearly 2 more batters a game from his highly successful 2014 season. He also was elite at limiting walks (1.18 BB/9).
The obvious conclusion here in the much discussed issue of Pineda not throwing enough "quality" strikes, meaning hitting the corners, bottom, and top of the zone, while not leaving pitches over the middle of the plate. This most likely played a part in the amount of hits given up, as well as the fact that he pitched nearly 100 more innings in 2015 than he did in 2014. Assuredly, with all that behind him, Pineda was primed for a bounce back 2016 season.
An Unexpected Step Back
The 2016 season to date has been a very, very bad one for Big Mike. Again, his strikeout rate is higher than It was last season (24.4% vs. 23.4%), but with it has come another inflated pitching line. So far, Pineda has a 5.88 ERA (4.04 FIP) with 90 hits against him in only 72 innings, all while opponents have hit .299 against him.
It's not just the stats either. Pineda has looked lost on the bump, with body language indicating frustration.Any consistency that he once had with his slider, which is a devastating wipeout pitch at its best, is gone. Every time he throws one, you cringe and hope that it isn't hit 450 feet for another homer. This is the worst we've seen from Pineda during his tenure with the Yankees, and it has not been pretty.
Overall, Michael Pineda is the biggest wild card on the Yankees staff. On some days he looks like a true front of the rotation pitcher, and on other days he looks like he belongs in AAA. With his free agency fast approaching, and his rotation mate Nathan Eovaldi having shown major strides the second half of last season and into this year, this is a critical time for Michael Pineda to get his act together.
There could be a time where the Yankees will need to choose between one of the two to extend long term, and at this point, it certainly seems to be leaning in Eovaldi's direction. If Pineda can find his put-away slider again, it will not only pay major dividends for him, but it will make an already solid Yankees rotation even better. With this offense, we all know they need it.