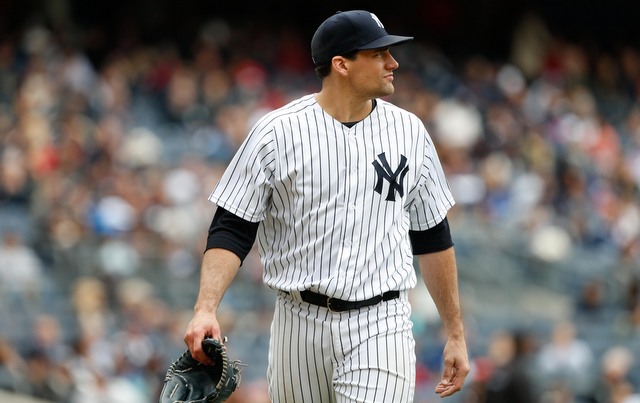 Earlier this week the upcoming free agent class lost its top pitcher when Stephen Strasburg surprisingly signed a seven-year extension with the Nationals. I say surprisingly because Strasburg is a Scott Boras client, and Boras tends to push his top clients to free agency whenever possible. I guess $175M with two opt-outs was too good to pass up.
The Yankees have two starters of their own nearing free agency in Nathan Eovaldi and Michael Pineda, though Brian Cashman told Joel Sherman the team has not looked into signing either right-hander long-term. They're also not looking to trade them right now. "People have expressed interest in the past on those two people, but at this stage, that is not our focus, our focus is contention," said the GM.
We've talked about possible extensions for Pineda and/or Eovaldi in the past and honestly, my opinion seems to change by that day. Is that normal? I hope so. Both Pineda and Eovaldi can become free agents following next season, and, like everyone else, they have their pluses and minuses. They both offer high-end stuff, but the results aren't always there. Eovaldi has flashed dominance more often, especially of late.
The way I see it, the Yankees have two options with Pineda and Eovaldi: trade them or extend them. They don't have to do it right now, just at some point before they hit free agency. Letting them walk as free agents for nothing more than a draft pick — assuming the upcoming Collective Bargaining Agreement doesn't eliminate draft pick compensation — is a non-option to me. These are assets that need to be maximized.
Not many starting pitchers have signed extensions a year before free agency. Strasburg is an outlier. So, if the Yankees do decide to extend Pineda and/or Eovaldi after the season, there are few benchmarks to reference. Here are some recent extensions signed by pitchers a year before free agency:
Josh Tomlin: Two years, $5.5M.
Rick Porcello: Four years, $82.5M.
Homer Bailey: Six years, $105M.
Charlie Morton: Three years, $21M.
None of that helps us at all, unfortunately. Pineda and Eovaldi are most similar to Bailey in that they're still young guys who can market themselves as being on the upswing. Does that mean the Yankees should offer them $17M a year? Of course not. Bailey had not yet had a major arm surgery like Pineda (shoulder) and Eovaldi (Tommy John surgery) and that's not insignificant.
My feeling right now — and this is subject to change — is the Yankees should sign Eovaldi long-term and trade Pineda. Eovaldi has been better this year but that's not the only reason. He's a year younger, he doesn't have major shoulder surgery in his recent history, and I think he has a better pitch mix with his fastball/splitter/slider. I feel more comfortable plopping a boatload of money in front of Eovaldi than I do Pineda.
The Yankees would be foolish to not at least gauge the trade market for Eovaldi and Pineda at some point. The free agent market is weak, so everyone is going to look for pitching via trades, and the Yankees could get themselves a surprisingly big haul. It doesn't cost anything to listen. They also have to find some pitching for themselves beyond next season, and if Eovaldi and Pineda weren't Yankees right now, we'd be looking at them as possible targets.