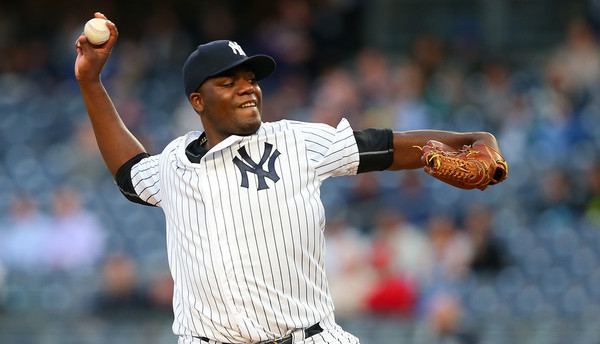 Tuesday night Michael Pineda turned in his best start of the young season, holding the admittedly offensively challenged Athletics to two runs in six innings. He had a long second inning thanks to some grounders that beat the shift, but otherwise the A's didn't put too much pressure on him. Big Mike had to grind through his previous starts against the Astros and Blue Jays.
"I thought he threw the ball pretty well tonight," said Joe Girardi to Mark Feinsand after the game. "I thought he mixed his pitches. I thought his slider had good depth tonight. Sometimes too much, but that's okay. I thought he threw the ball pretty well."
As usual, Pineda attacked hitters with (cut) fastballs and sliders last night. That's Pineda. He's a fastball/slider guy. They're his bread and butter. But, for the first time this season, Big Mike also leaned on his changeup Tuesday night, throwing eleven of them overall. He threw 12 changeups total in his first two starts.
"I'm feeling pretty good today on the mound," said Pineda to Chad Jennings following his start. "I have better command today with my pitches. I'm doing good. The changeup is working good tonight and my slider too."
Pineda threw ten of those eleven changeups to left-handed batters and he threw it to both start at-bats (two first pitch changeups) and finish hitters off (six when ahead in the count). The A's put three of the eleven changeups in play (all outs) and only one went for a ball. That all sounds good, but look at the location (via Brooks Baseball):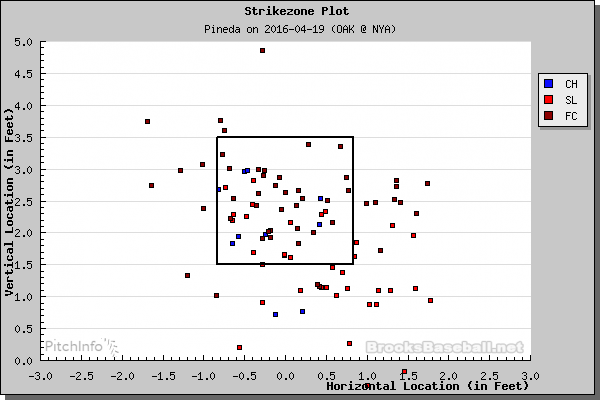 That's a lot of blue dots out over the plate, and while it's natural to think pitches in the zone are bad, that's not necessarily the case. The entire point of the changeup is to disrupt timing. As long as the hitter is out in front and unable to square up the pitch, the changeup is effective. Sometimes they make contact and get a ball to dunk in for a hit. That's just baseball being baseball.
Pineda threw those 12 total changeups in his first two starts and hitters took seven of them for balls. (Carlos Correa smashed another one off the damn restaurant in center field.) That's not great. The changeup doesn't help much if it doesn't entice hitters to swing, not unless the plan is to sneak it by everyone for a called strike. I can't imagine that would work long-term.
There is a balance to be struck here. Ideally Pineda would continue to use his changeup regularly and be able to get hitters to chase after it without throwing it over the heart of the plate. That's hard! Command is not easy. If it was, everyone would have it. Pineda's been working on his changeup since the Yankees acquired him — the shoulder injury threw a wrench into things — and he's still working on it. It's hardly a finished product.
After barely throwing his changeup in his first two starts, Pineda leaned on the pitch against the A's last night, and it helped him have his best outing of the season. The change is never going to become his No. 1 weapon, his fastball and slider are too good, but using it often enough to keep hitters guessing could help Big Mike find some sustained success, something he continues to chase in pinstripes.