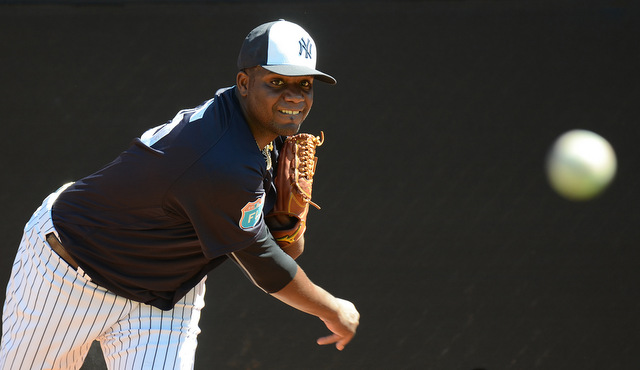 It has now been four years since the Yankees acquired Michael Pineda from the Mariners, and during those four years he's thrown only 237 innings due to a variety of injuries. His 2012 labrum surgery is by far the most serious physical issue — it wasn't until 2014 that Big Mike actually threw a regular season pitch in pinstripes — but he's also had lat and forearm problems. Health is a skill and Pineda doesn't have it.
"My biggest goal this season is, No. 1, try to be healthy for pitching the whole year," said Pineda to reporters when he reported to Spring Training. "I'm a young guy, but every year you have to learn how to get better and better … For me, this year, I'm coming here early to be strong and working hard to pitch 200 innings this year. I want to throw 200 innings this year. This is my goal, and help my team."
Throwing 200 innings seems optimistic but it is not far-fetched. Pineda threw 160.2 innings last season around the forearm issue, which sidelined him for a month in the second half. He was on pace for 200+ innings prior to that. It's important to remember starters are throwing fewer innings than ever before nowadays, so 200 innings is becoming increasingly rare. Only 28 pitchers threw 200+ innings in 2015. Five years ago 45 pitchers did it. There's no shame in falling short.
Pineda wants to stay healthy this season and throw 200 innings and that's great. That's the sort of goal he should be setting, especially given his injury problems the last few years. The Yankees, however, should be focused on the quality of Pineda's innings, not the bulk total. Last season he had a 4.37 ERA (90 ERA+) in his 160.2 innings, and he was both hit (9.9 H/9) and homer (1.2 HR/9) prone. It's fair to say Big Mike was disappointing in 2015.
That has to improve in 2016. Pineda's way too talented to be an average-ish starter. His strikeout (23.4%) and walk (3.1%) rates were excellent — only Bartolo Colon (2.9%) had a lower walk rate among the 79 pitchers to throw 160 innings in 2015, and only Max Scherzer (8.12) had a better K/BB ratio (7.43) — and thanks to his improving changeup, Pineda also posted an above-average ground ball rate (48.2%) for the first time. That's all good. A 3.34 FIP? That's awesome. That's what you want to see.
And yet, opponents hit .278/.301/.451 against Pineda with a .332 BABIP that is a bit high but not outrageous. That includes a .250/.255/.423 batting line when he was ahead in the count. That looks good on the surface, but the league average batting line was .206/.214/.307 when the pitcher was ahead. Pineda performed way, way worse than the league average in those situations. Roughly 57% worse, to be exact.
It sounds weird, but Big Mike might actually be a guy who throws too many strikes. Throwing strikes is good! But you don't want to be over the plate all the time either. There's a time to strategically expand the zone and "waste" pitches for the sake of unpredictability. Pineda very rarely does that. Here, check out some PitchFX data:
| | Zone % Overall | Zone % Ahead in Count | Zone % with Two Strikes |
| --- | --- | --- | --- |
| Pineda | 51.4% | 57.9% | 34.9% |
| AL Average | 47.8% | 45.8% | 33.0% |
Pineda throws pitches in the strike zone at a rate higher than league average in general, when ahead in the count, and with two strikes. The rate when ahead in the count is staggering. Pineda throws nearly 60% of his pitches in the zone when ahead in the count — when the hitter is on the defensive — even though the league average is around 45%. I mean, geez, waste a pitch once in a while dude.
Last season Pineda threw a first pitch strike 63.8% of the time, comfortably above the 60.9% league average. He went to an 0-2 count in 23.1% of all plate appearances last year, the 14th highest rate in baseball. That's really good. Big Mike did an exceptional job not just getting ahead in the count last season, but getting into extremely pitcher friendly 0-2 counts. The MLB average was .171/.200/.259 following an 0-2 count in 2015. It was .203/.208/.333 against Pineda.
Hitters swung at 35.7% of Pineda's pitches out of the strike zone last year, the fifth highest rate in baseball. They made contact with only 57.2% of his pitches out of the zone, the 15th lowest rate in baseball. Do you understand what that means? Whenever Pineda threw a pitch out of the zone last season, hitters swung at an extremely high rate and made contact at an extremely low rate. He got lots of whiffs on pitches out of the zone. This is good! Big Mike needs to do more of this. It's not like he walks a lot of hitters and is prone to creating jams himself.
There is a balance to be struck here. You want Pineda to retain his aggressiveness and continue to get ahead in the count because when the pitcher is ahead in the count, batters perform worse overall. There is decades of data showing this is the case. At the same time, the Yankees want Pineda to do a better job putting hitters away when ahead in the count, and part of the solution can be throwing fewer pitches in the zone. That ostensibly would reduce the number of hits allowed since there won't be as many square-up-able pitches around the plate.
The Yankees got pretty lucky. Pineda's stuff has bounced back very well following shoulder surgery and he's even managed to add a changeup, which was a goal following the trade. The quality of his stuff is obvious when you watch him pitch. That's why Pineda was so frustrating last year. The stuff is there, the results are not. Pineda has the raw tools to dominate and we've seen flashes of that dominance. Now it's a matter of tweaking the game plan to optimize the stuff.
I'm of the belief Pineda's ERA will never match his FIP as things stand right now. Not as long as he calls homer happy Yankee Stadium home, and not as long as he lives around the plate so much. There's nothing Big Mike and the Yankees can do about Yankee Stadium. They can control the game plan though, and using the hitter's aggressiveness against him by throwing more pitches out of the zone — especially when ahead in the count — looks like a possible way to get Pineda to be something more than league average in 2016.