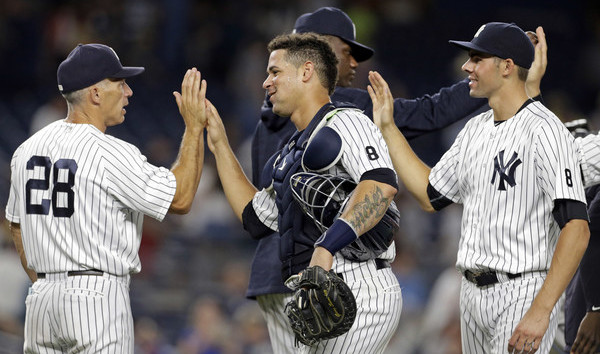 The Yankees are in the middle of a very important stretch of games right now. Today is game five of a 12-game stretch against three teams ahead of them in the wildcard race (Mariners, Orioles, Royals). They've won three of the first four games of this 12-game stretch so far. They held a two-run lead in the one loss too. Blah. Missed opportunity.
Anyway, the Yankees hammered the Orioles last night, and with another win today, they'll be only 2.5 games out of the second wildcard spot. They haven't been that close since June 25th, so more than two months ago. These are playoff games right now, folks. The Yankees will need every win they can get the rest of the way to have a shot at October baseball. Here is the O's lineup and here is the Yanks' lineup:
It's a very nice day in New York. Nice and sunny with only a few clouds. Warm but not hot too. Pretty great afternoon for a ballgame. Today's game will begin at 1:05pm ET. You can watch on YES locally and MLB Network nationally. Enjoy the game.
Rotation Update: The Yankees have flipflopped CC Sabathia and Michael Pineda, so Sabathia will start tomorrow and Pineda will start Monday. I assume they made the switch because Sabathia has pitched very well against the O's this season (1.93 ERA in 18.2 innings) and they want to make sure he faces them given the wildcard race.