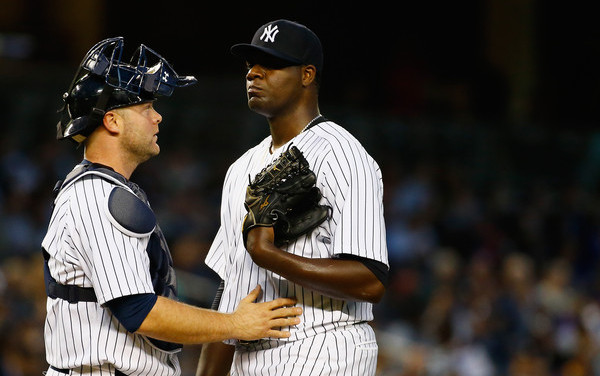 Along with the shiny ERA (1.89) and ridiculous strikeout-to-walk ratio (8.4), perhaps the most impressive part of Michael Pineda's 2014 campaign was his consistency from start-to-start.
Game Score is a metric devised by Bill James that provides a quick-and-dirty evaluation of a pitcher's start. Every pitcher begins a game with 50 points and then gets points added/subtracted based on innings pitched, strikeouts, walks, hits and runs allowed. 50 is average, anything above 90 is awesome, and anything below 10 is horrible.
Last year, Pineda posted an above-average Game Score in 11 of his 13 starts — the exceptions were the pine tar game in April and his September 11 start against the Rays when he allowed 10 hits and four runs in 7 1/3 innings (Game Score of 44).
Pineda's 2015 season couldn't be any more different. While he's shown flashes of brilliance — the 16-strikeout gem against the Orioles, the one-hit masterpiece against the Marlins — he's also had his share of clunkers. Six of his 14 starts have produced a Game Score under 50, including a career-worst Game Score of 5 in his most recent start on June 22. He's basically been either a stud or a dud this season, and can go from elite to enigma in the blink of an eye.
Strap in, because this roller coaster ride is not for those with weak stomachs: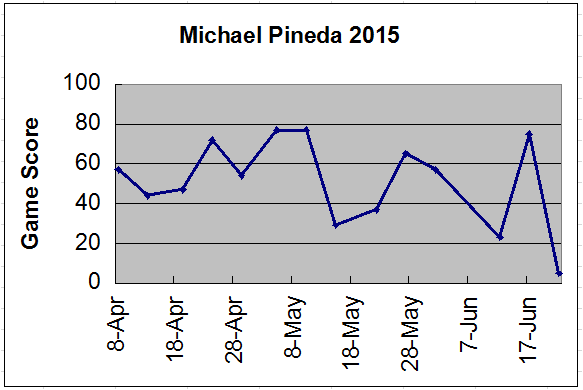 The peaks and valley have become even more extreme in his last seven starts, which have resulted in the following game scores, starting with his May 15 outing against the Royals: 29, 37, 65, 57, 23, 75, 5. Yikes.
How can we explain this bizarre Jekyll-and-Hyde sequence from a pitcher that last year resembled a metronome (when healthy)?
A scout recently told John Harper of the New York Daily News that one reason for the huge disparity in Pineda's performance lies in the inconsistent execution of his signature slider:
"His height creates an angle on the slider that hitters don't usually see and when it has a sharp break they don't hit it. But when he doesn't have the tight spin and the sharp break, it hangs in the strike zone and it's getting hit."
This is what Prince Fielder can do with a hanging slider from Pineda: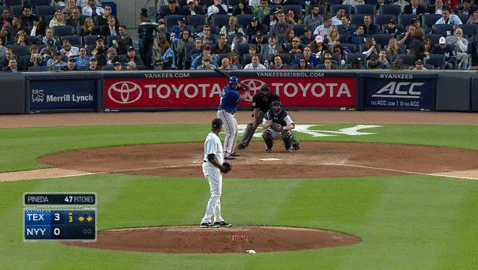 But Lorenzo Cain had no chance on this nasty slider from Pineda: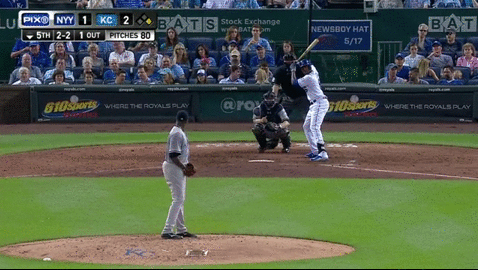 Pineda's last two starts have been a microcosm of his season. On June 17 against the Marlins he was at his absolute best, taking a no-hitter into the seventh inning. Five days later against the Phillies, he pitched the worst game of his career.
Just as the scout noted, his slider was much flatter against the Phillies compared to his previous start, averaging nearly an inch less vertical movement and three-quarters of an inch less horizontal movement. Against the Marlins, his slider netted Pineda nine outs — including six strikeouts — with no hits allowed; the Phillies put six of his sliders in play and got three hits off the pitch.
But it wasn't just a sloppy slider that doomed Pineda against the Phillies. Similar to his other disaster starts this season, he struggled to hit his spots with his cutter and batters pounded the poorly located pitches.
As you can see in the images below, he did a good job of avoiding the middle of the zone vs. the Marlins (on the top). But he threw far too many cutters (dark red dots) over the heart of the plate vs. the Phillies (on the bottom), who got seven hits and made just four outs against the pitch.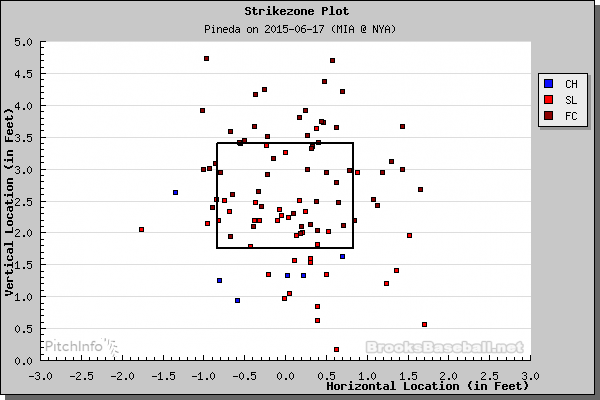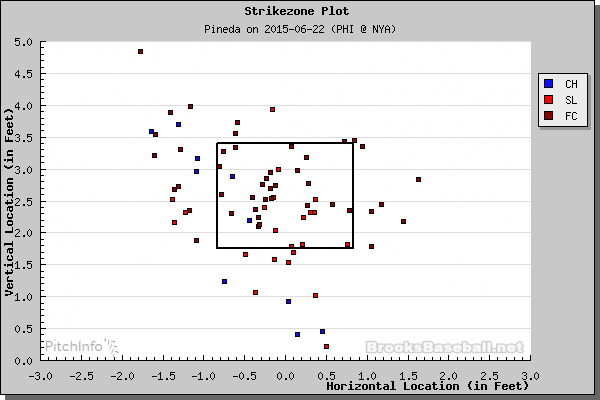 When Pineda is at his best, he's got a sharp slider and devastating cutter that makes him nearly unhittable. But at his worst, he's forced to navigate lineups with flat sliders and batting-practice cut fastballs — a pitching arsenal that becomes crushable even against the worst offensive team in the majors. Although this inability to execute his pitches probably doesn't completely explain Pineda's inconsistency this season, it's something that can't be ignored.
Once tabbed as the future ace of the Yankees pitching staff, Pineda is now a mystery with the potential to either dominate or detonate when he steps on the mound. The question remains: can he find the consistent approach necessary to make him a true top-of-the-rotation starter?