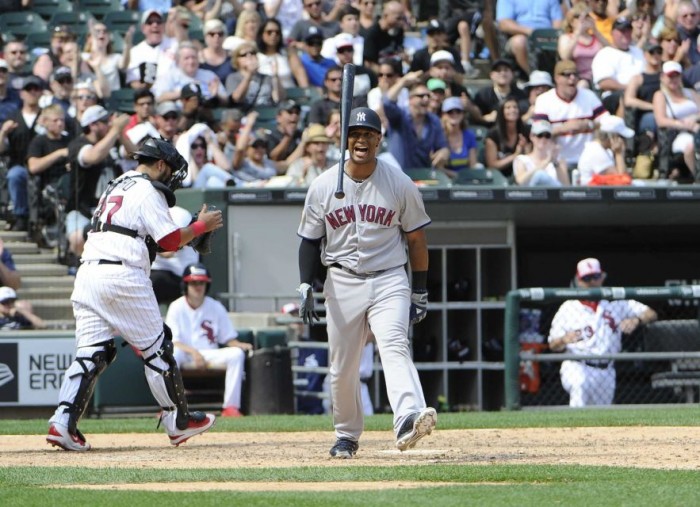 #RISPFAIL
The Yankees opened the second half of the schedule against the White Sox with a game that had a familiar tune: substandard starting pitching, lack of clutch hitting and a listless loss.
The Yankees had plenty of chances to make a dent in the scoreboard but their sputtering lineup went hitless in 13 at-bats with runners in scoring position. It was their worst 0-fer with a man on second and/or third since Sept. 12, 2012 against the Red Sox, a game they actually won 5-4; the last time they had such an awful day with RISP and lost was May 21, 2012 in a 6-0 loss to the Royals.
Starlin Castro was one of the few Yankees who actually provided some offensive fireworks with four hits in four at-bats, including two doubles, in his first game back in Chicago.
He's the first Yankee second baseman to go 4-for-4 or better against the White Sox since Willie Randolph in 1976. With that perfect line, Castro upped his batting average at U.S. Cellular Field to .397 (25-for-63), the highest mark by any active player with at least 50 at-bats there.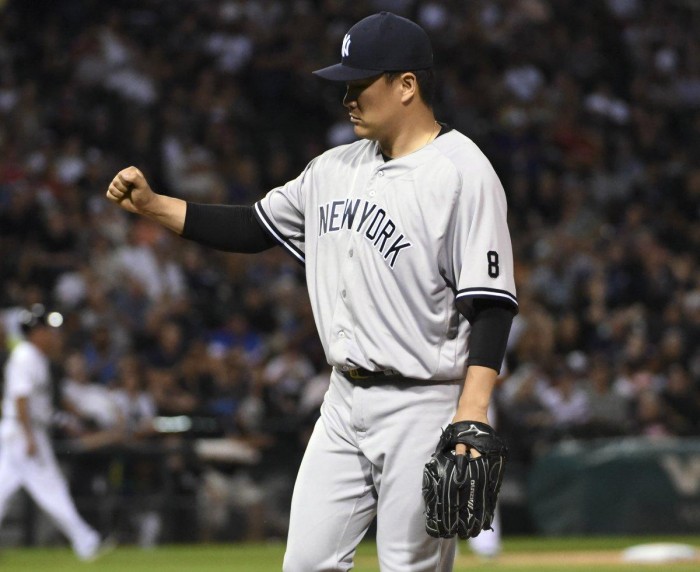 The Bronx hitmen
The Yankees flipped the script on Tuesday night with a lopsided 9-0 victory in the Windy City. They put together one of their most complete games of the season — a rare confluence of terrific starting pitching and explosive bats.
The last time the Yankees had at least 20 hits and allowed zero runs was an 11-0 win on August 11, 1997 against the Twins at the Metrodome. They'd never done it before in any game against the White Sox, a rivalry that dates back to the beginning of the franchise in 1903.
The team's offensive breakout was encouraging, but the frustrations with men on base continued as the Yankees stranded 14 guys. The only other game in the last decade where they had 20 or more hits while leaving 14 or more men on base was September 13, 2009 in a 13-3 win over the Orioles.
And if it felt like they should have scored a bunch more runs based on their bloated hit total … you'd be correct. This was the first time in at least the last 100 years that the Yankees pounded out at least 20 hits in a nine-inning game but failed to score in double digits.
Masahiro Tanaka bounced back from his worst outing of the season, firing 7 2/3 scoreless innings for his sixth win of the season. With that ace-like performance, he lowered his road ERA this season to 1.14, the lowest among starting pitchers the majors through Tuesday. It was his ninth straight road start allowing no more than two runs, the longest such streak by any Yankee pitcher since at least 1913.
From heroes to zeroes
With a chance to get back to .500 and build some momentum heading into their final pre-break series, the Yankees laid an egg as they were blanked by the White Sox, 5-0, on Wednesday night. It was just the second time they've ever been shut out at the current version of Comiskey Park/U.S. Cellular Field (which opened in 1991); the other game was also a 5-0 loss on April 13, 1994.
With the loss, the Yankees fell to 5-11 at U.S. Cellular since 2012, their worst record at any AL ballpark in that span, and the second-worst record by any AL team at that stadium over the past five seasons (the Rangers are 4-11).
Looking to extend a solid run of six June starts during which he posted a 2.75 ERA with 49 strikeouts, Michael Pineda reverted back to his early-season form, giving up five runs across six innings. Four of the five runs were scored with two outs in the second frame, highlighting two of his biggest statistical bugaboos this season: early-game troubles and difficulties closing out innings.
He's now allowed 17 runs in the first inning, and 17 runs in the second inning this season (compared to 25 runs in all other innings combined). The 34 total runs given up in the first and second frames are the second-most by any pitcher the majors, behind only James Shields (38). Pineda also now leads all MLB pitchers with 37 two-out runs allowed.
Pineda will enter the All-Star break with first-half statistics that are both dominant (113 strikeouts in 95 1/3 innings) and dreadful (3-8 record, 5.38 ERA).
The Good: his strikeout rate of 10.69 per nine innings is the second-best in franchise history before the break (min. 60 innings), just a hair behind David Cone's 10.72 in 1997. The Bad: he is the second Yankee pitcher to make more than 10 starts before the break and post an ERA of at least 5.30 with a win percentage of .273 or worse; the other, coincidentally (or not), was David Cone in 2000 (1-7, 6.40 ERA in 16 starts).
Putting it all together, his mix of strikeout excellence and awful run prevention is unprecedented in baseball history. Pineda's 5.38 ERA is the highest by any pitcher heading into the All-Star break who also had a strikeout rate of at least 10 batters per nine innings and at least 75 innings pitched.