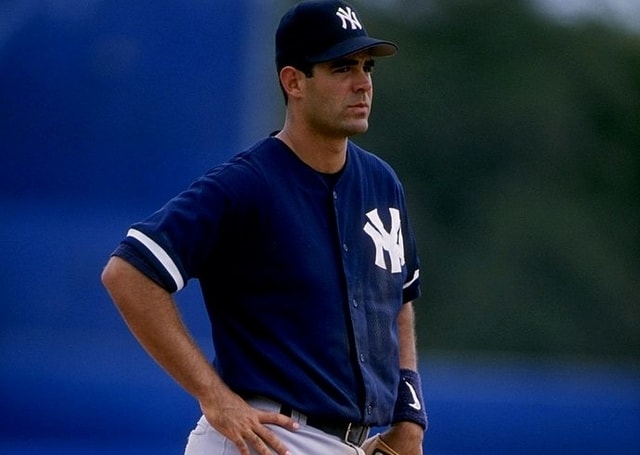 The Yankees had their third baseman of the future going into the 1998 season. Then Scott Brosius changed their plans.
The original plan called for Brosius, who came over from the Athletics in the Kenny Rogers trade in November 1997, to hold down third base for a season while top third base prospect Mike Lowell gained more seasoning in the minors. Brosius was due to become a free agent after the 1998 season, so it would be a clean break.
Instead, Brosius had a fantastic 1998 season, hitting .300/.371/.471 (121 OPS+) while setting career highs in doubles (34), homers (19), runs batted in (98), stolen bases (eleven), and walks (52). He also hit .383/.400/.660 with three home runs in the postseason and was named World Series MVP, thanks largely to his two-homer effort in Game Three, which included a go-ahead three-run shot against Trevor Hoffman.
Brosius became a free agent as scheduled following the 1998 season and my goodness, how do you let a guy walk after a season like that? The Yankees didn't. They gave him a new three-year contract worth $15.75M in November. Suddenly Brosius had become the third baseman of the future.
* * *
Going into that 1998 season, Baseball America ranked Lowell the 71st best prospect in baseball. The Yankees drafted Lowell in the 20th round of the 1995 draft and he'd done nothing but hit as a pro. He put up a .315/.401/.562 batting line with 30 homers and more walks (71) than strikeouts (64) in 135 games split between Double-A Norwich and Triple-A Columbus in 1997. He was the future.
The Brosius trade was made to give the Yankees more of a sure thing going into 1998, a season in which they were a World Series contender, and also give Lowell more time in the minors. Lowell had a strong Spring Training that year, then was sent back to Columbus, where he hit .304/.355/.535 with 34 doubles and 26 homers in 126 games. Brosius was having a big year in the Bronx and Lowell was having a big year in Triple-A. The Yankees were in a good spot.
Not surprisingly, other teams came calling for Lowell at the trade deadline. The Yankees were obnoxiously good — they were 75-27 on the morning of the trade deadline, ten games better than any other team in baseball — but they were trying to get better. Randy Johnson was the big name on the trade block and gosh, George Steinbrenner loved him. There were also rumblings the Yankees were after Roger Clemens.
Ultimately, the Yankees didn't do anything at the 1998 trade deadline. Their most notable in-season addition that year was spare part righty Jim Bruske, who came over from the Padres in a minor August trade and appeared in three games with the Yankees. Clemens stayed with the Blue Jays and Johnson went to the Astros. The Yankees tried to get both though, especially Johnson, who was an impending free agent everyone knew the Mariners had to deal.
According to Buster Olney, first year GM Brian Cashman rejected Seattle's request for Lowell, Hideki Irabu, and a pitching prospect for Johnson. Cashman was worried Johnson would wind up with the Indians — Olney says Cashman called Indians assistant GM Dan O'Dowd right after the trade deadline to see whether Cleveland landed the Big Unit — but not enough to move Lowell or other young players.
"We made a tough decision and we will live with it," said Cashman to Olney after the trade deadline. "We could have done some things but the price was too high."
* * *
The Yankees rewarded Lowell for his strong Triple-A season with a September call-up. He didn't play a whole lot, appearing in only eight September games, three of which were starts. But, in his second big league game on September 20th, Lowell went 3-for-5 against the Orioles. He went 4-for-15 with one strikeout, no walks, and no extra base hits in September for an aesthetically pleasing .267/.267/.267 slash line.
Lowell was not part of the 1998 postseason roster and no one expected him to be. Brosius played third base and mashed, and the Yankees won the World Series. Lowell got a ring out of it, so that's cool. His future with the organizational had suddenly become uncertain, however. Going into the 1998 season, the expectation was Lowell would take over at the hot corner full-time in 1999. Brosius complicated things.
So, after the Yankees gave Brosius that new three-year contract, Cashman cashed Lowell in as a trade chip. Lowell was traded to the Marlins on November 24th, 14 days after Brosius signed his new contract. The Yankees received three pitching prospects in return: Ed Yarnall, a lefty, and righties Mark Johnson and Todd Noel. Baseball America ranked Yarnall as the 60th best prospect in baseball going into the 1998 season, eleven spots ahead of Lowell.
"You never have enough pitching. Pitching is the name of the game. If we could utilize Lowell by trading him and bringing three legitimate prospects into the organization, we were going to do it," said Cashman to Buster Olney after the trade. Olney spoke to several executives who praised the deal for New York:
"Yarnall throws from the side and can be very deceptive," one executive said. "He had some problems with his back last year, but I don't think that's a long-term concern.

"One of our scouts who saw Johnson said he has a very good slider and has a good feel for pitching, and figures that he could develop into a No. 4 or No. 5 starting pitcher in the big leagues at some point. Noel has a good fastball, and if he can develop a breaking ball, he might be the best of the three when it's all said and done."
Yarnall, Johnson, and Noel combined to throw 20 innings with the Yankees, all by Yarnall. Noel never made it out of Single-A. He got hurt and was out of baseball by 2001. Johnson was lost to the Tigers in the 1999 Rule 5 Draft — the Tigers drafted Johnson, then released him and re-signing him to circumvent the Rule 5 Draft roster rules, a move that is now illegal — and he allowed 23 runs in 24 innings with Detroit in 2000. It was his only MLB action.
Yarnall was the headliner in the trade. The Yankees originally drafted him out of high school in the 44th round of the 1993 draft, but he declined to sign and instead heading to Louisiana State. The Mets made Yarnall their third round pick in the 1996 draft, then traded him to the Marlins in the Mike Piazza deal in May 1998. The Marlins then sent him to the Yankees in November 1998.
After starting the 1999 season in Columbus, Yarnall made two appearances with the Yankees in July and three more in September, allowing eight runs in 17 innings. He had a 3.47 ERA with 146 strikeouts and 56 walks in 145.1 innings in Triple-A that season. Yarnall figured to have a more prominent role in 2000 — Baseball America ranked him as the game's 55th best prospect going into that season — but he struggled and went to the Reds in the Denny Neagle deal. He was pitching in Japan by 2001 and never reached MLB again.
Lowell, meanwhile, spent the next seven seasons with the Marlins and was a very good player, going to three All-Star Games and finishing 11th in the 2003 NL MVP voting. He helped the Marlins beat the Yankees in the World Series that year. To this day, Cashman says the Lowell deal is his biggest trade regret. The Yankees could've moved him for Randy Johnson, and instead wound up with nothing.
"We had Scott Brosius and we had a lack of pitching depth in the system," said Cashman to Bryan Hoch in 2016. "So we secured three high-ceiling starters — Eddie Yarnall, Todd Noel and Mark Johnson — all three high picks, all three with high ability. But all three busted. I know when the deal was done, it was something that we secured three high-end arms in the system, but none panned out.
"We're in a better position, I think, because of analytics and our education on it," Cashman added. "The data streams and stuff, I'm not sure if it would have changed the decision-making back then or not. We didn't have access to that type of stuff back then. I think it was a trade of need for both organizations. We had depth to trade from, as did the Marlins. It just didn't work on our end. It worked out for them."