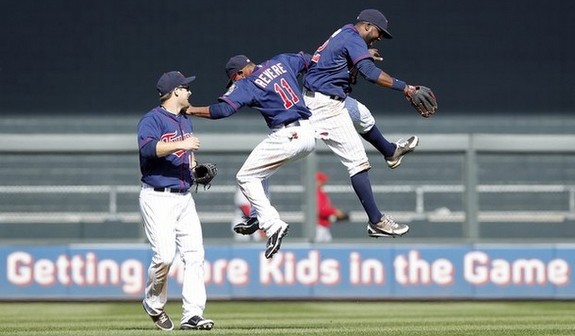 Having watched the Twins play over the last week and a half, I'm pretty sure they're not going to win 62 games this season. They're that bad. The Yankees also completely own them, winning 63 of 80 games during the Ron Gardenhire era (including playoffs). They're also 10-2 in new Target Field, but this series will be played in the Bronx.
What Have They Done Lately?
The Twins have won just two of their nine games this season, both against the same Angels team that just left the Bronx. They were swept by the Orioles in the season-opening series, and they were just swept by the Rangers over the weekend. Their 28 runs scored are the fewest in the league and their 48 runs allowed are the fourth most. That -20 run differential the worst in baseball. Yeah, they're awful.
Offense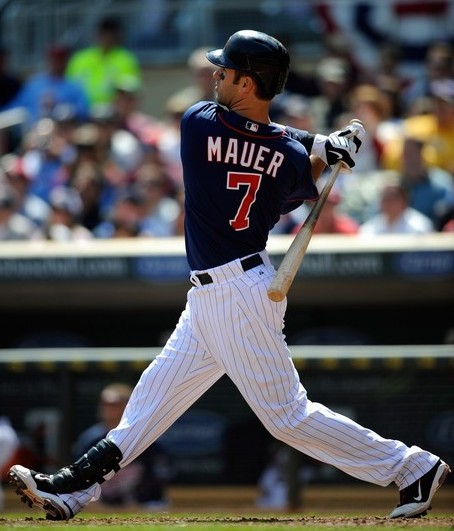 Only twice in nine games have the Twins managed to score more than three runs. They've mustered no more than two runs in six of ten games, and their team .311 wOBA is the fifth worst in the league. Joe Mauer (.307 wOBA) and Justin Morneau (.276 wOBA) are shells of their former selves due to injury, though they recently homered in the same game for the first time ever at Target Field. Jamie Carroll (.276 wOBA) is either going to walk or make an out, while Chris Parmalee (.262 wOBA), Danny Valencia (.238 wOBA), Ryan Doumit (.212 wOBA), and Alexi Casilla (.182 wOBA) have contributed next to nothing.
Only two regulars in Minnesota's lineup are doing anything with the sticks. Josh Willingham (.579 wOBA) has four of the team's seven homers while Denard Span (.433 wOBA) has been setting the table as the leadoff hitter. Recent waiver claim Clete Thomas took over the right field job from Ben Revere (.160 wOBA) and hit a homer in his first game as a Twin yesterday. You still have to respect Mauer and Morneau because of what they were, but this lineup isn't scaring anyone.
Pitching Matchups
Monday: RHP Freddy Garcia vs. RHP Carl Pavano
Pavano has a special place in the hearts of Yankees fans thanks to his hilariously injury-riddled and ineffective stint in pinstripes back in the mid-aughts. Ironically enough, he's turned into a innings eater since leaving New York, though he hasn't always been effective. He owns a 4.39 ERA (4.05 FIP) over the last three years, ranking 12th in innings (656) but 35th in fWAR (9.8) among all starters. Pavano's velocity has dropped off in a big way recently, as he now sits in the mid-80s with his sinker and low-80s with his slider, changeup, and splitter. He relies on ground balls and not strikeouts per team philosophy, and he is stingy with ball four. At 36 years old, Pavano is a junkballing righty.

Tuesday: LHP CC Sabathia vs. LHP Francisco Liriano
The Twins have one guy in their rotation — really on their entire pitching staff — that can miss bats consistently, and that's Liriano. He's injury prone and enigmatic, two traits that are very likely to be related. On any given night he's capable of a ten-run stinker or a two-hit shutout. Liriano relies very heavily on his offspeed pitches, specifically his wipeout mid-80s slider and mid-80s changeup. His two fastballs — two and four-seamer — are more low-90s now than the mid-90s they average two years ago. Liriano has traditionally piled up a ton of strikeouts and ground balls, but walks have been an issue in recent years. He's been very hit or miss against the Yankees, with a few strong games and a few duds.
Wednesday: RHP Hiroki Kuroda vs. Jason Marquis
Marquis, a Staten Island-native, will be making his first start of the season after leaving the team to be with his family after his daughter suffered a near-fatal injury in a bicycle accident. She is recovering well, thankfully. Marquis threw a simulated game as a tune-up on Tuesday, and believe it or not, this will only be his second career start against the Yankees in his 12-year career. That's what happens when you spend all 12 years in the NL. Marquis is a classic Twins pitcher, getting ground balls with an upper-80s sinker and no strikeouts with his mid-80s slider and low-80s changeup.
Thursday: RHP Phil Hughes vs. RHP Nick Blackburn
It's a matchup of disappointing right-handers in the finale, though at least the Yankees don't owe Hughes over $10MM from 2012-2013 like the Twins owe Blackburn. Like Pavano and Marquis, Blackburn is the prototypical pitch-to-contact back of the rotation dreck the Twins love so dearly. He gets ground balls (career 48.3%), doesn't miss bats (career 4.33 K/9), and rarely walks anyone (career 2.20 BB/9). I feel like I'm repeating myself here. An upper-80s sinker, low-80s changeup, and mid-70s curveball are Blackburn's weapons of choice. The Yankees have hit him very hard just about every time they've faced him through the years.
For what it's worth, Blackburn left his last start due to shoulder discomfort, but the tests came back clean and he's not expected to miss a start. There's always a chance he could, however.
Bullpen Status
Minnesota's bullpen has taken a bit of a beating over the last two days, with standout setup man Glen Perkins getting spanked for three runs in two-thirds of an inning over two games. He threw 23 pitches on Saturday and ten pitches yesterday, so it's unlikely he'll be available tonight. Right-handers Alex Burnett and Jared Burton have each pitched in three of the last four days, so I wouldn't count on seeing either guy tonight barring an emergency.
The rest of the Twins' bullpen is pretty well set. Closer Matt Capps is both terrible and well-rested, plus they have righty Jeff Gray and lefties Matt Maloney and Brian Duensing in reserve. Overall, their bullpen ranks 23rd in baseball with a 4.50 ERA, though their 3.83 FIP paints a rosier picture (13th in MLB). For the latest and greatest on the Twins, we recommend Aaron Gleeman and Twinkie Town.