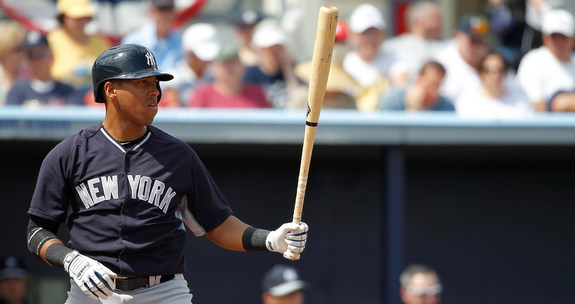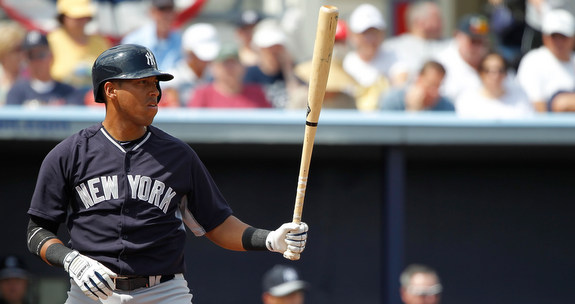 At long last, the offseason and Spring Training are over. That applies both to the present day Yankees and the Yankees of yesteryear. Our MLB Trade Rumors archive series moves (concludes, really) into April 2014. The Yankees lost to Scott Feldman and the Astros — Houston went 51-111 the prior season — on Opening Day that year. Most notably, Dellin Betances pitched that day and made the first of what would eventually be 70 dominant appearances that season.
The Yankees had a very busy 2013-14 offseason. Robinson Cano left as a free agent and the Yankees responded to their forgettable 2013 season with several big free agent signings (Carlos Beltran, Jacoby Ellsbury, Brian McCann, Masahiro Tanaka) and several smaller free agent signings (Kelly Johnson, Brian Roberts, Matt Thornton). Anyway, April is usually not a great month for rumors and transactions, but let's go through the archives anyway.
April 1st, 2014: Yankees Designate Eduardo Nunez For Assignment
The Yankees have designated shortstop Eduardo Nunez for assignment, tweets Mark Feinsand of the New York Daily News. A 40-man roster spot was needed for fellow infielder Yangervis Solarte, who beat out Nunez for the club's utility infield role.
The end of the Nunie era. Nunez spent the 2011-13 seasons as a most of the time player, hitting .266/.313/.380 (87 wRC+) with -35 DRS. It was time to move on. Nunez made the most of his fresh start with the Twins and the Yankees certainly made the right move going with Solarte, a minor league contract guy who blew everyone away in Spring Training and helped keep the Yankees relevant in April and May. Solarte took Nunez's roster spot, his utility infielder job, and his uniform number (No. 26). Replaced him in every way possible.
April 5th, 2014: AL Notes: Teixeira, Lester, Kipnis
Yankees first baseman Mark Teixeira has been placed on the 15-day DL with a hamstring injury, the club announced today. Needless to say, that is not the start to the year that he or the team had hoped for as the 33-year-old works back from wrist surgery. The injury has revealed some roster issues in New York, which will move Kelly Johnson from third to first for the time being and call up catcher Austin Romine to take the open active roster spot. While the team was surely uninterested in carrying three backstops, the move was dictated by 40-man constraints.
Oh geez, I forgot about Teixeira's hamstring injury. He missed most of 2013 with his wrist injury, remember. Now he had a hamstring problem. He missed 13 games with the injury and Teixeira's injury is what gave Solarte his first real big league opportunity. Teixeira got hurt, Johnson moved over from third base to first base, and Solarte took over at the hot corner. He went 15-for-47 (.319) with four doubles and a homer while Teixeira was out, and the Yankees couldn't take him out of the lineup.
April 6th, 2014: AL Notes: Davis, Kottaras, Omogrosso
Brian Omogrosso's agency, MCA, says (via Twitter) that the pitcher is drawing interest from the Yankees, Rangers and Blue Jays after pitching at a showcase Friday in Arizona. The White Sox recently released Omogrosso. He appeared in 37 1/3 innings for them in the past two seasons, posting a 5.54 ERA with 8.2 K/9 and 4.3 BB/9.
Brian Omogrosso, eh? He put 67 guys on base and allowed 24 runs in 37.1 innings as an up-and-down arm with the White Sox from 2012-13. No team signed him in April 2014. He wound up with the independent Bridgeport Bluefish that year, allowed nine runs in six innings, and that was that. Omogrosso's been out of baseball since. Crazy has fast this game can be taken away from a player. General rule of thumb: When a player's agency tweets out the teams that are interested in signing him, take it with a grain of salt. A big one.
April 7th, 2014: Twins Acquire Eduardo Nunez
The Twins have acquired infielder Eduardo Nunez from the Yankees in exchange for left-hander Miguel Sulbaran, tweets Twins director of baseball communications Dustin Morse. Nunez has been assigned to Triple-A Rochester.
The Yankees took the loss on this one. Baseball America never ranked Sulbaran among his team's top 30 prospects and he threw 186 minor league innings with a 3.87 ERA (3.55 FIP) while with the Yankees. He was released after missing 2016 with injury and serving a 25-game drug suspension in 2017. Been out of baseball since. Nunez hasn't been great by any means since then (+4.5 WAR from 2014-18), but he's certainly been more useful than Sulbaran. Shrug.
April 11th, 2014: AL East Notes: Moore, Trout, Cashman, Jays
The Yankees have been fined by Major League Baseball for tampering due to comments made by team president Randy Levine in regards to Mike Trout, The Los Angeles Times' Bill Shaikin reports.  The amount of the fine isn't known.  Levine cited Trout last December when discussing why the Yankees didn't match the Mariners' 10-year contract offer for Robinson Cano, saying "If it was Mike Trout, I'd offer him a 10-year contract, but for people over 30, I don't believe it makes sense."  The Angels took exception to Levine's comments and asked the Commissioner's office to investigate the matter.
If only there were some 20-somethings the Yankees could've given a ten-year contract this offseason!
April 14th, 2014: Quick Hits: Puig, Yankees, Lester, Tigers, Blackouts
The Yankees come in at a surprising second in the early-season defensive shift count, writes ESPN.com's Buster Olney (Insider subscription required). As Olney notes, that kind of decision requires organizational commitment on every level, and two offseason infield acquisitions — Kelly Johnson and Brian Roberts — played an important part in the first discussions involving players.
The 2014 season is when we first started to see the team's analytical efforts trickle down to the field. Infield shifts had been around for years, they were hardly new in baseball, but they were new to the Yankees. They shifted quite a bit in 2014 and weren't especially good at it. I think part of it was personnel. The shift was still relatively new to veterans like Johnson and Roberts. The Yankees are much more well positioned now and it helps that guys like Gleyber Torres, Miguel Andujar, and others were able to learn the shift in the minors. Back in 2014, the Yankees just kinda threw it out there and hoped it work. There's a much better plan in place now.
April 18th, 2014: Yankees Designate Cesar Cabral For Assignment
The Yankees designated reliever Cesar Cabral for assignment after tonight's game, reports Marly Rivera of ESPN Deportes (via Twitter). Cabral, 25, had a rough outing, giving up three earned runs and failing to record an out before he was ejected for hitting his third batter of the inning.
I remember that Cabral outing. It was ugly. He entered the eighth inning at Tropicana Field with the Yankees down 8-5 and went single, single, hit batter, hit batter, single, hit batter. The hit-by-pitches didn't look intentional — Cabral also threw a wild pitch that inning and only nine of his 23 pitches were strikeouts — but come on, the umpire can't leave a guy in when he's hit three of six batters.
Cabral spent the rest of the season in Triple-A, hooked on with the Orioles the next year and did return to the big leagues briefly (one inning in 2015). The independent Sugar Land Skeeters recently drafted him out of a showcase event, so Cabral's still active. The Yankees liked him so much that they took him in the 2011 (!) Rule 5 Draft and waited all that time for him to overcome elbow problems.
April 20th, 2014: Yankees Designate Matt Daley For Assignment
The Yankees have designated right-hander Matt Daley, according to Mark Feinsand of the New York Daily News (on Twitter). In related moves, New York activated Mark Teixeira, recalled right-handers Preston Claiborne and Bryan Mitchell, placed right-hander Ivan Nova on the 15-day disabled list with a partial tear of the ulnar collateral ligament in his right elbow, and sent infielder Scott Sizemore to Triple-A.
Good gravy what a series of transactions. There's a lot going on there. First, Daley, who currently works in the Yankees' front office, will forever be remembered as the guy who was summoned from the bullpen to replace Mariano Rivera after Rivera's memorable farewell in 2013. He spent the rest of the 2014 season in Triple-A before hooking on with the Yankees as a scout.
Claiborne got off to a real nice start with the Yankees in 2013 before crashing late and continuing to crash in 2014. He managed to make it back to the big leagues with the Rangers in 2017. This call-up was Mitchell's first big league call-up, though he didn't get a chance to pitch before being sent down, kinda like Domingo Acevedo last year. Mitchell eventually made his MLB debut in August 2014.
Sizemore went 5-for-16 (.313) in limited time with the Yankees and I was Mad Online they didn't give him a longer look while Teixeira was out. He's been out of baseball since 2016. Oh, and this is when Nova blew out his elbow and needed Tommy John surgery. Nova's injury led to Chase Whitley getting called up. Whitley and Jacob deGrom made their MLB debuts as opposing starters in a game the Yankees won 1-0. It was the game Betances did this:
Lordy. That was right when it was starting to become clear Betances was legit. I miss Dellin. Can't wait for him to come back.
April 25th, 2014: Yankees Sign Bruce Billings To Major League Deal
The Yankees have signed right-hander Bruce Billings to a Major League contract and selected him to their 25-man roster.  The club announced the signing prior to yesterday's game against Boston.  Billings is represented by John Boggs & Associates.
Okay, this MLBTR post is a bit misleading, because the Yankees had signed Billings to a minor league deal over the winter and he started the season with Triple-A Scranton. When a non-40-man roster guy gets called up, he technically signs a new Major League contract as part of the process. The Yankees didn't sign Billings as a free agent in April 2014. They just called him up. Anyway, Billings made one appearance with the Yankees, allowing four runs in four mop-up innings against the Angels. It was his last MLB game and he's been out of baseball since 2015. The 2014 Yankees really gave the 2013 Yankees a run for their money with the random journeyman call-ups.
April 26th, 2014: AL East Notes: Campos, Masterson, Stroman
Yankees minor-league pitcher Jose Campos had Tommy John surgery on Friday, CBS Sports' Danny Knobler tweets. Campos, of course, arrived from the Mariners prior to the 2012 season with Michael Pineda for Jesus Montero and Hector Noesi, a trade that seems to have been cursed for everyone involved.
From 2012-15, Campos threw 167 innings in the farm system due to various injuries. As soon as he showed some semblance of good health in 2016, the Yankees cashed him in as a trade chip. He went to the Diamondbacks for Tyler Clippard. No one won the Pineda-Montero trade. The Yankees just lost it less. Campos at least got a taste of the big leagues with Arizona later in that 2016 season, allowing three runs in 5.2 innings. He allowed 14 runs in 22.1 innings with the independent Sugar Land Skeeters last season. Still only 26 too.
April 26th, 2014: Minor Moves: Freddy Garcia, Nik Turley
The Yankees have announced that they've released pitcher Nik Turley. Turley, 24, posted a 3.88 ERA with 8.9 K/9 and 4.7 BB/9 in 139 innings for Double-A Trenton in 2013. He experienced arm tightness in spring training and has not pitched this season, but if healthy, one would think that a left-hander with his strikeout rate and ability to start could get a look from another organization.
Turley went from 50th round draft pick to the big leagues. The Yankees released him after some injuries, then he bounced from the Giants to the Red Sox to the Twins. Turley allowed 22 runs in 17.2 innings with Minnesota in 2017, but he didn't pitch at all last season due to an elbow injury and a performance-enhancing drug suspension. Even though the results stink, seeing a kid drafted that late reach the big leagues is always pretty cool.
April 28th, 2014: Yankees Sign Chris Leroux To Minor League Deal
The Yankees signed Chris Leroux to a Major League contract and added the right-hander to their 25-man roster, the club announced over the weekend.  Leroux joined the Yankees on a minor league deal signed in January.  Leroux is represented by the Octagon Agency.
Same deal as Billings. Leroux was with Triple-A Scranton and was called up. He made two appearances with the Yankees and managed to allow five runs in two innings. Leroux's been out of baseball since 2016. Billings and Leroux were called up in April, but folks, there were still plenty Jim Millers and Josh Outmans and Jeff Franci to come during this 2014 season.
April 28th, 2014: Quick Hits: Tigers, Nevin, Murphy, Polanco
John Ryan Murphy has drawn the attention of several opposing scouts and the young catcher could become a sought-after trade chip for the Yankees, John Harper of the New York Daily News reports.  "Some team might see him as a guy who could start for them,'' one scout told Harper. "He's solid with the bat and behind the plate.''
Murphy didn't play much with the 2014 Yankees — Brian McCann and Francisco Cervelli were the primary catching tandem that year — but he was a really good prospect. A borderline top 100 guy. Murphy gave the Yankees a quality season as the backup catcher in 2015 (.277/.327/.406 and 100 wRC+) before they turned him into Aaron Hicks. Even with Hicks dealing with his back injury, that trade has been a huge win for the Yankees. Murphy is with the D'Backs right now and they made him throw 54 pitches (!) in a two-inning mopup appearance two weeks ago. Seven runs in two innings. Man. How is letting a position player (or a pitcher, for that matter) throw that many pitches in two innings safe?
April 29th, 2014: Injury Notes: Profar, Figueroa, Pineda, Nova
Speaking of injured pitchers, Yankees hurler Michael Pineda will have an MRI after leaving a simulated game with a sore lat muscle, Newsday's David Lennon tweets. Pineda's suspension for pine tar is due to end Monday, but the Yankees might be without him longer than that.
You all remember the pin tar incident, right? Of course you do. Pineda was busted for having pine tar on his neck at Fenway Park, and was given a ten-game suspension. Everyone remembers that. How many people remember Pineda got hurt while suspended though? He was throwing in Tampa during his suspension when he injured his lat. The pine tar game was April 23rd. Pineda did not rejoin the Yankees until August 13th.
April 30th, 2014: AL Notes: Abreu, Carbonell, Astros, Baker
The Yankees are interested in Cuban outfielder Daniel Carbonell, according to media outlet Diario de Cuba (hat tip to Mike Axisa of River Ave Blues).  The Yankees scouted Carbonell during a February workout.  The switch-hitting 23-year-old is a free agent and can be signed for any price as long as he signs before July 2.
For some reason I had it in my head that the Yankees signed Carbonell. I must've been confusing him with someone else. The Giants signed Carbonell to a four-year, $3.5M contract and he spent the entire four-year contract in the minors. Didn't play much above Single-A ball. Carbonell hit .178/.229/.267 in the Mexican League last season, which sources confirm is not good. I somehow wrote three (and now four) RAB posts about this guy. Maybe I should've started a monthly RAB Archives feature where I looked back at all the stupid things I wrote five years ago. That would've been a hoot.