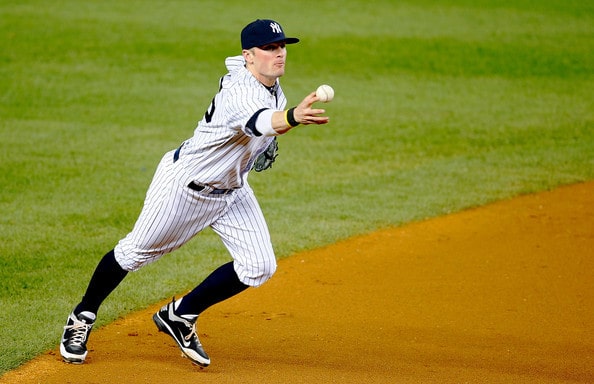 We are now into the season's final month and that means it is time for another edition of our MLBTR Archives series. September usually isn't a good month for trade and free agent rumors, but the Yankees were unusually busy in September 2013, so there's actually some stuff to cover here.
The 2013 Yankees were 72-63 on the morning of September 1st. They were eight games behind the Red Sox in the AL East but only 3.5 games behind the Rays for the second wildcard spot, so they had not yet been pushed out of the race. If nothing else, the Yankees played some meaningful games in September 2013. They were still alive in the postseason race. Let's get to the month's rumors.
September 1st, 2013: Yankees Release Melky Mesa
The Yankees have released outfielder Melky Mesa, the team announced via Twitter. The 26-year-old has been with the Yankee organization since signing as an amateur free agent out of the Dominican Republic back in 2003.
My favorite (and only) Melky Mesa memory is the time he missed third base on Alex Rodriguez's would-be walk-off single. It was Mesa's big league debut too. Ouch. You can see the play here. The Yankees walked off a few batters later, so no harm.
Anyway, the Yankees released Melky 2.0 because they needed a 40-man roster spot for a September call-up catcher named John Ryan Murphy. Mesa played six games with the Yankees from 2012-13 and went 6-for-16 (.400) with two doubles. He hasn't returned to MLB since, so he can always say he's a .400 hitter in the big leagues. Mesa is still active, you know. He hit .339/.381/.589 with 22 doubles and 20 homers for the independent York Revolution this summer. He's teammates with Jose Tabata.
September 1st, 2013: The Michael Young Trade: Reaction & Analysis
The Phillies would have been better served accepting the Yankees' offer of Double-A right-hander Tommy Kahnle and paying the remainder of Young's salary that was made prior to the July 31st Trade Deadline, tweets Jon Heyman of CBSSports.com.
Huh. I don't remember this. I remember the Yankees being in the mix for Young at the 2013 trade deadline — he was salary dumped on the Dodgers at the August 31st postseason-eligibility deadline — but I don't remember hearing they offered Kahnle. Kahnle was Rule 5 Draft eligible after the 2013 season and Rockies grabbed him after the Yankees left him unprotected. I guess the Yankees knew they weren't going to add Kahnle to the 40-man roster and wanted to trade him rather than potentially lose him for nothing, which is ultimately what happened.
September 2nd, 2013: Quick Hits: McCann, Dotel, Tanaka, Astros
The Yankees have "heavily scouted" Masahiro Tanaka, sending scouts to see many of Tanaka's starts for Rakuten, Mark Hale and George A. King III of the New York Post report.  Assistant GM Billy Eppler and special assignment scout Don Wakamatsu were in Japan last week for one of Tanaka's outings.  The Yankees and Rangers could be the favorites to make the highest posting bid for Tanaka should Rakuten make him available this offseason, though the Giants, Red Sox, Athletics and Twins are also known to be interested in the right-hander.
This was not the first time we heard the Yankees were in on Tanaka — that happened in May 2013 — but it was the unofficial start of the offseason frenzy. Hearing the Yankees had "heavily scouted" him was exciting! At the same time, the Yankees hadn't signed a significant Japanese player since Kei Igawa, and we know how that worked out. There were reasons to be skeptical about whether the Yankees would make a real push to sign Tanaka. I'm happy they did. Tanaka's the man.
September 10th, 2013: Yankees To Sign Mike Zagurski
The Yankees are set to add Mike Zagurski, according to Andy McCullough of the Star Ledger (on Twitter).  The lefty reliever opted out of his deal with the Athletics last week.
Mike Zagurski! You know what the craziest thing about Mike Zagurski is? It's not that he pitched in a game for the 2013 Yankees (one out, two runs). It's that he pitched in the big leagues this year. The Brewers called him up at midseason and he allowed seven runs in one inning across two appearances. The Yankees cut Zagurski loose after the 2013 season, he played in Triple-A and Japan from 2014-17, and then he made it back to the show this summer. Huh.
September 10th, 2013: Yankees Acquire Brendan Ryan
The Yankees have acquired shortstop Brendan Ryan from the Mariners in exchange for a player to be named later, according to a press release from Seattle.  Of course, Ryan will not be eligible for postseason play as he was dealt after the August 31st deadline.
The ultra-rare September trade. The Yankees were three games behind the second wild card spot when they lost Derek Jeter for the rest of the season with another ankle injury. So, rather than continue to play Eduardo Nunez at short, the Yankees went out and got the defensive specialist in Ryan. Nunez moved to third, Mark Reynolds moved to first, and Lyle Overbay moved to the bench.
Ryan hit .220/.258/.305 (52 wRC+) in 17 games with the Yankees and even socked a dinger. Rather than let him go after the season, the Yankees re-signed him to a two-year contract that included a player option for a third year. Goodness. Ryan stuck around as the utility guy in 2014 and 2015 before going to the Cubs in the Adam Warren/Starlin Castro swap. (Chicago immediately released him.) He's still the last position player to pitch for the Yankees.
Ryan spent last season in Triple-A with the Tigers and did not play anywhere this season.
September 11th, 2013: Yankees Designate Jim Miller For Assignment
The Yankees announced that they have designated right-hander Jim Miller for assignment in order to clear a 40-man roster spot for the recently acquired Brendan Ryan.
Once upon a time the Yankees couldn't call guys like Jonathan Loaisiga, Luis Cessa, and Domingo German up when they needed a pitcher. A young power arm. They had to go with guys like Miller, a journeyman who made his MLB debut at age 26 and somehow appeared in three games with the Yankees from 2013-14. He allowed nine runs in four innings in pinstripes an spent most of his time in Triple-A. Miller did the independent ball thing for a few years. He's been out of baseball since 2016.
September 12th, 2013: AL East Notes: Haren, Jeter, Abreu
The Yankees and Nationals discussed a possible Dan Haren deal last weekend, FOX Sports' Ken Rosenthal reports. The two sides never came close to making a trade, and Rosenthal suggests that money might have been part of the reason why — Haren would have only started three times for the Yankees (and wouldn't have been eligible for the playoffs, if the Yankees were to win a spot), but he was still due about $1.5MM in salary.
I don't remember this! Interesting. The Nationals were out of the postseason race and Haren was an impending free agent. If the Yankees had acquired him, he wouldn't have been eligible for the postseason roster, but he could've helped them to the postseason. David Huff was starting games for the Yankees in September 2013, remember. Replace Huff with Haren and maybe the Yankees get over the hump. Alas, the trade didn't happen. This and the Ryan trade are a reminder the Yankees never stopped trying to get better in 2013, even when things looked bleak. Admirable. Too many teams are quick to throw in the towel nowadays.
September 15th, 2013: Quick Hits: Balentien, Marlins, Abreu, Yankees
The Yankees' outlook for 2014 is bleak, Joel Sherman of the New York Post writes. Robinson Cano, Hiroki Kuroda, Mariano Rivera, Curtis Granderson and Andy Pettitte will all be free agents. While some of them might be back, many Yankees who are already under control for 2014 are signed to ugly contracts. Sherman points out that the Yankees have also seen few positive developments from their young players this season, and that 2013 hasn't seen the debut of a single blue-chip prospect.
As bad as the 2013 season was — and it was terrible — I hereby contend 2014 was worse. The 2013 Yankees were bad but also kinda dumb. We had Lyle Overbay in right field and a new shortstop every week to keep us entertained. The Yankees then committed over $400M to free agents in the offseason (Tanaka, Jacoby Ellsbury, Carlos Beltran, Brian McCann) only to finish one game worse in 2014. The 2013 Yankees went 85-77. The 2014 Yankees went 84-78 after signing all those free agents. The 2013 season stunk, don't get me wrong. The 2014 season is an underrated bad year.
September 20th, 2013: Andy Pettitte To Retire After 2013 Season
The final two starts of Andy Pettitte's storied career, appropriately, will come at Yankee Stadium in New York (on Mariano Rivera day) and Minute Maid Park in Houston. Joel Sherman of the New York Post reports that the 41-year-old Pettitte will announce his retirement later this afternoon.
This was a late announcement but it was not unexpected. There'd been hints for weeks that Pettitte would retire, and this time, it felt like he would retire for good. Andy just made it official on that September 20th morning. Who can forget the complete game in Houston in his final MLB game?
That was so great. Between Pettitte and Jeter and Mariano Rivera (and A-Rod!), we've had some memorable farewells the last few seasons.
September 22nd, 2013: Cafardo On Girardi, Rockies, Gardenhire, Washington
One Yankees official thinks it's "70-30" that Joe Girardi returns next season as manager.  Girardi would be intrigued by the Cubs' managerial job and Chicago is said to be contemplating Dale Sveum's future with the team.  Girardi has done a remarkable job this season, but Cafardo wonders if he might want out as the Bombers rebuild.
Girardi was in the final season of his contract in 2013 and had all the leverage in the world over the Yankees. The Yankees weren't good and they should've been worse, and several other teams were reportedly interested in hiring him. Girardi was able to get four years and $16M out of the Yankees that winter. Prior to that he'd been working on a series of three-year contracts. What happens if Girardi takes another three-year deal and it expires after 2016 rather than after 2017? Does he get a new contract and is he still the manager? Or do the Yankees let him walk a year earlier? Hmmm.
September 26th, 2013: Robinson Cano Seeking Ten Years, $305MM
With the Yankees officially eliminated from playoff contention, much of the focus on the team will shift to Robinson Cano's impending free agency, and it could be more expensive than any had imagined. According to ESPN's Buster Olney (ESPN Insider required), Cano is seeking a ten-year contract worth $305MM — the total value of Alex Rodriguez's deal with the Yankees if he hits all of his incentives — as he heads into free agency.
Impending star free agent wants record contract. News at eleven. I'm kinda surprised we haven't heard Manny Machado's or Bryce Harper's camp leak that they want a ten-year deal worth $400M or something like that. Still plenty of time to go before free agency, I guess. Could still happen. Cano didn't get close to $305M, but $240M is pretty darn good, and it's a heck of a lot more than the $175M the Yankees reportedly offered. Can you believe this is already Robbie's fifth year in Seattle? Feels like he was here just yesterday.
September 29th, 2013: AL Notes: Cruz, Yankees, Wedge, Blue Jays
Upper-level Yankees employees were frustrated that the team got so little high-end help from its farm system this year, Joel Sherman of the New York Post writes. There may be "a scapegoat or two" for that problem, but not GM Brian Cashman or manager Joe Girardi. Instead, scouting director Damon Oppenheimer or senior vice president of baseball operations Mark Newman could be out of a job.
Two good things came out of the mess of a 2013 season. One, the Yankees drafted Aaron Judge that June and he's pretty great. And two, it prompted ownership to review the player development system. The biggest changes didn't come until after the 2014 season — most notably, the Yankees replaced Newman with Gary Denbo — but in 2013 the Yankees renovated the minor league complex in Tampa and invested in new minor league training facilities and analysts. Since then, the team's player development system has been one of the most productive in baseball. At least some good came out of that 2013 season.