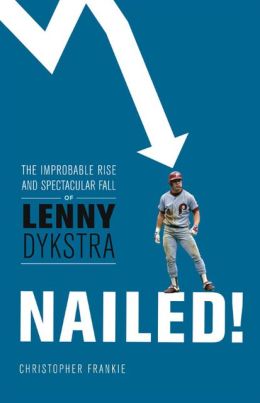 I recently had the opportunity to chat with author Christopher Frankie about his new book, NAILED! The Improbable Rise and Spectacular Fall of Lenny Dykstra. You may remember Lenny Dykstra from his time in the Majors (he played with both the Mets and the Phillies). You may remember him for his $55M car wash empire, or his affiliation with Mad Money's Jim Cramer. Or you may remember him for his increasingly baffling behavior that was so publicly scrutinized.
So without further ado, let me present Christopher Frankie.
Matt Warden: You were obviously motivated to write this book. What prompted that?
Christopher Frankie: First and foremost was the realization that this is an absolutely astonishing story and that my front row seat in 2008 allowed me to tell this insider's tale with the texture and context that was severely lacking in the mainstream narrative. Many people had heard some of Dykstra's story from TV and the newspapers, but I guarantee they haven't heard it like this.
On a personal note, I also wanted to show how and why so many smart, talented, hard-working and well-intentioned people got caught in Dykstra's web and had such a hard time walking away. It's a story of abuse, leverage, coercion and manipulation that I think will shock many people.
MW: What made working with Lenny so difficult to cope with?
CF: The manic and self-destructive behavior that wreaked havoc on everyone in Dykstra's life. The chaos he introduced into nearly every situation masked a lot of his misdeeds.
What also made working for Dykstra so difficult in 2008, when I worked for him, was the contrast between his public image and what I saw behind the scenes. The positive press, such as the HBO Real Sports feature, as well as Jim Cramer's endorsement, his $18 million mansion and private jet, all gave Dykstra added credibility and helped him explain away the "red flags" that would surface during the beginning of his financial downfall. It made it very difficult to discern fact from fiction at the time.