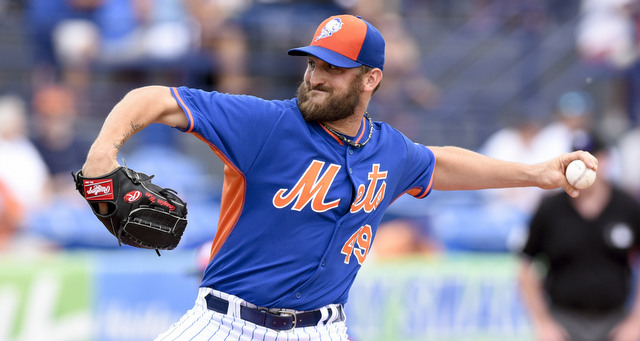 Spring Training has not been so kind to the Mets so far. Earlier this week they lost young right-hander Zack Wheeler to a torn elbow ligament, meaning he will soon have Tommy John surgery. That comes just a few days after the team learned top lefty reliever Josh Edgin also needs his elbow rebuilt. That's two members of the projected Opening Day pitching staff going down with Tommy John surgery in the span of four or five days. Ouch.
The Mets have an enviable amount of rotation depth — they are probably best equipped to deal with a major pitching injury of any team in MLB right now — and have plenty of options to replace Wheeler. Edgin is a different matter. Their best option to replace him is probably Rule 5 Draft pick Sean Gilmartin, and I imagine a Rule 5 guy is not someone they want to thrust into the primary lefty relief role. GM Sandy Alderson has already said they will explore the market for a lefty reliever.
That's where the Yankees come in. The Yankees have lefty relievers in spades and are in need of rotation depth, something they needed even before Chris Capuano strained his quad last week. The Mets, as I said, have a ton of rotation options. Enough to fill in for Wheeler, trade someone, and still have enough arms for depth. I mean, seriously. Look at their rotation depth chart without Wheeler:
Matt Harvey — totally awesome
Jacob deGrom — just named NL Rookie of the Year
Jon Niese — boringly effective
Bartolo Colon — Bartday!
Dillon Gee — generic fifth starter who won't kill his team
Rafael Montero — 3.60 ERA (3.66 FIP) in Triple-A in 2014, named 68th best prospect in baseball by Baseball America prior last year
Noah Syndergaard — ranked as 11th best prospect in baseball by Baseball America this spring
Steve Matz — ranked as 33rd best prospect in baseball by Baseball America this spring
That's a lot of pitching! Montero and Syndergaard are basically MLB ready while Matz has yet to reach Triple-A and is more of a second half option this coming season. Either way, the Mets are loaded with high-end rotation help, so much so that they spent all winter trying to unload Gee's $5.3M salary. Given their depth, I don't think Wheeler's injury would stop them from trading Gee either.
The Yankees, meanwhile, have a whole lot of left-handed relievers. They made a point of acquiring southpaw relievers this winter similar to how the Mets focused on adding to high-end pitching prospects while trading away veterans in recent years. The Yankees sending a lefty reliever to Flushing for a spare starter makes sense in a vacuum, but in reality it might not be easy to find a match on value. Take a look at Yankees' lefty bullpen depth chart:
Andrew Miller — not getting traded
Justin Wilson — tradeable
Chasen Shreve — tradeable
Jacob Lindgren — unlikely to be traded, but either way he can only be dealt as a player to be named later until June since he was just drafted last year, meaning he wouldn't be able to help the Mets come Opening Day
James Pazos — throws hard, zero MLB experience
Tyler Webb — doesn't throw hard, zero MLB experience
So that's six lefty relievers but only two are tradeable right now. Maybe the Mets really like Pazos and/or Webb, but if they're going to go with someone who has no MLB experience, they'd probably stick in house with Gilmartin or Jack Leathersich, who had great minor league numbers (3.16 ERA and 2.46 FIP between Double-A and Triple-A) last year like Pazos and Webb. Wilson and Shreve are the only movable pieces right now.
On the other hand, the Mets sure as hell won't trade Harvey, deGrom, Syndergaard, or Matz. They might be willing to move Montero in the right deal — there was talk of a Montero for Nick Franklin swap last spring but that didn't happen even though the Mets desperately need a shortstop — but I'm not sure a lefty reliever is that right deal. Even a dirt cheap lefty reliever under control for multiple years. That leaves Colon, who the Mets would probably give away right now, Gee, and Niese as the tradeable starters.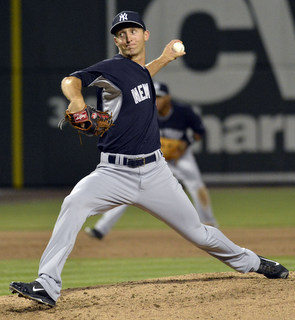 The Yankees wouldn't trade Wilson or Shreve for Colon or Gee, who barely move the needle at this point. On the other hand, the Mets wouldn't trade Niese for Wilson or Shreve. Heck they wouldn't trade Niese for Wilson and Shreve. Niese is good! And he has a favorable contract too. He's not someone they're looking to dump for the sake of shedding salary like Colon or Gee. A straight up spare lefty reliever for spare starter trade isn't happening between these two clubs, which means the pot would have to be sweetened somehow. (Brendan Ryan doesn't count.)
The Yankees and Mets haven't made a trade involving actually big league players (sorry, Gonzalez Germen) since the Mike Stanton-Felix Heredia swap way back in December 2004. I don't think Alderson or Brian Cashman would hesitate to trade with one another, however. Maybe one (or both) of the ownership groups would be hesitant, but Alderson and Cashman are smart guys looking to improve their teams however they can. If that means trading with a geographical rival, so be it. Finding common ground on a trade like this seems like it would be difficult.
On paper, the Yankees and Mets match up well for a trade. The Yankees need a starter and have a ton of lefty relievers while the Mets need a lefty reliever and have some extra starters. But, when you take a deeper look at who actually is and isn't available, there isn't a great match. Maybe the Mets love Webb and the Yankees are willing to take on Colon's hefty salary, that's always possible. It just seems unlikely. Perhaps the situation will change in the weeks before Opening Day, but, as of this moment, it's tough to see how these two clubs can find common ground without substantially expanding the trade.