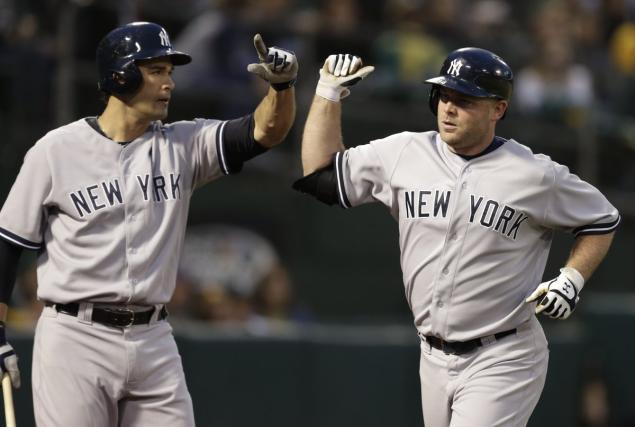 B.A.D.
As Mike wrote on Thursday night (actually Friday morning), the Yankees series-opening defeat was not just a bad loss, it was a Bad Loss. How Bad, really? Sure, the Yankees squandered a three-run lead to the team with the worst record in baseball … but that doesn't even begin to explain the extent of the Bad-ness.
Entering the game, Oakland:
• was 0-5 on Thursdays this season;
• had lost its last 10 games started by a left-handed pitcher;
• was 2-15 in one-run games this season, on pace to be worst such record by any team in the modern era (since 1900);
• had lost last its 12 home games decided by one run, the longest such streak since the 1894 Cubs (not a typo)
CC Sabathia didn't pitch as poorly as his numbers in the box score, but regardless fell to 2-7 with a 5.67 ERA in 10 starts this season. He is the first Yankee with seven losses before the team's 50th game of the season since Tommy John in 1989.
The 46-year-old southpaw had an eerily similar line to Sabathia's after 10 starts (and the 44th game of the season), with a 5.80 ERA and 2-7 record. He was released by the Yankees after that 10th start against the Angels on May 25, and wouldn't pitch in another major-league game in his career. Welp.
No chance
Sometimes mismatches on paper turn out to be … mismatches on the field, too. And that's exactly what happened on Friday night in the Yankees 6-2 loss to Sonny Gray and the A's.
Sonny Gray, an early Cy Young candidate, held the Yankees to four hits over eight innings. He's the first A's pitcher to allow fewer than five hits in eight-or-more innings pitched against the Yankees since Mark Mulder on May 11, 2003.
If you're looking for highlights, look no further than the bat of Brian McCann, who extended his streak of games with a homer to four. He is just the fourth Yankee catcher to hit a home run in four straight games, joining Bill Dickey, Yogi Berra and Mike Stanley.
Belting it
The Yankees snapped a four-game losing streak in Oakland with a come-from-behind win on Saturday night. Entering the game, they had lost 11 of their last 12 games at the Coliseum, their worst 12-game stretch there since 1989-91.
Carlos Beltran was the hero with his two-run homer in the sixth inning that turned a 3-2 deficit into a 4-3 lead for the Yankees. Before Saturday, Beltran had just three homers in 154 at-bats in Oakland, his lowest homer rate (one every 51 at-bats) at any ballpark he'd played at least 25 games.
McCann gave the Yankees the early 1-0 lead with a first-inning RBI single. It was his eighth straight game with a hit and an RBI, matching Allen Robinson (1946) and Yogi (1956) for the longest such streak by a Yankee catcher in franchise history.
One bad pitch
The Yankees wasted another strong outing by Adam Warren on Sunday afternoon, losing 3-0 to the A's in the series finale.
Warren surrendered just two runs over seven innings, and his only mistake was a 1-1 fastball in the sixth frame that Stephen Vogt sent over the right field fence. He's now got a 2.70 ERA in his last four starts, but the Yankees have won just one of those four games. Overall this season, Warren has six starts allowing no more than three runs without getting a win; the only AL pitcher with more such "hard-luck" starts is Baltimore's Wei-Yin Chen (7).
Jesse Chavez put the Yankees' bats on ice, holding them without a run over eight innings. He's the first A's pitcher to throw eight scoreless innings against the Yankees at home since Steve Ontiveros tossed a one-hit shutout nearly 20 years ago on May 27, 1995. Chavez also joined Vida Blue (1976) as the only pitchers to not allow a run or a walk with at least eight innings pitched against the Yankees in Oakland since the team moved to the west coast in 1968.