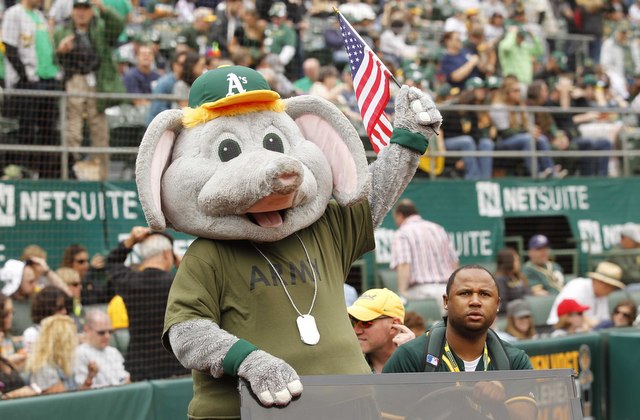 For the first time this season, the Yankees will head west and play in the Pacific Time Zone. They open a seven-game trip with a four-game series against the Athletics in Oakland later tonight. The Yankees will make another West Coast trip at the end of June.
What Have The A's Done Lately?
Let's put it this way: this is not the A's season. They just dropped two straight to the Tigers and lost two of three in the series. Before the two losses, they won three straight games for the first time this season. First time! Oakland has the league's worst record (17-32) despite a not abysmal run differential (-5).
Offense & Defense
Overall, the Athletics are about a league average offensive club with a team 101 wRC+ and an average of 4.18 runs per game. They're a little banging up offensively, with OF Coco Crisp (neck) and 1B Ike Davis (oblique) on the DL with long-term injuries. Crisp's injury might be career-ending. 3B Brett Lawrie is also day-to-day with back tightness, though he did play yesterday.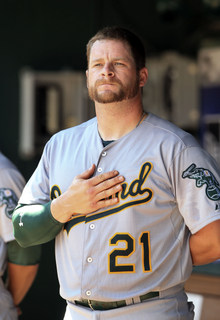 The big names in manager Bob Melvin's lineup are 2B Ben Zobrist (100 wRC+), DH Billy Butler (95 wRC+), and OF Josh Reddick (158 wRC+). Reddick's been really good, Zobrist okay around a knee injury, and Butler a disappointment. Their best hitter is C Stephen Vogt (182 wRC+), a late-blooming 30-year-old the Rays gave up on last year. Vogt's been the best hitting catcher in baseball so far this season. Go figure. SS Marcus Semien (124 wRC+) has been really good as well.
In addition to Lawrie (81 wRC+), the rest of the lineup includes OF Sam Fuld (61 wRC+) and OF Billy Burns (100 wRC+), two no-power speed guys. (Burns is very appropriately named.) 1B Max Muncy (116 wRC+) and 1B/OF Mark Canha (102 wRC+) are platooning at first base for the time being. C Josh Phegley (75 wRC+) will play against lefties and IF Andy Parrino (0-for-5) is the backup infielder. Reddick and Vogt are a force in the middle of the lineup. The rest of the offense … eh.
Regardless of metric, the A's are one of the very worst defensive teams in baseball. They have both the most errors (50, ten more than anyone else!) and the lowest team UZR, so it's no surprise they lead baseball with 30 unearned runs allowed. Reddick is excellent in right and Zobrist and Lawrie are strong at second and third, respectively, but that's about it. Fuld and Burns can run a little but that hasn't translated to great defense. Semien at short has been particularly ugly, which isn't surprising because basically no one outside Oakland thought he could play short on an everyday basis. Put the ball in play and good things will happen against this defense.
Pitching Matchups
Thursday: LHP CC Sabathia (Career vs. OAK) vs. RHP Kendall Graveman (No vs. NYY)
Graveman, 24, came over in the Josh Donaldson trade and was my pick to win AL Rookie of the Year before the season. So, naturally, he has a 6.04 ERA (5.74 FIP) in five starts and 22.1 innings this year. Graveman was sent down to Triple-A for a few weeks but has since rejoined the team. He threw six shutout innings against the Rays last time out, which was his first start back from the minors. Graveman hasn't missed many bats (12.2 K%) and he does walk people (10.3 BB%), which is usually a bad combination. His strong ground ball rate (49.4%) hasn't helped him keep the ball in the park (1.21 HR/9). Lefties (.405 wOBA) have teed off against him too, moreso than righties (.328 wOBA). Graveman is a sinker pitcher, sitting right around 90 mph with the pitch. He'll also throw a few upper-80s four-seamers and mid-80s cutters to keep hitters honest. Low-80s changeups and upper-70s curves are his two offspeed pitches. Graveman has thrown the sinker and cutter almost 80% of the time combined.
Friday: LHP Chris Capuano (Career vs. OAK) vs. RHP Sonny Gray (Career vs. NYY)
After a fine first full season as big leaguer last year, the 25-year-old Gray has taken a step towards ace-hood this year, pitching to a 1.77 ERA (2.60 FIP) in ten starts and 66 innings. His strikeout rate (23.6%) has ticked up, his walk rate has dropped (7.0%), and his ground ball rate (51.4%) has remained steady. Gray has been allergic to home runs (0.27 HR/9), but, even pitching his home games in Oakland, I don't think that will last forever. He has a small platoon split — .245 vs .277 wOBA in favor of lefties — which has been true his entire career. Gray throws both two and four-seamers in the mid-90s and he uses them both equally. A hammer low-80s curveball is his out pitch, but he also throws mid-80s sliders and a handful of mid-80s changeups per start. Gray's really good. Climbing towards the game's elite. It's worth noting Gray left his last start with an ankle contusion after being hit by a comebacker, but he threw a bullpen session a few days ago and is fine.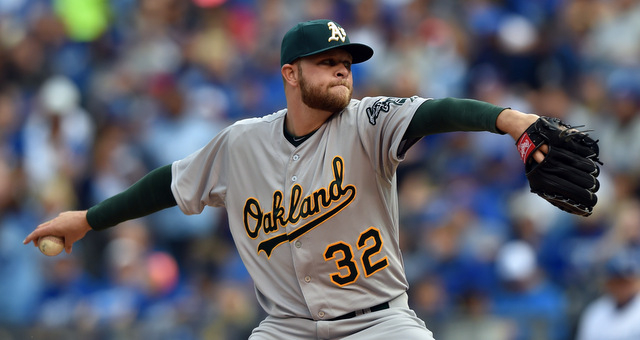 Saturday: RHP Nathan Eovaldi (Career vs. OAK) vs. RHP Jesse Hahn (Career vs. NYY)
Hahn is well-traveled despite being only 25 years old. He was a sixth round pick by the Rays in 2010, then they traded him to the Padres in the Alex Torres/Brad Boxberger/Logan Forsythe deal during the 2013-14 offseason, then this past offseason the Padres shipped him to Oakland in the Derek Norris trade. Hahn has a 3.69 ERA (3.18 FIP) in nine starts and 53.2 innings for the A's this year, and he's done it mostly with few walks (5.3%) and lots of grounders (51.7%). He doesn't strike anyone out (16.0%) and his homer rate (0.34 HR/9) is way low. Lefties (.331 wOBA) have hit him a lot harder than righties (.213 wOBA) this year. Hahn throws two fastballs but seems to prefer his low-90s two-seamer to his low-90s four-seamer. A big mid-70s curveball is his go-to breaking ball. He'll also mid-80s changeups and sliders, but for the most part it's the two fastballs and the curve.
Sunday: RHP Adam Warren (Career vs. OAK) vs. RHP Jesse Chavez (Career vs. NYY)
Chavez moved into the rotation when Graveman was sent down and he's stayed there because a) Drew Pomeranz got hurt, and b) he's been really good. The 31-year-old has a 2.44 ERA (2.83 FIP) in seven starts and four relief appearances with average strikeout (21.7%) and walk (7.3%) rates. Chavez doesn't get grounders (38.7%), hasn't given up homers (0.35 HR/9), and has been much more effective against righties (.211 wOBA) than lefties (.296 wOBA). That's been true his entire career. Chavez is a bit of a kitchen sink guy, throwing five different pitches including four at least 15% of the time. He's got low-90s two and four-seamers, an upper-80s cutter, a mid-80s changeup, and an upper-70s curveball. The curve's the black sheep. That's the fifth pitch he doesn't use a ton.
Bullpen Status
Remember how I said the Athletics have an awful record despite a not so terrible run differential? That's because the bullpen's been horrible and blown a lot of late leads. In fact, Oakland is 2-15 (!) in one-run games. 2-15! That's incredible. The bullpen as a whole has a 4.93 ERA (4.37 FIP), which is bad, though they did just get ex-closer LHP Sean Doolittle back off the DL. He missed the start of the season with a shoulder issue and made his first appearance of the season yesterday. He's not yet closing; they're easing him back into things.
Ex-Yankees RHP Tyler Clippard (4.38 FIP) has been he fill-in closer with RHP Evan Scribner (2.61 FIP) emerging as the regular setup man. RHP Dan Otero (4.26 FIP), who was a Yankee for about a minute back in 2013, is a workhorse middle reliever and LHP Fernando Abad (7.68 FIP) was Melvin's only southpaw until Doolittle returned. RHP Fernando Rodriguez (2.32 FIP) and long man RHP Arnold Leon (4.77 FIP) fill out the rest of the bullpen. Scott Kazmir left yesterday's start after three innings with a shoulder injury (ugh), so Melvin had to use Otero (50 pitches), Doolittle (14), Rodriguez (36), and Scribner (26). Their 'pen isn't too fresh. Check out our Bullpen Workload page for the status of Joe Girardi's bullpen, then head over to Athletics Nation and BeaneBall for the latest and great on the A's.