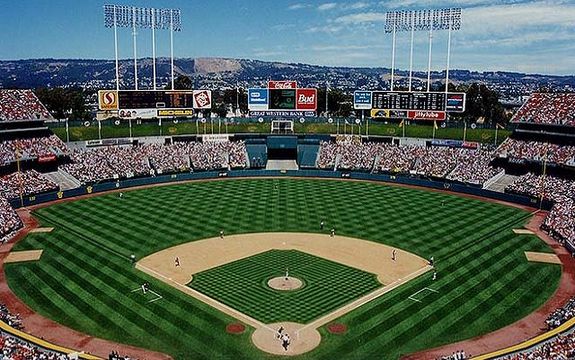 The road trip continues with four games in Oakland. These days the ballpark is called the Oakland Coliseum. Overstock.com opted out of their naming rights deal in April. Regardless of what they're calling the stadium, playing in Oakland has been a nightmare for the Yankees in recent years. They're 2-8 at the Coliseum since 2013. Woof. The A's swept three games at Yankee Stadium last month.
What Have They Done Lately?
Oakland just swept three games from the Rangers at home, and they've won their last four games overall. Prior to that they lost ten of 13. The A's are 19-22 with -39 run differential overall. Only the Twins (-67!) have a worst run differential in the AL. Somehow they're in third place in the AL West.
Offense & Defense
Thanks in part to their spacious ballpark, the A's are averaging only 4.00 runs per game with a team 92 wRC+ this season. Pop-ups that land in the seats in other parks are outs in the Coliseum because of all that foul territory. There's a reason the A's have never had a batting champ since they moved to Oakland. Anyway, the Athletics have a ton of position players on the DL: 1B/OF Mark Canha (hip), IF Jed Lowrie (shin), OF Sam Fuld (shoulder), C Josh Phegley (knee), and IF Eric Sogard (knee). None are coming back this series.
Manager Bob Melvin builds his lineup around three players: RF Josh Reddick (129 wRC+), 3B Danny Valencia (180 wRC+), and LF Khris Davis (115 wRC+). Davis, who looked lost at the plate when these two clubs last met, has 12 homers in his last 25 games. Valencia has hit six homers in his last six games. Those three guys typically hit 3-4-5 with OF/DH Coco Crisp (91 wRC+) and CF Billy Burns (73 wRC+) batting first and second. That middle of the lineup is a dangerous group, no doubt about it.
1B Yonder Alonso (72 wRC+) and DH Billy Butler (48 wRC+) have been platooning at first base since Canha's injury — yes, they've actually been playing Butler in the field — while IF Chris Coghlan (57 wRC+) and UTIL Tyler Ladendorf (-84 wRC+) are handling second base duties. The Yankees once drafted Ladendorf, you know. Thirty-fourth round back in 2006. Anyway, SS Marcus Semien (118 wRC+) and C Stephen Vogt (75 wRC+) are the regular shortstop and catcher, respectively. C Matt McBride and IF Max Muncy are the other bench players. Those two were just called up this week.
Overall, the A's have a really weak team defense. In fact, they rank last in UZR (-18.2) and next to last in DRS (-22) so far this season. Take that for what it's worth because it's only May 19th. Reddick is an outstanding defender in right with a great arm, so don't hit it his way. Burns can also go get it in center. The A's are below average pretty much everywhere else on the field though, especially now that Crisp's range has been sapped with age and Butler is playing the field.
Pitching Matchups
Thursday (10:05pm ET): RHP Ivan Nova (vs. OAK) vs. RHP Kendall Graveman (vs. NYY)
Graveman, 24, came over from the Blue Jays in the Josh Donaldson trade and he has been as close to replacement level as it gets with the A's. So far this season he has a 5.84 ERA (6.33 FIP) in seven starts and 37 innings. Both his strikeout (17.0%) and walk (8.5%) numbers are decent at best, and Graveman has managed to be extremely home run prone (2.43 HR/9) despite an above-average ground ball rate (51.2%). Righties have actually hit him harder than lefties. Graveman is essentially a low-90s sinker/upper-80s cutter/upper-70s curveball pitcher, plus he will throw a few mid-80s changeups per start. Unusual pitch mix. He held the Yankees to one run in 6.1 innings in the Bronx last month, back when the Yankees couldn't score more than two runs in a game to save their lives.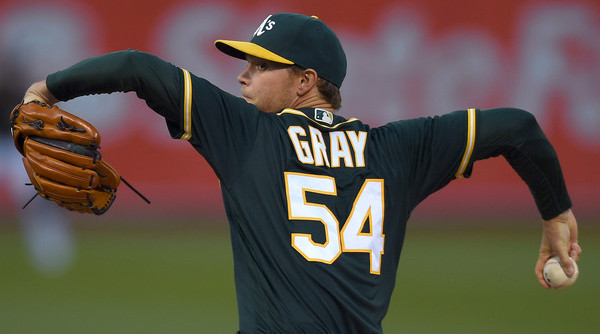 Friday (9:35pm ET): LHP CC Sabathia (vs. OAK) vs. RHP Sonny Gray (vs. NYY)
Last season Sonny Gray was a deserving All-Star who finished third in the AL Cy Young voting. This year he has 5.84 ERA (5.15 FIP) in eight starts and 44.2 innings. Egads. Jeff Sullivan noted Gray's breaking ball has not been good this year, and, for what it's worth, Gray told Jane Lee he thinks he picked up a mechanical flaw and made an adjustment in his previous start. We'll see. So far this year he's getting an average-ish number of strikeouts (18.9%) and a ton of ground balls (54.3%), but he's walking too many (10.0%) and allowing a ton of dingers (1.61 HR/9). Gray has been a FIP beater in his relatively young career — 3.13 ERA and 3.51 FIP in 535.2 innings — because he gets a ton of infield pop-ups and weak ground balls. He's historically had no platoon split at all. Gray uses low-to-mid-90s four-seamers and sinkers to set up his bread-and-butter low-80s curve. He'll also throw some upper-80s changeups and mid-80s sliders. The Yankees did not see the 26-year-old Gray during the series in New York last month.
Saturday (4:05pm ET): RHP Masahiro Tanaka (vs. OAK) vs. LHP Sean Manaea (No vs. NYY)
Manaea, 24, came over from the Royals in the Ben Zobrist trade last year. Baseball America ranked him as the 48th best prospect in baseball coming into the season, and once his service time was sufficiently manipulated, the A's called him up. Manaea has a 7.91 ERA (5.54 FIP) through four starts and 19.1 innings. Few walks (6.9%) and an average number of grounders (45.5%) are positives, but few strikeouts (14.9%) and a ton of dingers (1.86 HR/9) are negatives. In a super small sample righties have hammered Manaea while he's dominated lefties. Manaea has three pitches: mid-90s four-seamer, upper-70s slider, and mid-80s changeup. He's got a funky delivery and that slider is his go-to pitch: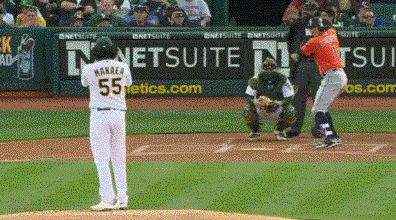 Manaea's chopped off all his hair since that game in the GIF by the way. Like so many young pitchers still finding their way in the big leagues, Manaea has good stuff but is also prone to losing the plate and working himself into trouble. He was just called up three weeks ago, so the Yankees didn't see him when these two teams met in Yankee Stadium earlier this season.
Sunday (4:05pm ET): RHP Michael Pineda (vs. OAK) vs. RHP Jesse Hahn (vs. NYY)
This game was supposed to be the A's debut of right-hander Henderson Alvarez, who the team signed as a free agent over the winter while he rehabbed from shoulder surgery. Those plans have been scrapped because Alvarez came down with shoulder soreness following his last rehab start. Apparently the soreness is severe enough that he's going to see Dr. Andrews. Yikes. That sucks. Big Hendo is one of the most entertaining pitchers in baseball.
So, with Alvarez down, Hahn jumps into the rotation. The 26-year-old has thrown 18.2 innings in three spot starts this season, allowing eight runs (seven earned) on 21 hits and seven walks. He's struck out only six with a 57.6% grounder rate. Last season he had a 3.35 ERA (3.51 FIP) in 96.2 innings before coming down with a forearm problem. Hahn has very sharp stuff, with a mid-90s heater setting up his upper-80s changeup and trademark upper-70s curveball. The question is health. Hahn has a long and scary injury history. The Yankees didn't see him last month when the A's were in New York.
Bullpen Status
Last season the A's went 19-35 (!) in one-run games in part due to a leaky bullpen. They overhauled the relief crew over the winter with some trades and free agent signings, which has given Melvin way more options in the late innings. He no longer has to hold his breath once the starter comes out of the game. Here's his bullpen:
Closer: RHP Ryan Madson (1.93 ERA/3.59 FIP)
Setup: LHP Sean Doolittle (3.31/3.97) and RHP John Axford (3.18/3.87)
LOOGY: LHP Marc Rzepczynski (4.05/4.01)
Middle: RHP Ryan Dull (3.48/4.03) and RHP Andrew Triggs (3.38/2.48)
Long: RHP Fernandez Rodriguez (1.54/2.64)
Oakland's bullpen is pretty well rested. Rodriguez threw 19 pitches and Triggs threw eight pitches yesterday. Madson and Doolittle threw 17 and 16 pitches on Wednesday, respectively. That's all. For the status of the Joe Girardi's bullpen, head on over to our Bullpen Workload page.