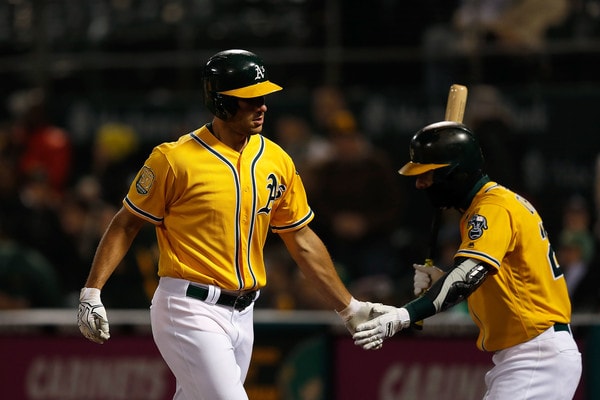 The homestand concludes this weekend with three games against the Oakland Athletics as the Yankees finally escape their run of consecutive games against first or second place teams.
The Last Time They Met
The Yankees visited the A's for a four-game set last June, and it was one of the most frustrating stretches of the 2017 season. Oakland took all four games, and did so by outscoring the Yankees by a mere six runs. And that's overselling it to a degree, as three of the games were decided by just one run. It was awful. Some notes:
The Yankees entered the series with a 2 game lead in the AL East, and by the time it was over they were tied for first. They'd only spend one more day as the uncontested first-place team for the remainder of the season.
Starting pitching was the issue this time around. Jordan Montgomery, Luis Severino, Masahiro Tanaka, and Luis Cessa all allowed at least four earned runs, pitching to a combined 7.78 ERA in 19.2 IP. The bullpen's 4.5o ERA in 14 IP is positively stellar in comparison.
A's third baseman Matt Chapman made his big-league debut in the first game of the series (a game started by Sonny Gray), and started all four games. He went 3-for-14 with a double, two walks, and seven strikeouts.
Check out Katie's Yankeemetrics post for more maddening tidbits on the series.
Injury Report
Oakland has a slew of pitchers on the disabled list right now, including starting pitchers Trevor Cahill and Jharel Cotton, and relievers Ryan Buchter and Liam Hendriks. Cahill is the only one that is expected to be back somewhat soon, but he will not be available for this series. Outfielder Boog Powell is out, as well.
Their Story So Far
The A's are currently fourth in the AL West at 18-19 with a -16 run differential, and that's probably a little bit better than you'd expect – particularly with all of the injuries to their already thin pitching staff. And they've done it in the least exciting way possible: by being right around league-average in everything. Their offense (101 wRC+), pitching (103 ERA-), and defense (-2.2 UZR/150) are all within a rounding error of average, and almost all of their players are within a similar margin. Though, to be fair, their offense has hit .269/.339/.519 in high-leverage situations, which translates to a third-best in the majors 128 wRC+. And the bullpen's 16 meltdowns is also bested by only five teams. Put those together and you have a pretty good formula for winning close games.
It is worth noting that they A's have had three compelling storylines so far this year, too. Sean Manaea no-hit the Red Sox on April 21, which is terrific. Former Yankee prospect Dustin Fowler made his return to the field after last year's catastrophic knee injury the other night, which is also wonderful. And, in sadder news, Stephen Piscotty lost his mother to Lou Gehrig's Disease on Sunday; the A's crowd and players and the opposing Astros gave him a standing ovation when he returned on Tuesday, in a very touching moment. And he ripped a single the other way. Even in death, baseball can touch you.
The Lineup We Might See
Manager Bob Melvin tweaks his lineup based upon the handedness of the opposing pitcher, with Matt Joyce generally leading off against right-handed starters, and riding the pine against southpaws. He has eased up on that a bit over the last week due to Joyce's struggles, but I could see him moving Joyce back up to take advantage of the short porch in Yankee Stadium. Based upon that, I suspect that we'll see something along these lines:
Matt Joyce, LF – .191/.342/.330, 2 HR, 0 SB
Marcus Semien, SS – .263/.318/.378, 3 HR, 3 SB
Jed Lowrie, 2B – .338/.400/.579, 8 HR, 0 SB
Khris Davis, DH – .215/.294/.458, 9 HR, 0 SB
Matt Olson, 1B – .233/.317/.372, 4 HR, 2 SB
Matt Chapman, 3B – .222/.309/.422, 6 HR, 0 SB
Jonathan Lucroy, C – .289/.355/.392, 0 HR, 0 SB
Stephen Piscotty, RF – .248/.306/.364, 2 HR, 0 SB
Mark Canha, CF – .275/.326/.513, 5 HR, 0 SB
Dustin Fowler, who came off the bench on Wednesday, will probably slot into the lineup in some capacity. The A's have suggested that their goal is to make him the starter at some point, for what it's worth. Super-utility player Chad Pinder (.279/.323/.492, 3 HR, 0 SB), who has seen time at 2B, 3B, and all three OF positions this year, will almost certainly get a start or two somewhere, as well.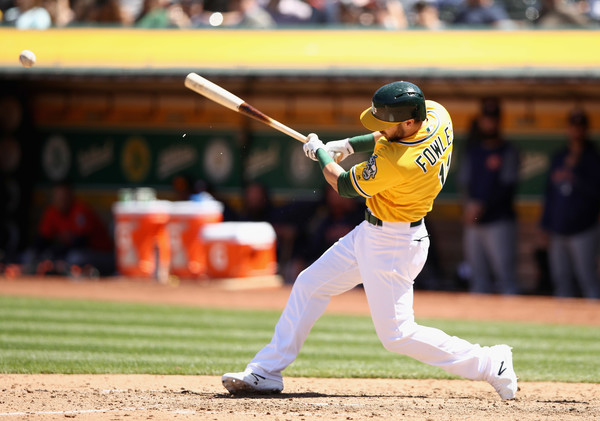 The Starting Pitchers We Will See
Friday (7:05 PM EST): RHP Sonny Gray vs. RHP Kendall Graveman
A few days ago, Graveman was scheduled for a Friday start against the Colorado Springs Sky Sox – Milwaukee's Triple-A affiliate. An injury to Trevor Cahill left the A's a starter short, though, so he will instead face the Yankees lineup in Yankee Stadium. That can't be fun for anyone, let alone a guy that had an 8.89 ERA (6.02 FIP) in 28.1 IP prior to being demoted to Triple-A in the first place. Graveman was basically a league-average starter in his first three seasons in Oakland, pitching to a 4.11 ERA (99 ERA+) in 407 IP, so he's probably not this bad.
Graveman is a four-pitch guy, featuring a low-to-mid 90s sinker, a low-90s cutter, a mid-80s change-up, and a low-80s curve. None of the pitchers are swing-and-miss offerings, but he does boast a career 51.5% groundball rate.
Last outing (vs. TEX on 4/25) – 6.0 IP, 6 H, 3 R, 4 BB, 7 K
Saturday (1:05 PM EST): RHP Domingo German vs. RHP Andrew Triggs
Triggs is another league-average-ish guy, with a 4.32 ERA (97 ERA+) in 156.1 IP in the bigs. He was a waiver-wire pick-up for the A's in 2016, which makes him a steal as a league-average pitcher – but he could be more than that. Triggs has solid peripherals across the board, including a 21.1% strikeout rate, 6.6% walk rate, and 50.5% groundball rate with the team, all of which hint at a bit more goodness beneath the surface.
Triggs is something of a junkballer, utilizing a low-90s fastball, low-90s sinker, low-80s change, low-80s slider, and mid-70s curve. He locates all of his offerings well, though, and all of them have a bit more wiggle than you'd expect.
Last outing (vs. BAL on 5/6) – 7.0 IP, 2 H, 1 R, 0 BB, 9 K
Sunday (1:05 PM EST): RHP Luis Severino vs. LHP Brett Anderson
It almost feels like Anderson was a Yankee at some point, given how much writers and fans have talked about him as a buy-low candidate at various times. He was a rock-solid mid-rotation starter in his two full seasons, which is what lends hope that there's more there – but he's also a 30-year-old pitcher that averaged just 16 appearances per season in his first nine years due to a variety of injuries. He also has a 7.46 ERA since the beginning of 2016 … but that's in a small sample size of just 76 IP. It's a shame.
Anderson uses five pitches – a low-90s four-seamer, a low-90s sinker, a low-80s change, a low-80s slider, and a mid-70s curve.
Last outing (vs. HOU on 5/7) – 3.0 IP, 10 H, 9 R, 3 BB, 0 K
The Bullpen
The A's have a very top-heavy bullpen, with closer Blake Treinen (1.13 ERA), Ryan Dull (2.35 ERA), Santiago Casilla (2.40 ERA), and Lou Trivino (a totally not made-up pitcher with a 0.75 ERA in 12 IP) locking down the late innings. The rest of the relief innings, however, tend to go to Yusmeiro Petit (4.66 ERA), Danny Coulombe (5.93 ERA), and Chris Hatcher (6.55 ERA), which isn't great.
Yankees Connection
Dustin Fowler was dealt to the A's (alongside James Kaprelian and Jorge Mateo) in last summer's deadline deal for Sonny Gray. He was a back-end top-100 prospect heading into this year, and it's difficult not to root for him given his ignominious debut last season. Mateo, by the way, is hitting .184/.223/.289 at Triple-A, and Kaprielian has yet to pitch this year as he rehabs from Tommy John surgery.
Who (Or What) To Watch
I'm hoping the Yankees crowd gives Fowler a big-time ovation if and when he plays – he certainly deserves it. I'm also intrigued to see what he can do now that he's fully healthy. If you're looking for non-ex-Yankee to watch, Chapman is an excellent defender at the hot corner.