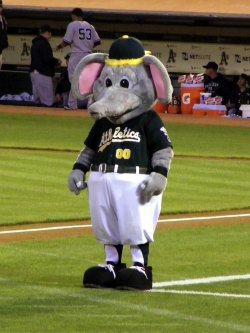 After playing a pair of four-game series against division rivals, the Yankees head back home to take on some of the lesser teams in baseball. In the next 10 games they'll play Oakland, Seattle, and Baltimore, taking them right into August. First up is Oakland, against whom the Yankees are 19-3 in the last three seasons.
What the A's Have Done Lately
Surprisingly enough, Oakland has played pretty well since the All-Star break. They came out swinging against the Angels, taking three of four, before splitting a pair with the Tigers. They averaged five runs per game in that stretch, which is just slightly better than their 3.52 runs per game this season. It's actually far more surprising that they beat up on Anaheim, since Anaheim has one of the best, if not the best pitching staff in the league.
A's on Offense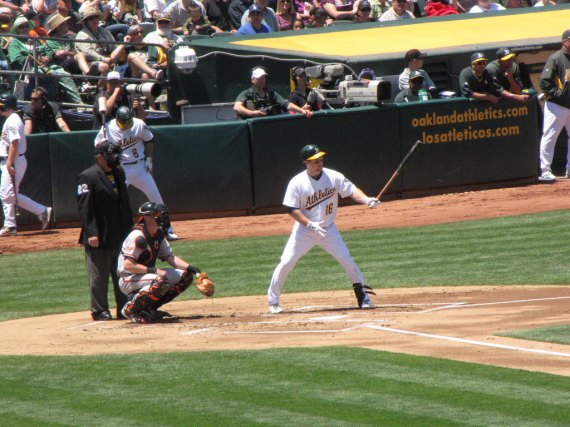 Despite the recent outburst, the A's still have one of the league's worst offenses. As mentioned, they've scored just 3.52 runs per game, which is 13th in the AL, with only Seattle trailing. It's also about 0.8 runs per game below the league average. Of course, they play in one of the most pitcher-friendly parks in the league, so it's expected that their hitters are a certain degree worse than they would be if they played elsewhere. Yet even when we adjust for their park in Batting Runs Above Average, they're still at -59.4, which is — you guessed it — 29th in the majors, with only Seattle trailing. (Though they trail by 30 runs.)
It's no surprise that Josh Willingham's name has come up often in trade talks. He's been Oakland's best hitter this year, putting up 4.3 runs above average. While that number is park-adjusted, I'm not quite sure it adequately compensates a player for a park as poor as the Oakland Coliseum. He's hitting .240/.315/.427 right now, which is below his career numbers in every regard. Coco Crisp has been the other veteran who has provided positive run value. His .265/.315/.385 line might not look like much, but compared to his teammates it's golden.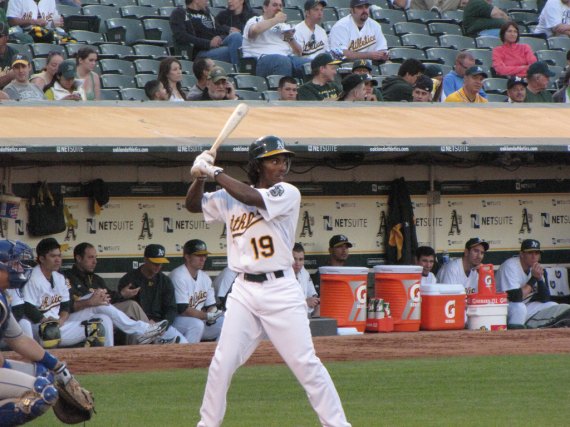 Two youngsters have stepped up for Oakland this season and have provided positive run values despite having fewer PA then other starters. Jemile Weeks has stormed onto the scene, hitting .308/.342/.406 in his first 153 big league plate appearances. He's never really hit for power, even in the minors, but he did have a good walk rate down there, which could help him maintain his value as his BABIP regresses a bit.
Earlier this season the A's acquired Scott Sizemore from the Tigers for a song, and he's actually produced positive value as an Athletic. In 125 PA he's hit .261/.328/.414, which, again, would translate to much better numbers elsewhere. He's part of the A's MO, which is to acquire decent on-base guys who have no semblance of power. I get it, in a way. Their stadium suppresses power, so you might as well try to build clubs in different ways. Not that it has worked, really.
The rest of the A's hitters are having years ranging from pretty bad to completely crappy. They have gotten rid of two of their worst offensive detractors, Mark Ellis, traded to the Rockies, and Daric Barton, optioned to the minors. While the A's have replaced Ellis with Weeks, they haven't gotten much out of Barton's replacement, Chris Carter. He has tons of potential to hit with power, but he's managed just four extra bases in 110 career PA, all of them coming last year.
A's on the Mound
While the A's have the second worst offense in the league, their pitching staff has allowed the third fewest runs in the league. Again, this is greatly an effect of their ballpark, and a trip to the Stadium could be a humbling experience. They're without one of their best, Brett Anderson, who recently underwent Tommy John Surgery. But the Yanks will still run into two of their very good young starters.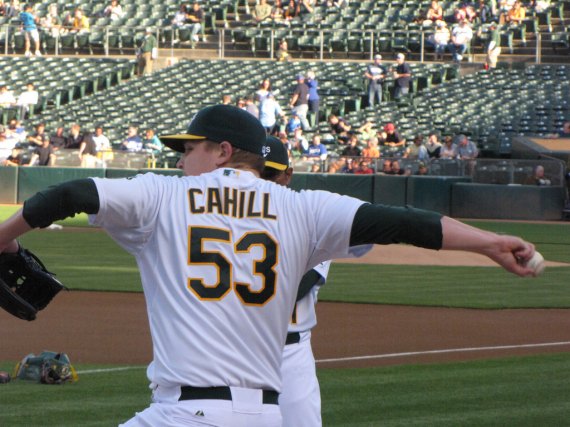 Friday: RHP Trevor Cahill. His year hasn't gone as well as his first few starts might have indicated, but Cahill is on his way to another fine year in the majors. It's pretty impressive for a 23-year-old who broke in at age 21. His strikeouts are up, but so are his walks. It leads to a slightly worse ERA and slightly better peripherals than last year, which is good on the whole. But for this year it can still come back to haunt him. It certainly did earlier in the year against the Yankees, when he walked five and gave up four runs. Last year he faced the Yanks twice and gave up 15 runs in 10 innings. He's been very good lately, giving up three or fewer runs in four of his last five stars, including one 7.2-inning, 2-run start against the scorching Texas Rangers.
Saturday: RHP Rich Harden. It will be around 100 degrees in an afternoon affair, so of course Harden is going against A.J. Burnett. Harden has made just three starts this year, and while he has avoided the walk, issuing just four in 18 innings, he has also allowed four homers in that span. He can still strike 'em out, but it appears he's lost most of his arsenal, which doesn't play well against a dynamic lineup such as the Yankees. Which, of course, means he'll below through them and we'll be in for a short afternoon. Which means, in turn, that both he and Burnett will walks six and an equal number of people at the Stadium will spontaneously combust. In all seriousness, it's hard to get a read on Harden. He's been so injured lately that no one really knows what's going to come next.
Sunday: LHP Gio Gonzalez. It's been quite a year for Gonzalez, whose ERA is is a full run lower than it was last year. His peripherals are a measure better, too, because he's striking out more hitters. But he's still walking batters, giving up homers, and getting ground balls at similar rates, which are the only aspects that hold him back. Still, it's hard to argue with a 2.33 ERA. He's had a few clunkers along the way, including a four-inning, seven-run performance against the Rangers in early July (though only three runs were earned). He's allowed four or more runs just five times in 19 starts this season, though one of those was to the Yankees back in June. In four of his last five starts he's gone at least seven innings and has allowed zero or one run.
Bullpen: The A's have had some turnover in their bullpen, but overall it's a quality unit, with an AL-leading 2.93 ERA. They also have the second-lowest bullpen FIP in the AL at 3.28. (Guess who's in first?) The only drawback is that they've had 38 meltdowns, which ranges closer to the middle of the pack. Brad Ziegler leads the way with a 1.80 ERA andd 2.42 FIP, while Andrew Bailey has been awesome in his limited time (2.00 ERA, 2.35 FIP). Grand Balfour, Craig Breslow, and Joey Devine have also done a good job keeping other teams at bay in the later innings.
Recommended A's Reading: Friend of RAB Jason Wojciechowski's Beaneball.