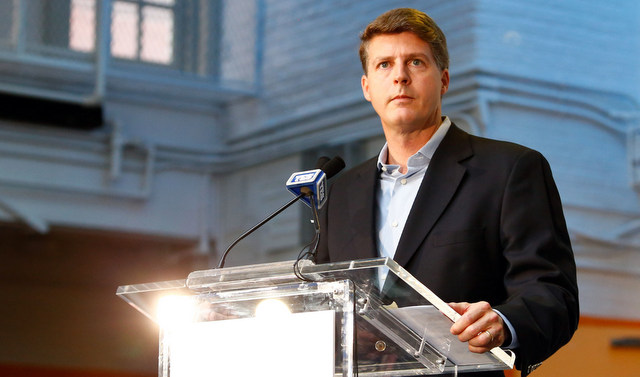 We're officially in the dog days of the offseason. All of the top free agents other than James Shields have signed, all of the top trade candidates have been traded, and there's really nothing left to do other than count down the days until Spring Training. It would be a surprise if the Yankees made another notable move this winter, meaning something more than a minor trade or handing out a minor league contract.
Since our last payroll breakdown in mid-December, the Yankees have made five trades — including three that directly impacted the projected Opening Day roster — and signed one big league free agent as well as all of their arbitration-eligible players. They also did, in fact, pass on Max Scherzer. The 2015 payroll situation has both changed and stayed the same since our last update — the Yankees shuffled money around, they didn't really cut any or take any on. Here's an update on where the 2015 payroll sits.
UNDER CONTRACT (21 players signed for $216.535M)
Players: Alex Rodriguez ($27.5M), CC Sabathia ($24.4M), Mark Teixeira ($22.5M), Masahiro Tanaka ($22.14M), Jacoby Ellsbury ($21.86M), Brian McCann ($17M), Carlos Beltran ($15M), Brett Gardner ($13M), Chase Headley ($13M), Andrew Miller ($9M), Chris Capuano ($5M), Stephen Drew ($5M), Garrett Jones ($5M), Nathan Eovaldi ($3.3M), Ivan Nova ($3.3M), Chris Young ($2.5M), Michael Pineda ($2.1M), Brendan Ryan ($1.67M), Esmil Rogers ($1.48M), David Carpenter ($1.275M), Jose DePaula ($510k)
As a reminder, those numbers are luxury tax "hits," not necessarily the player's actual take home salary for the coming season. The Yankees seems to operate with the luxury tax payroll in mind — most of their multi-year contracts are paid out according to average annual value anyway — because I guess that's the most important number to them. It determines how much extra they have to pay at the end of the season.
Anyway, Drew, Jones, Eovaldi, and Carpenter are all new additions since our last payroll update. Martin Prado, David Phelps, and Shawn Kelley have all been traded away. At the time of the last update, the Yankees had 16 players under contract plus four arbitration-eligible players who combined for $215.76M in tax hits. So all those trades last month resulted in one extra player and less than a million of extra payroll. Like I said, they just shuffled the money around.
DePaula signed a split contract, meaning he will earn one salary in MLB ($510k) and another in the minors ($175k). That's standard for players in their pre-arbitration years. I included him in this section because one way or another, the Yankees are going to pay someone that sort of salary to fill out the last spot in the bullpen. It'll probably be a revolving door of pitchers, all at that salary level. DePaula's a placeholder, essentially.
Those 21 players listed above account for 20 Opening Day roster spots since Nova is going to start the season on the disabled list. The Yankees ended last season with a $225.6M payroll for luxury tax purposes and our estimate is already at $216.535M this year, for a little more than half the 40-man roster too.
PRE-ARBITRATION (19 players)
Players: Tyler Austin, Dellin Betances, Danny Burawa, Ramon Flores, Domingo German, Didi Gregorius, Chris Martin, Bryan Mitchell, John Ryan Murphy, Branden Pinder, Jose Pirela, Jose Ramirez, Austin Romine, Gary Sanchez, Chasen Shreve, Adam Warren, Chase Whitley, Mason Williams, Justin Wilson
Like I said, these players will earn one salary in MLB and another in the minors. Betances, Gregorius, Murphy, Warren, and Wilson are all projected to be on the Opening Day roster and will earn something close to the league minimum. (Betances figures to make the most of this group next year because he has an All-Star Game to his credit.) Estimating them a $550,000 each brings us to $219.285M for 26 of the 40-man roster spots.
The other 14 pre-arbitration players are going to be in the minors, at least for part of the season. Some will come up because they perform well or there are injuries. There's no real way to predict their playing time. I've seen salary estimates for the non-MLB roster portion of the 40-man roster range anywhere from $2M to $5M. I used $2M in our last payroll breakdown but I think the higher end of that range might be more appropriate because of the team's injury risk in the rotation, at first base, right field, and DH. Guys like Mitchell, Pirela, and Whitley could wind up spending a lot of time with the Yankees this summer. Using the $5M, we're at $224.285M for the full 40-man roster.
MISCELLANY ($3M guaranteed and up to $15.325M total)
Players: A-Rod ($6M bonus with six more homers), Prado ($3M to Marlins), Chris Young ($3.825M in incentives), Stephen Drew ($1.5M in incentives), Chase Headley ($1M in incentives)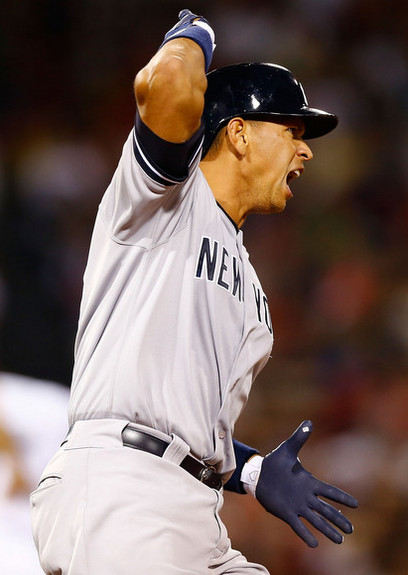 Bonuses and incentives do count towards the luxury tax, so while I'm not going to include them in our little running estimate, we do have to be aware of them. A-Rod needs six more dingers to get that $6M bonus, and the incentives for Young, Drew, and Headley are all based on plate appearances. Chances are at least some of that bonus money will be paid out.
The Yankees sent the Marlins money to help cover Prado's contract as part of the Eovaldi trade — they're sending Miami $3M this year and another $3M next year. That makes it nice and easy for luxury tax purposes. Unlike the incentives, that $3M is definitely going to the Marlins in 2015. It's on the books. So our 40-man roster estimate jumps up to $227.285M. The Yankees closed the 2014 season with a $225.6M payroll for luxury tax purposes, for reference.
We're not done though. Every team has to contribute $12M or so towards player benefits and that counts against the luxury tax, so the Yankees are really at $239.285M with their luxury tax payroll. The Yankees started last season with a payroll right around $200M for luxury tax purposes and it climbed to $225.6M by the end of the year thanks to the addition of Drew, Headley, Prado, and Brandon McCarthy. The team is starting this coming season at $239.285M.
So, in a nutshell, payroll is up approximately $40M from Opening Day last year. Most of that is because of A-Rod, whose massive salary comes back on the books now that his suspension ended. The Yankees also added Headley for the full season. Those two account for the extra payroll all by themselves, pretty much. Eovaldi is more expensive than Shane Greene, but Carpenter and Wilson are cheaper than Kelley and Matt Thornton. The non-A-Rod/Headley portion of the roster more or less balances out.
CURRENT 25-MAN ROSTER
The Yankees seem to be done with their offseason moves but I would never rule anything out. Hal Steinbrenner could wake up tomorrow and decide the team just has to have James Shields, for example. I don't expect that to happen, but would anyone really be surprised if it did? No. So, with that perpetual caveat in mind, here is the projected 25-man Opening Day roster:
Catcher

Infielders

Outfielders

Rotation

Bullpen

McCann
1B Teixeira
LF Gardner
Sabathia
Betances
2B Drew
CF Ellsbury
Tanaka
Miller
DH
SS Gregorius
RF Beltran
Pineda
Warren
A-Rod!
3B Headley
Eovaldi
Carpenter
Capuano
Wilson
BENCH
DISABLED LIST
Rogers
C Murphy
OF Young
Nova
?
IF Ryan
UTIL Jones
The only real open spot is that final bullpen spot, which could go to DePaula or one of many other in-house options. Shreve, Burawa, Ramirez, Whitley, Jacob Lindgren … the Yankees have no shortage of cheap candidates to fill out the bullpen. I suppose Romine could beat out Murphy for the backup catcher's job, but that would be unexpected. It wouldn't change the payroll equation much anyway. I do expect the Yankees to keep Ryan since he can legitimately play short and that's a good skill to have.
The Yankees set a franchise payroll record during the 2013 season, when they finished the year with a $237.012M payroll for luxury tax purposes. The 2015 team is starting at just about that number and payroll will inevitably climb higher due to call-ups and midseason acquisitions. There are only two ways the Yankees could realistically shed a significant amount of money this year: they could trade the very desirable Brett Gardner, or A-Rod could get suspended again. That's pretty much it.
Although they are going to set a payroll record this year, the Yankees have not been increasing payroll as much as the rest of the league in recent years. Here's a real quick and dirty graph showing the team's payroll (in millions, duh) and the average payroll of the other 29 teams since the 2000 season (payroll data from Baseball Cube):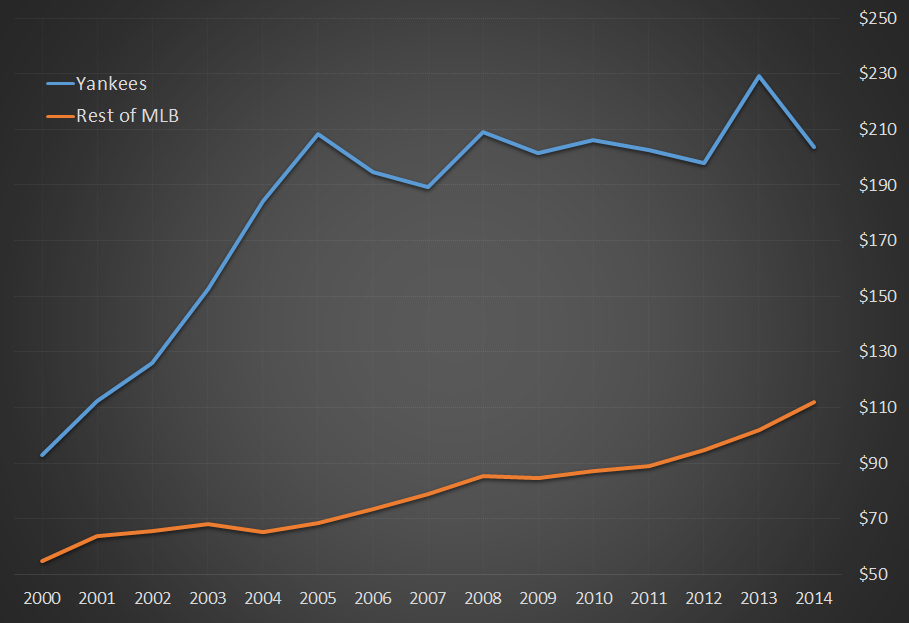 New York's payroll shot up from 2000-04 and has held steady since 2005 with the exception of 2012, when the team lost so many players to injury and had to cover. The 2015 payroll will be the team's second time pushing $230M+ in the last three years, so is this the start of another 2000-04-esque spike, or just a blip? Hal has strongly indicated the team will try to get under the luxury tax threshold when it presumably rises for the 2017 season, after the current Collective Bargaining Agreement expires. That leads me to believe it's just a blip.
Either way, blip or not, the Yankees will trot out a franchise record payroll this coming season and it might not be enough to get them back to the postseason. I'm not at all convinced one (1) Max Scherzer would have been enough to do the trick either. The Yankees have a lot really bad money on the books and it's hamstringing them. It's not just the money either, it's the roster spots. They're tied to these players. Until some of these bad contracts start expiring in two years, the team might not be major players for big name free agents at all.