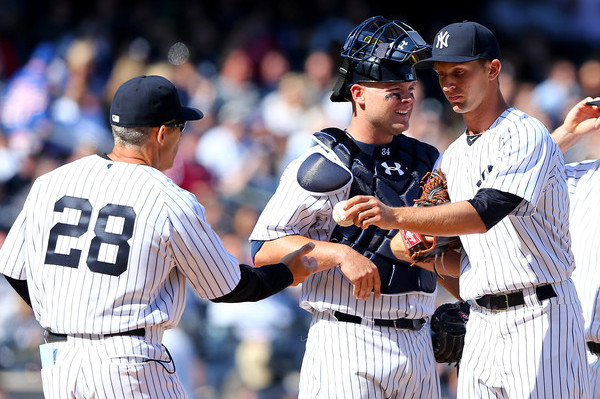 The back-end of the bullpen is an undeniable strength for the Yankees. A case can be made Aroldis Chapman is the best reliever in baseball. The same is true of Andrew Miller and Dellin Betances. All three are Yankees, so when it comes to the late innings of close games, Joe Girardi's collection of power arms is unmatched. They're playing six-inning ballgames.
And yet, despite that obvious bullpen strength, the game got away from the Yankees last night because other members of the bullpen let things get out of hand. The Royals took a quick 4-0 lead in the first inning, the Yankees battled back to cut the deficit to 4-3 by the fifth inning, then Nick Goody and Phil Coke turned that 4-3 deficit into a 7-3 deficit in the span of four batters.
"The bridge to those (late innings) guys is extremely important," said Joe Girardi to Chad Jennings after the game. "Goody has pitched extremely well up to that point. He did not tonight. Cokey kind of saved our bullpen a little bit tonight. With the three one-inning guys that you want to use when the games are really close, those other guys need to step up and bridge the gap. Tonight we weren't able to do it."
A few weeks ago that middle innings bridge looked very strong. Chasen Shreve had a dominant Spring Training and came out of the gate with six scoreless innings to start the regular season. Johnny Barbato won a job in camp and started his big league career by striking out nine of the first 23 batters he faced (39.1%). Heck, even scrap heap pickup Kirby Yates opened the season pitching well.
Adding Chapman to Miller and Betances was not only going to improve the late innings, it was also supposed to improve the middle innings by pushing Shreve and Barbato down the pecking order, so to speak. Instead, Barbato struggled so much he had to be sent to Triple-A a few days ago, and Shreve has managed to allow seven runs (five homers!) in his last 6.2 innings. Shreve and Barbato went from weapons to liabilities real quick.
Yates has probably been the team's best non-big three reliever this year — Kirby (+0.3) is actually sandwiched between Miller (+0.8) and Betances (+0.1) in WAR, for what it's worth — which was not part of the plan. Not at all. Shreve was supposed to be that guy coming into the season, which is why Girardi used him as his seventh inning man early on. The hope was Barbato would grow into that role too. It hasn't happened.
To make matters worse, all that bullpen depth the Yankees had has disappeared. Branden Pinder and Nick Rumbelow went down with Tommy John surgery. Bryan Mitchell broke his toe in Spring Training. Jacob Lindgren forgot how to throw strikes. The Yankees went from having plenty of bullpen options to signing Coke out of an independent league and sticking him in their bullpen in the span of six weeks. Baseball, man.
The end of the game is set with Chapman, Miller, and Betances. It's the other bullpen innings where it gets dicey. Let's look at some numbers really quick:
| | IP | ERA | FIP | K% | BB% |
| --- | --- | --- | --- | --- | --- |
| Chapman, Miller, Betances | 28.2 | 1.88 | 1.73 | 47.7% | 4.5% |
| All Other Relievers | 64.2 | 4.59 | 4.39 | 21.9% | 7.5% |
Yeah, that's not so good. To be fair, there are a bunch of mop-up innings in there for the other relievers, which skews the numbers a bit. But still, that's a pretty drastic difference. The three guys at the end of the game are great! Every else? Eh, not so much, especially of late.
The Yankees have to find someone — and by find someone I mean hope someone (or, preferably, multiple someones) emerges from the current in-house options — to pitch all those other bullpen innings. Goody was given an opportunity to show he can be counted on in tight situations last night, and the result was a hit batsman and a two-run single in two batters faced. Shreve is back to giving up dingers, meaning the job is Yates' by default for the time being.
The Triple-A options are not all that appealing right now. The Yankees didn't sign Coke because had nothing better to do. They needed the depth after all the injuries. Luis Cessa and Tyler Olson are on the 40-man roster, ditto James Pazos. Others like Anthony Swarzak, Mark Montgomery, Conor Mullee, Tyler Webb, and Matt Wotherspoon could get a chance at some point. The Yankees hope it doesn't come to that.
When the Yankees have a lead, or even when the game is tied, they're in pretty excellent shape in the late innings. No team in baseball can match the Chapman-Miller-Betances trio. Games like last night are where the bullpen can be a problem, when Girardi has to dip into the B-relievers to keep a game close, especially when Yates isn't available. The bullpen is great overall, but it is definitely top heavy. They need to create a little more balance.