Hey, it's a rematch of the 2009 World Series! Good times. (We'll conveniently ignore the fact that last week's Marlins series was a rematch of the 2003 World Series.) The Phillies are visiting the Bronx for a three-game series this week. This is not their first visit to Yankee Stadium since the '09 Fall Classic — the Yankees and Phillies played three games in the Bronx back in 2010 as well.
What Have The Phillies Done Lately?
The Phillies are very bad. Very very bad. They beat the Cardinals yesterday but lost two of three in the series and have dropped eleven of their last 13 games overall. Philadelphia is 24-47 with a -122 run differential, both the very worst marks in baseball. The AL East is crazy tight and the Phillies are terrible. The Yankees have to take care of business this series.
Offense & Defense
With an average of 3.10 runs per game and a team 75 wRC+, the Phillies have the worst offense in baseball. They're actually tied with the White Sox for the worst wRC+ but are three-tenths of a run below the ChiSox and Mariners for the worst runs per game average in MLB. This team has major offensive problems and their position players are perfectly healthy too. No one's on the DL or even day-to-day.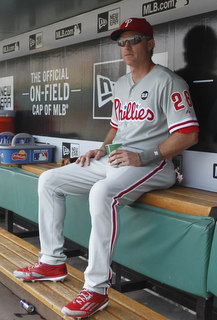 The two biggest names in Philadelphia's lineup are 2B Chase Utley (45 wRC+) and 1B Ryan Howard (101 wRC+). Utley's been a disaster, one of the worst players in baseball, but Howard has been a useful platoon piece. Stalwart C Carlos Ruiz (56 wRC+) has been really bad too. I mean, the whole team has been bad. SS Freddy Galvis (70 wRC+), OF Jeff Francoeur (91 wRC+), OF Ben Revere (90 wRC+), OF Cody Asche (64 wRC+) … all of 'em. Manager Ryne Sandberg's best regular hitter right now is 3B Maikel Franco (136 wRC+), who was called up a few weeks ago.
OF Domonic Brown (63 wRC+ in very limited time) was called up not too long ago and Rule 5 Draft pick OF Odubel Herrera (77 wRC+) is really fast and can play defense, but that's about it. I guess when someone like him gets popped in the Rule 5 Draft it makes it even easier to understand why the Yankees protected Mason Williams last offseason despite his dreadful 2013-14 efforts. C Cameron Rupp (78 wRC+), IF Andres Blanco (126 wRC+ in limited time), and IF Cesar Hernandez (81 wRC+) fill out the bench.
The Phillies are below-average defensively but not as bad as they are offensively. Utley is still an okay defender and Galvis and Herrera are fine at short and center, respectively, but that's about it. Franco and Howard aren't good on the corners, Brown is a disaster in the outfield and Asche started the season as a third baseman before moving to the outfield. Revere is rangy but has no arm at all. Francoeur has limited range but a great arm. Ruiz rates as one of the worst catchers in baseball at throwing out attempted base-stealers and framing pitches.
Pitching Matchups
Monday (7pm ET): RHP Michael Pineda (vs. PHI) vs. RHP Kevin Correia (vs. NYY)
Because the offense isn't bad enough, the Phillies are also scraping the bottom of the pitching barrel. The 34-year-old Correia signed with the Phillies earlier this month and has allowed six runs in 10.2 innings in two starts since. He's struck out eight and walked two but has historically missed no bats at all. Correia's strikeout rate from 2012-14 was 12.2%. Eek. He's got a cutter, a two-seamer, and a four-seamer, all of which sit in the upper-80s, and he throws them about 35% of time combined. A mid-80s slider is Correia's go-to pitch. He throws it so much it makes me think PitchFX is incorrectly classifying some cutters as sliders. Either way, he'll also throw mid-80s changeups and mid-70s curveballs.
Tuesday (7pm ET): LHP CC Sabathia (vs. NYY) vs. RHP Sean O'Sullivan (vs. PHI)
Correia's bad, but wait, it gets worse! The 27-year-old O'Sullivan has bounced around the last few years and has a 4.79 ERA (5.62 FIP) in ten starts and 56.1 innings this year. Good walk rate (6.8%)! But a bad strikeout rate (10.8%), a bad home run rate (1.60 HR/9), and an okay ground ball rate (45.4%). Lefties (.426 wOBA) have also hit him a lot harder than righties (.306 wOBA). O'Sullivan has an upper-80s four-seamer and an upper-80s sinker, which he uses to set up his upper-70s slider, mostly. He'll also throw a handful of low-80s changeups and low-70s curveballs per start. This is what replacement level looks like. O'Sullivan and Correia.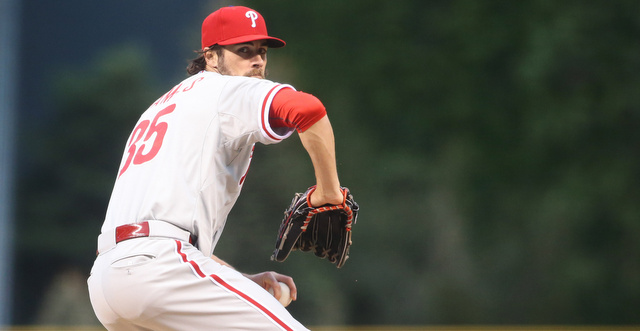 Wednesday (1pm ET): TBA vs. LHP Cole Hamels (vs. NYY)
The Yankees almost lucked out and missed Hamels this week, but alas. He's been dealing with a very minor hamstring problem and was supposed to start Saturday before having his start pushed back, so Wednesday it is. Hamels, 31, had a 2.96 ERA (3.55 FIP) in 14 starts and 94.1 innings this year with a great strikeout rate (26.6%) and average-ish walk (8.0%), grounder (46.9%), and homer (1.05 HR/9) rates. This is his worst season in about five years, believe it or not. Righties (.297 wOBA) have actually had much more success against Hamels than lefties (.207 wOBA) in 2015, which is unusual. He's historically had no platoon split at all. Hamels is a true four-pitch pitcher, using his low-to-mid-90s four-seamer, upper-80s cutter, mid-80s changeup, and upper-70s curveball regularly. His changeup is world class. Arguably the best in baseball. He'll use it against righties and lefties.
Meanwhile, the Yankees have Wednesday's starter listed as TBA. That is Adam Warren's spot but Ivan Nova also lines up to pitch that day, should the team go in that direction. Joe Girardi told reporters over the weekend he anticipates Nova making his next appearance in the big leagues and not in Triple-A, for what it's worth. It'll be either Warren or Nova. That much is clear.
Bullpen Status
The Phillies have a really weak bullpen overall (3.69 ERA and 4.06 FIP) but Sandberg has a dynamite setup man/closer combination in RHP Ken Giles (2.50 FIP) and RHP Jonathan Papelbon (2.81 FIP). Giles really struggled back in April but has since righted the ship, sorta like Dellin Betances. Those two both pitched yesterday, as did RHP Luis Garcia (4.49 FIP).
LHP Jake Diekman (4.13 FIP) and LHP Elvis Araujo (2.28 FIP) are the two lefties and RHP Justin De Fratus (4.47 FIP) and RHP Jeanmar Gomez (2.78 FIP) are the other two righties. Gomez is the long man. The Phillies are really tough to beat if they have a lead after seven innings because of Giles and Papelbon. Before that, well, they stink. Having the worst record in baseball is no fluke. Head over to our Bullpen Workload page for an update on Joe Girardi's bullpen, then head over to Phillies Nation and The Good Phight for the latest on the Phillies.
(GIF via Reddit)