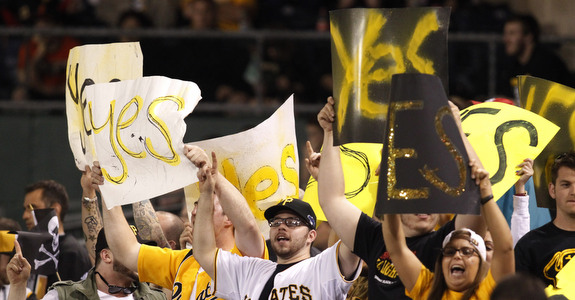 I thought all the interleague games were supposed to be spread out now? The Yankees begin the third of four straight interleague series tonight tomorrow as the Pirates come to town for a three-game weekend series. This is the Pirates' first trip to the new Yankee Stadium and their first trip to the Bronx in general since 2007. They are 0-6 all-time in Yankee Stadium during interleague play.
What Have They Done Lately?
Pittsburgh was handed a walk-off loss by Khris Davis and the Brewers yesterday, and they have lost three of their last four games overall. They won four straight before that. Following their stellar 94-win campaign last season, the Pirates are 17-23 with a -13 run differential in 2014 and are again looking for a way out of the NL Central cellar.
Offense
At 3.95 runs per game with a team 98 wRC+, reigning NL Manager of the Year Clint Hurdle has a decidedly average offense. It doesn't help that former Yankee C Russell Martin (103 wRC+) is out with a hamstring injury. He's on the 15-day DL and it doesn't sound like he will return this weekend. OF Starling Marte (96 wRC+) has been dealing with back tightness and has been limited to pinch-hitting duties these last few days.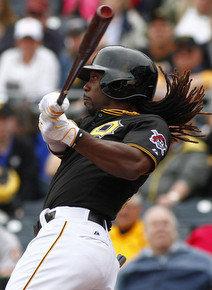 Hurdle's lineup revolves around reigning NL MVP OF Andrew McCutchen (159 wRC+), who is actually performing better this year than he did last year. He's an elite all-around player. Second best outfielder in the game behind Mike Trout. 2B Neil Walker (128 wRC+) has been very good this year, as has the first base platoon of 1B Gaby Sanchez (159 wRC+) and 1B Ike Davis (127 wRC+). I assume both guys will play this weekend thanks to the DH. Washington Heights native 3B Pedro Alvarez (101 wRC+) has enormous power and may be in for quite a weekend thanks to the short porch.
With Martin hurt, C Chris Stewart (47 wRC+) has more or less taken over as the everyday catcher. I'm sure you remember what that was like. The platoon of OF Travis Snider (88 wRC+) and former Yankees farmhand OF Jose Tabata (78 wRC+) is just keeping right field warm for top prospect OF Gregory Polanco, who figures to be called up after the Super Two deadline passes late next month. SS Clint Barmes (38 wRC+) and SS Jordy Mercer (47 wRC+) share shortstop duty and UTIL Josh Harrison (125 wRC+) has had a nice year off the bench. C Tony Sanchez (79 wRC+) is Stewart's backup. It's a top heavy (really middle heavy) lineup.
Pitching Matchups
Tonight's game has already been postponed due to rain, so the Yankees and Pirates will play one game on Saturday and two games on Sunday. There's no word on how the pitching staffs will shake out, so here are the matchups that were scheduled coming into today. I assume the same six pitchers will start these three games, just not necessarily in the same order.
Friday: RHP David Phelps (vs. PIT) vs. RHP Edinson Volquez (vs. NYY) (Pitcher GIFs)
I'm not sure there is a more frustrating pitcher to watch in all of baseball than Volquez. He's like A.J. Burnett times three. Volquez, 29, has a 4.36 ERA (4.49 FIP) in 43.1 innings across seven starts and one relief appearance this season, though his strikeout rate (5.19 K/9 and 13.9 K%) is way, way down. He has cut down on his walks (2.70 BB/9 and 7.2 BB%), and while that may be an early season fluke, the Pirates did manage to help Burnett curb his walk problem, so it might be real improvement. Volquez is getting grounders (50.4%) and allowing homers (1.04 HR/9 and 11.9% HR/FB) at almost exactly his career rates. Lefties (.269 wOBA) have hit him much harder than righties (.277 wOBA) this season. Volquez's stuff is usually electric, as he uses low-to-mid-90s two and four-seam fastballs to set up his hard upper-70s/low-80s curveball and a mid-80s changeup. It's just that his command is so bad he often has no idea where the ball is going, though when it clicks and he's having a good day, he is dominant.
Saturday: RHP Hiroki Kuroda (vs. PIT) vs. RHP Charlie Morton (vs. NYY) (Pitcher GIFs)
Morton, 30, made a name for himself a few years ago by copying Roy Halladay's mechanics and essentially saving his then stalled out career. "We made a change, and things are going better. Did I reinvent myself? Reinventing is a fairly accurate term," he said to Paul Daugherty about copying Halladay. This season he owns a 3.22 ERA (4.14 FIP) in eight starts and 50.1 innings. He's a ground ball guy (55.3%) who does an okay job limiting walks (3.04 BB/9 and 7.8 BB%) and homers (0.54 HR/9 and 8.8% HR/FB), but he can't miss bats (5.54 K/9 and 14.2 K%) to save his life. Morton has a reverse split this season — .274 wOBA by lefties and .327 wOBA by righties — but that is the exact opposite of the last few seasons. He usually gets destroyed by left-handers. Morton is basically a two-pitch pitcher, throwing his sinking low-90s two-seamer and upper-70s curveball more than 90% of the time combined. He'll throw a handful of mid-80s changeups per start, but that's it. Think of him as a lesser version of vintage Chien-Ming Wang.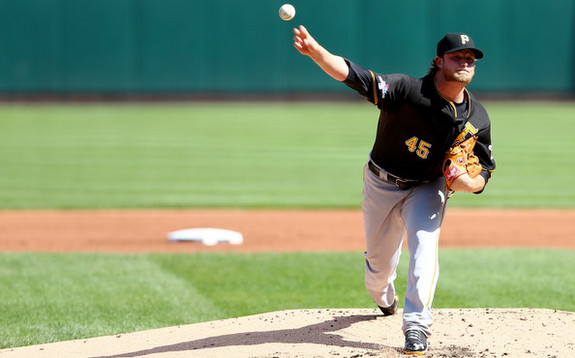 Sunday: LHP Vidal Nuno (No vs. PIT) vs. RHP Gerrit Cole (No vs. NYY) (Pitcher GIFs)
Of course. Of course Cole is going to pitch against the Yankees this weekend. Of course the team's first round pick in 2008 who didn't sign and wound up going first overall to Pittsburgh in 2011 after three years at UCLA is going to make his Yankee Stadium debut on Sunday. The baseball gods wouldn't have it any other way. The 23-year-old Cole has a 3.76 ERA (3.96 FIP) in eight starts and 52.2 innings this season, though his strikeout rate (7.69 K/9 and 20.2 K%) doesn't match the quality of his stuff. He is getting grounders (54.5%), limiting walks (2.73 BB/9 and 7.2 BB%), and doing an okay job of keeping the ball in the park (1.03 HR/9 and 14.6% HR/FB), however. Lefties (.351 wOBA) have had much more success than righties (.317 wOBA) this season, which is the exact opposite of last season. Cole's arsenal has evolved a bit since the Yankees drafted him, but he still has his trademark high-octane fastball. It is averaging 95.6 mph this season, the fourth fastest fastball in the game. Cole backs it up with a nasty upper-80s slider and mid-80s curveballs and changeups. The changeup is arguably his best offspeed pitch and more than a few people think he needs to throw it more often. Right now Cole only throws it 4.2% of the time. Get ready for a whole lotta "what could have been" chatter this weekend.
Bullpen Status
Hurdle has been without closer RHP Jason Grilli (oblique) since last month, so former Yankee RHP Mark Melancon (2.63 FIP) has been handling ninth inning duties in his place. He blew the save and took the walk-off loss yesterday. The Pirates have two very good, hard-throwing lefties in LHP Justin Wilson (2.39 FIP) and LHP Tony Watson (1.95 FIP).
RHP Bryan Morris (4.88 FIP), RHP Vin Mazzaro (8.77 FIP), and RHP Jared Hughes (3.80 FIP) handled the middle innings while  RHP Jeanmar Gomez (5.88 FIP) is the long man. Melancon, Wilson, and Watson all have had high workloads recently and may not have been available tonight. The rainout comes at a good time for Pittsburgh. Check out the status of New York's relievers at our Bullpen Workload page, then check out Pirates Prospects, Raise the Jolly Roger, and Bucs Dugout for everything you need to know about the Pirates. There are some really good Pirates blogs out there.