We're a little more than halfway through the season, and it's now painfully obvious that the Yankees need some help at the back of the bullpen. The setup crew that helped the team to the World Championship last year has been largely inconsistent (or hurt) this year, and even the depth pieces in Triple-A have been unimpressive. Jon Albaladejo might be able to help, sure, but when three-sevenths of the big league bullpen is Chad Gaudin, Chan Ho Park, and Dustin Moseley, it's going to take more than one move to right this ship.
The trade market for relievers is usually full of retreads or one year wonders, but there's one team out there with three effective bullpen arms to market before the trade deadline. That team is the free falling Toronto Blue Jays, who have gone 11-20 over the last month or so.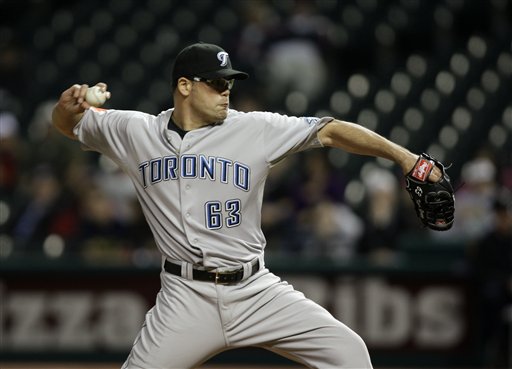 Let's start in the 9th inning and work our way back. The Jays have made closer Kevin Gregg available, re-routing a scout to Seattle to over the weekend, perhaps to check out the Yanks. I'm not sure who Toronto would want off the Yanks' big league roster, or perhaps I'm better off saying I'm not sure who Toronto thinks they'll be able to get off the Yanks' big league roster, maybe Colin Curtis or Ramiro Pena. It won't be anyone more than that, I think we can safely say.
The 32-year-old Gregg is a capital-C closer, meaning that he occupies the high profile role without the guarantee of being effective. He's actually been better than ever this season, with a 3.67 FIP and 3.88 xFIP through 34.1 IP, better marks than what he posted during his best years with the Marlins. Gregg has always missed bats (8.91 K/9 since 2007) and his strikeout rate is a career high 9.70 K/9 this year, but his walk rate is far too high for an end-game reliever at 4.72 BB/9, a full walk over his career rate. We really don't have any reason to expect Gregg to be any better than that going forward, and his skill set screams a more experienced version of David Robertson. There's certainly nothing wrong with that.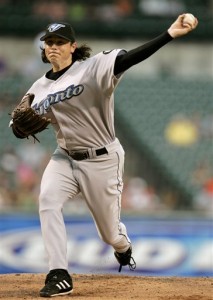 Setting up Gregg has been the lefty-righty tandem of Scott Downs and Jason Frasor, both of whom have served as Toronto's closer at one time or another in the past few seasons. Downs is enjoying yet another fine season in a career full of them, locking things down to the tune of a 3.14 FIP and 3.58 xFIP. He's not just a LOOGY either, and believe it or not he's actually performed better against righties than lefties over the last season and a half. With a walk rate that has gotten progressively better over the last four seasons, Downs has limited the free passes to just 1.93 BB/9 this season, though it's worth noting that his swinging strike rate is down to 6.7% (lg avg is 8.4%), a career low.
Frasor, on the other hand, is having the worst season of his career in terms of ERA, but we all know that's no way to judge a reliever. His strikeout rate is at an all-time high (9.87 K/9), ditto his ground ball rate (50.5%), though the walks are abnormally high at 4.67 BB/9. The 32-year-old righty has run into some bad luck in terms of BABIP (.376) and  strand rate (65.8%), which explains the high ERA, but at the same time we have to acknowledge that as a reliever, he simply might not accrue enough innings to have those totals regress to the mean. He simply might be in the middle of one of those bad luck relief years. It happens.
Contractually, these guys are pretty much all in the same boat. All three can become free agents after the season, though Gregg's contract has an option for 2011 and 2012. Downs is owed $1.8M the rest of the way and the only projected Type-A free agents of the bunch, while Frasor are Gregg are projected Type-B's and owed $1.19M and $900,000 (with a $750,000 buyout of the option), respectively. Even if you're assuming a half-a-win performance after the trade (pretty darn good for a reliever), you're looking at about $3.5-4M worth of trade value according to Sky Kalkman's trade value calculator, which is worth slightly less than a Grade-B position player prospect according to Victor Wang's research.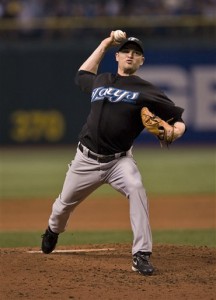 The Yankees have plenty of depth behind the plate and in the middle infield, as we learned in the Cliff Lee non-trade, so they could surrender someone like David Adams or Corban Joseph or Reegie Corona without missing a beat. The last time the Yankees and Blue Jays made a trade was the George Steinbrenner mandated Raul Mondesi swap, but of course Brian Cashman is in charge now and Toronto is under a new regime. Whether or not Alex Anthopoulos would be open to trading one of his bullpen pieces within the division remains to be seen (he reportedly wanted more in return to deal Roy Halladay to an AL East team, but that's an extreme circumstance), but frankly he'd be foolish not to. It's just a reliever, and his priority should be getting the best return possible.
I'm a big Scott Downs fan, so I'd prefer him over either Gregg or Frasor, but I'm not sure if Joe Girardi would be open to using him as a normal reliever instead of just having him face lefties. Gregg is the better of the two righthanders, given his long track record of missing bats. I'm always skeptical of trading for relievers given their penchant for sucking at the drop of a hat and for no apparent reason, but if the Yanks are going to make a move for bullpen help, these three probably represent the best available options.