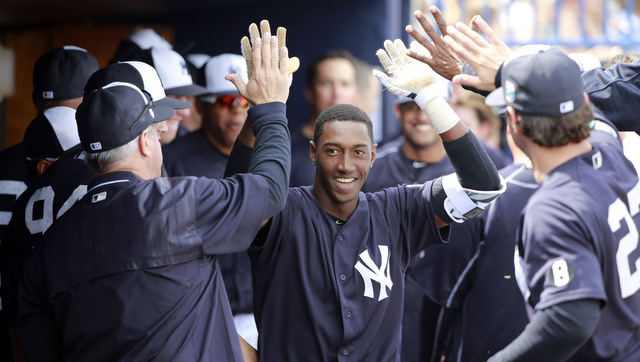 Over at MiLB.com, the esteemed Sam Dykstra posted his farm system rankings earlier this week, and he has the Dodgers sitting in the top spot. Easy to understand why when they have the best position player prospect (SS Corey Seager) and arguably the best pitching prospect (LHP Julio Urias) in the game. The Braves and Twins round out the top three and the Angels predictably rank 30th.
The Yankees rank 17th in the MiLB.com rankings after Baseball America and Keith Law ranked them 17th and 13th, respectively. That is as middle of the pack as it gets. Here is Dykstra's blurb:
Jorge Mateo, Aaron Judge and Gary Sanchez make up a core of promising position player prospects that any of the organizations above would love. All three have the potential to be regular Major League contributors and possess the individual tools (Mateo with speed, Judge with power, Sanchez with his arm) to become stars. What the Yankees lack is pitching. New York believes it took a potential leader in James Kaprielian out of UCLA with their pick at 16th overall last season, but there isn't much more pitching in the system beyond Domingo Acevedo, who could rocket up the rankings if he can expand his repertoire beyond a 100-mph heater.
In recent weeks Dykstra also ranked each farm system in terms of position player talent and pitching talent. The Yankees were 12th in the position player rankings and only 25th in the pitching rankings. They definitely have a position player heavy system. Have for about two years now. They might rank 29th in arms if not for RHP James Kaprielian. Dykstra also gave the Yanks a B- for their under-21 talent.
Both 1B Greg Bird and RHP Luis Severino lost their prospect eligibility last season due to the time they spent in the big leagues, so while they are not technically prospects, they are obviously very important young players. The farm system takes a big hit because Severino threw 12.1 innings over the rookie limit, so don't get too caught up in the rankings. Overall farm system rankings are much more hit or miss than individual player rankings.
This season the Yankees figure to graduate C Gary Sanchez, 2B Rob Refsnyder, and RHP Bryan Mitchell to the big leagues. Those are their No. 2, 6, and 7 prospects according to my rankings. One or two of the shuttle relievers might graduate too. Both Kaprielian and OF Aaron Judge could definitely make their MLB debuts this season, but I would be surprised if either racked up substantial big league time.