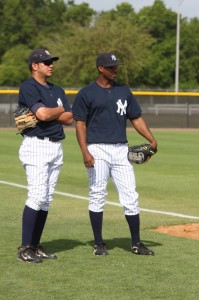 With legitimate concerns regarding Teix (is he possibly turning the corner or just showing a "hot flash"?), the health of A-Rod and Posada, and the volatility of the bullpen, it seems silly to harp on an under-performing bench. Make no mistake, like all teams, the 2010 New York Yankees aren't going to be sending up world-beaters off the bench. They're bench players for a reason. Any tinkering will ultimately have minimal impact on the team and its win-loss record.
Nevertheless, a few changes to bring in some fresh blood may yield some positive dividends for the team. This doesn't mean promoting Jesus Montero or Austin Romine to the big leagues – that would be foolish. It means taking a hard look at Kevin Russo, Chad Huffman, Ramiro Pena and some of the weaker links in the bullpen. In short, the guys that haven't "earned the right" to keep their spot when they aren't performing and better options may be looming. On this beautiful morning, we'll focus on the hitters.
I'll admit I've never been a true believer of AAA SS Eduardo Nunez. He walked less than Stephen Hawking, was reported to have poor defense, had a BABip 60 points higher than anything he'd been at in his previous two levels (Charleston, Tampa) and I wasn't sold on his power being more than a fluke. Yet he still threw up a combined line of .313/.343/.421 in just under 500 PA's between Trenton and Scranton in 2009, so he couldn't be entirely ignored, either. This year he's largely shut me up. Offensively, at least. On the year in Scranton he's posting a line of .320/.359/.410. That's damn good. He's hitting more line drives this year (up six percentage points to 17.6%) and his HR/FB rate is crazy low at roughly 2.5%, suggesting power should rebound a bit. (Last year's rate was 8/150 – around 5%.) While I don't know much about his defense, Nunez, 23, might just be ready for a cup of coffee in the big leagues.
As of now Ramiro Pena is the backup shortstop and the team (appropriately) seems to value his glove's versatility. He can capably man all of the infield positions and can also play the outfield in a pinch. Herein lies the problem – for a guy hitting .190/.235/.210 (and little indication he'll ever be even an average hitter), he really hasn't been very good with the glove this year. Granted, it's an extremely small sample, but even the eye test seems to indicate Pena's been fairly pedestrian with the leather. Per UZR at Fangraphs, he's negative at all positions thus far. Using B-Ref's metrics, he's also been underwhelming. On the year, Pena's RAR is -4.8, his WAR -0.5 and he's had a negative WPA in almost half of his games (12 out of 30).
Do I think he's a poor fielder? No, not at all. But when as a player you're all-glove, no bat, playing in limited bench time, it's important that you reach defensive expectations. That hasn't happened and given that he has options, I can't think of many reasons to keep him around. Yes, he's been victimized by an extremely low BABip of .220 and his defense should be better, but how much can he reasonably contribute? Nunez contributing average offense and below-average defense in limited time would be more valuable to the team than above-average defense and well below-average offense from Pena.
You'll probably get poor defense with Nunez. I've heard a few Nunez fans say he's much improved with his glove this year. He has good tools (and a great arm) but it's never quite come together. Maybe he has; I've yet to hear anything myself, but it's totally possible. He does, however, lead SWB with 7 errors. Even if his defense is poor, I think it's reasonable to expect he could give you .270/.300/.350 in the big leagues. Of course, I also thought that Russo would provide that, so perhaps that expectation is unreasonable. Still, if nothing else, with Russo and Cervelli often in the lineup due to apprehension to push Posada and A-Rod (justifiably so), having a Nunez at least provides a better shot that there won't have a complete black hole when an infielder needs a rest. Because I have no doubt Pena will always be a black hole in the lineup.
While Kevin Russo was a fan favorite early on for his "clutch hits," he's been dreadful offensively for the team. For the Bombers Russo is "hitting" .196/.260/.239 and even worse in June, checking in at a paltry .136/.240/.136. The good news is he's been really hurt (like Pena) by a BABip of .225, has what appears to be solid hitting skills (if the minors are any indication), has been good with the glove and there's really no one in the high minors that can play a utility role like he. There aren't better options available in house. With Pena, I think there are.
As I've said, the difference between Pena and Nunez in the grand scheme of things –as a backup infielder getting spot duty– is likely to be small. This doesn't mean you stand pat. If the move is made and Nunez is the inverse of Pena (average hitting, unbelievably poor defense), you probably end the experiment and return to the previous set-up. There's really not much downside to a switch. With both players having options, the bottom of the lineup very often being an automatic out with injuries and necessary rest for starters, and Nunez potentially having some value to the Yankees (or another team via trade) in the future,it's a move I think needs investigating.