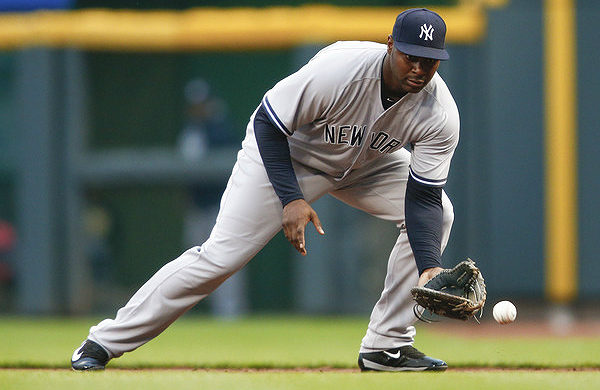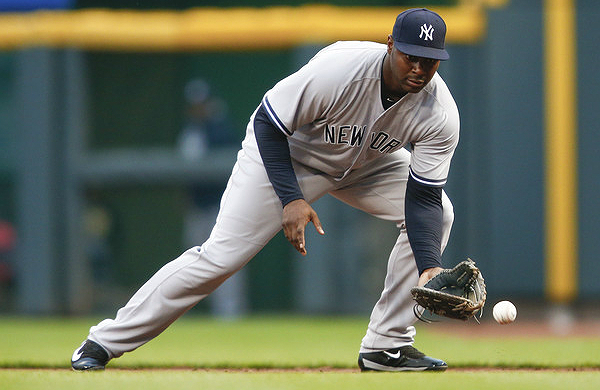 Chris Carter has had an objectively bad start to his Yankees career.
It was hard to imagine the team getting worse offensive production at 1B after Mark Teixeira's bad 2016, but we're there anyway. Carter isn't nearly the fielder Teixeira was (to be fair, neither is Greg Bird). But Carter was paid $3.5 million to mash and he's hit just four home runs while producing a .180/.279/.333 batting line. He's struck out 48 times in 129 plate appearances over 41 games.
Let's be realistic: Carter has never been a strong batting average guy (career best is .239) and his 37.2 percent strikeout rate would be highest full season mark, but not much higher than his past numbers. However, his ISO is way down, going from .277 last year and .228 in 2015 to .153 so far this season.
The logical comparison for Carter right now would seem to be 2010 Randy Winn. Winn was a veteran brought in during the offseason after the 2009 title run and he would be cut by the Yankees on May 28, two weeks shy of his 36th birthday.
Carter could be in line for a similar mid-season axe. Greg Bird is on his way. Tyler Austin is in Triple A and could replace him whenever the team deems him ready. Rob Refsnyder, someone the Yankees have been allergic to giving at-bats to at times, has started over Carter multiple times in the past week. The writing is on the wall.
But Carter isn't Winn. Not all that close. Even with the potential for the same fate and similar lack of production, the comparison stops right about there. Here's why:
1. Winn was coming off a career-worst season: Winn was well below average the year before in San Francisco. Over his age 33 and 34 seasons with the Giants in 2007-08, Winn batted .303/.358/.436 while averaging 12 home runs and 20 stolen bases a year. Then he dipped significantly in 2009, mustering just a .262/.318/.353 mark. His strikeout rate crept up and his walk rate fell with his ISO. He still provided defensive value and 16 stolen bases, thus his 1.8 fWAR and 1.3 bWAR. But he was clearly aging and was becoming a negative in center field, although still able to play the corners.
Sure, Carter struck out 206 times in 2016, but he walked 76 times and, let's not forget, led the National League in home runs. He's always been a defensive negative, but he's also never been a below-average hitter since he received anything resembling full-time work.
Therefore, taking the flyer on the aging Winn may have been foolish to begin with, but there was no reason to doubt Carter's hitting ability. This year is the outlier with the lack of power.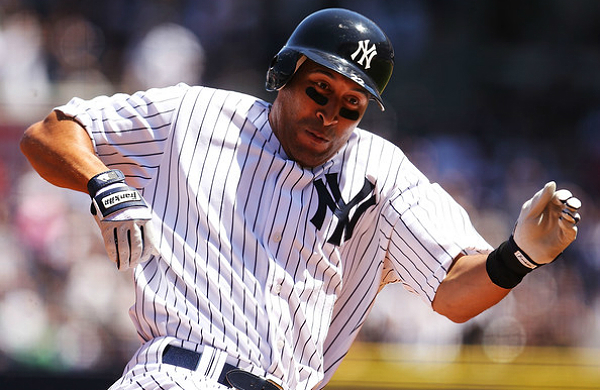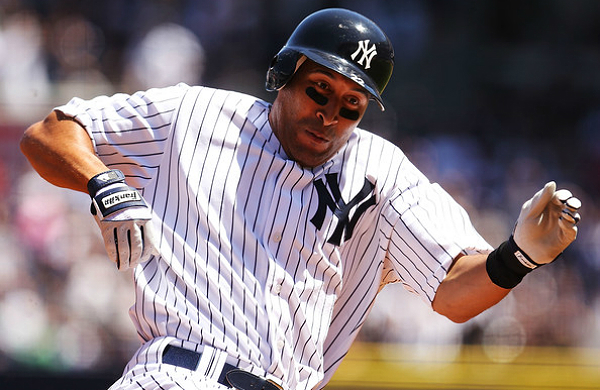 2. Winn was brought in for cheap without a starting role in mind: The Yankees paid Winn just $1.1 million in 2010 to come in as their fourth outfielder. That was an $8.6 mil pay cut from 2009, when Winn was a starter. The team had Brett Gardner, Curtis Granderson and Nick Swisher as regulars, and Winn wasn't going to find himself in regular at-bats barring injury. None of those three were major injury risks. Perhaps Gardner was unseasoned, but the team clearly chose him over Melky Cabrera by trading Melky, so there had to be confidence in him starting his second full season.
Carter took a pay cut over what he could have gotten in arbitration, but he got about market value and $1 million more than last year. He was brought in for potentially many more at-bats and was Bird insurance. At worst, he was a platoon bat. But it was more likely that the team saw him as a major power boost with Bird potentially not being ready for the role. It wasn't too hard to see him getting regular playing time … like he has.
The way to look at this is: It wasn't hard to see Carter earning regular at-bats within a few weeks. Whether for Matt Holliday or for Bird, Carter getting into the lineup was easy to see. Winn was harder the see a consistent role other than a bench bat.
3. Winn had no clear replacements when he played himself off the roster and was clearly done: This is a big point. There was no one waiting in the wings to replace Winn. Winn had to put up incredibly poor numbers to be jettisoned. (His .213/.300/.295 line says it all). He not only put up bad numbers but also looked overpowered at the plate. He simply never adjusted to his backup role and was out of baseball after 162 more plate appearances with the Cardinals.
Carter has played poorly, but it's hard to think that he's done. Whether it's the mechanics of his swing or something else entirely, Carter just seems off. His defense isn't much different from normal. His batting hasn't been good, but he also has done just enough that, in other circumstances, he could easily stay on as a bench piece. He's only 30 years old and it's hard to think he's done. There's a reason the Yankees have given him more of a chance than they ever gave Winn.
Carter could very well be more the type of player who the Yankees would cut and then we'd see him playing at his 2012-16 level for the second half (think LaTroy Hawkins in 2008). It's as much his performance that would lead to an early exit from pinstripes as it is his replacements.
—
Winn ultimately had a -0.7 bWAR (-0.4 fWAR) and his replacements (Austin Kearns, Colin Curtis, Greg Golson and others) weren't all that much better. He slightly rebounded in St. Louis in the second half but was still below average and was out of baseball after that season.
Carter isn't done in baseball, far from it, even if the Yankees release him. But the presence of Bird and Austin, and the potential they bring to the table within the Yankees' overall youth movement, make Carter expendable over the next few weeks despite having more potential to turn things around than Winn.