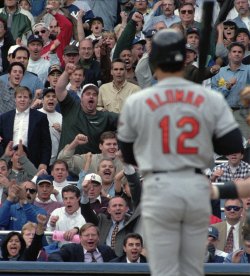 In the early 90s the Yankees weren't exactly a hot landing spot for free agents. The team tried to sign David Cone, Barry Bonds, and Greg Maddux, and all of them rejected the team. Maddux, most notably, took less money to pitch in Atlanta. But by 1995 the Yankees became a more attractive destination. They were the AL's top team when baseball ended in 1994 and then made the playoffs in 1995. It was after that season that Roberto Alomar became a free agent. As Jon Lane of the YES Network reports, Alomar actually wanted to be a Yankee.
While the Yankees didn't really need much more help at that time, adding Alomar would certainly have changed the team's composition. We often remember that Mariano Duncan hit .340 that season, but often forget that he played in only 109 games. That year the Yankees' second basemen ranked 18th (out of 28) in WAR. Duncan himself produced 2.2 WAR. Alomar produced 5.6 WAR. Where Alomar really might have made a difference was in 1997, when the Yankees ranked 25th out of 28 in WAR among second basemen — Luis Sojo, Rey Sanchez, Pat Kelly, Homer Bush, and Duncan combined for -0.5 WAR that season, while Alomar produced nearly 4 WAR.
Since Alomar signed a three-year deal with the Orioles, we can assume he would have done the same with the Yankees. That changes history again, as the Yankees traded for Chuck Knoblauch prior to the 1998 season. This was an excellent trade, of course, as Knoblauch upgraded the second base spot to 3.1 WAR. But Alomar was worth 4.1 WAR that year. He also would have saved the Yankees the prospects, which means they could have used Brian Buchanan, Christian Guzman, Eric Milton, and Danny Mota to acquire an upgrade at a different spot.
Why the deal never happened I'm not sure. Maybe it was a payroll thing. The Yankees led the league in payroll for 1996, and at the time they signed Duncan they still needed a couple of pitchers. Alomar's three-year deal with the Orioles appears to have been worth around $17 million, including $4.2 million in 1996. Duncan's two-year deal was worth under $2 million total. Since the Orioles had the second highest payroll of 1996, moving Alomar would have mean the Yankees outspend the next highest team by over $10 million. At the time it would have been by far the largest discrepancy between No. 1 and No. 2 in baseball history.
Who knows how baseball would have been altered if Alomar had signed with the Yankees. We can start with the Jeffrey Maier catch and work forward from there. Alomar certainly would have been a welcome addition to the Yankees, since he would have represented an upgrade in the three years he could have been part of the team. That's not to lament them not signing him; there's nothing to complain about when it comes to the late 90s. It's just an interesting idea regarding a player who just received baseball's highest honor.