Got ten questions for you in this week's mailbag. You can send us a question at any time via the "For The Mailbag" form in the sidebar. We can't get to all of them, but we'll do our best.
Arnav: Which cap do you expect Robbie to wear if he makes the HoF?
Robinson Cano will actually spend more years with the Mariners (ten) than the Yankees (nine) when it's all said and done. That said, I'm assuming the last few years of his current contract will be ugly, and he will have compiled most of his numbers in pinstripes. Even if he gets to 3,000 hits — a very real possibility at this point — more than 1,600 came with New York. He racked up 45 WAR with the Yankees and could finish his career with 70 WAR or so, putting him in Ron Santo, Alan Trammell, and Barry Larkin territory. More than anything, Cano became Cano in New York. That's where he made his name and that's the team I think most people associate him with. That could change if his next nine years are insane, but right now, before the 2015 season, I'll say a Yankees hat.
Ralph asks: I love this site, but I'm feeling a little old school. Can you explain these new acronyms (wRC+, LOOGY, etc)?
Of course. Here's a real quick primer on some of the acronyms we commonly use here at RAB. If there are any others you'd like to know, leave 'em in the comments and I'll add as many as I can to the post.
wRC+: Weighted runs created. It's a measure of total offense relative to league average. Doubles really aren't the same as two singles (which they are according to slugging percentage), for example, and wRC+ sorts all of that out while adding adjustments for ballpark and other stuff. 100 means league average. The bigger the number, the better.
LOOGY: Lefty One Out GuY. A lefty specialist reliever. A Clay Rapada/Mike Myers type.
FIP: Fielding Independent Pitching. A measure of a pitcher's effectiveness based on strikeouts, walks, and homers only. The things he can control without the help of his defense, basically. FIP is scaled to ERA (so a 5.00 FIP is just as bad as a 5.00 ERA, etc.) and more predictive going forward.
K% and BB%: Strikeout and walk rates. Instead of the more common K/9 and BB/9 — strikeouts and walks per nine innings — it's just strikeouts and walks per batters faced. In 2014, the league averages were 20.4 K% and 7.6 BB%.
GB%: Ground ball rate. Unlike K% and BB%, GB% is percentage of ground balls per ball in play, not per batters faced. The MLB average in 2014 was 44.8 GB%. So if I face 100 batters, strike out 30, walk ten, and get 30 ground balls, I have a 30 K%, a 10 BB%, and a 50 GB% (half the 60 balls in play). Got it? Good.
Like I said, if there's anything else you want to see, let me know in the comments.
Frank asks: Mike Ford got a pretty positive write-up in McDaniel's prospect piece. Is there a reason(s) why Ford doesn't get more "prospect" love?
I think it's the stigma of being an undrafted free agent — those guys very rarely amount to anything — and the general lack of information about him. Ford was both the Ivy League Player of the Year and Pitcher of the Year at Princeton in 2013, yet it's still hard to find a reliable scouting report on him. Ford is two months younger than Aaron Judge though, and he had a monster 2014 season, hitting .292/.383/.458 (138 wRC+) with 13 homers and more walks (52) than strikeouts (46) between Low-A Charleston and High-A Tampa. Given his status as a former unknown, Ford is going to have to prove himself at every level as he climbs the ladder. He's an interesting guy to watch, but not any sort of top prospect. Not yet, anyway.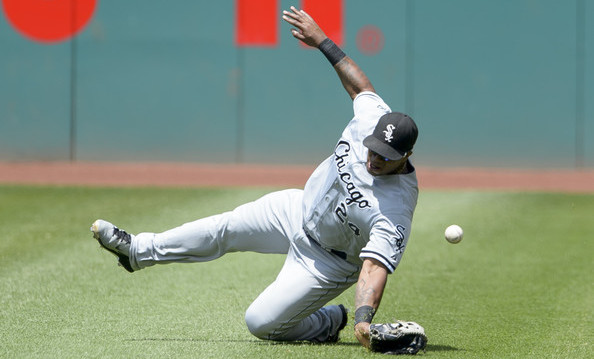 Chris R. asks: Any thoughts on the recently released Dayan Viciedo?  He is only 25 so there is some potential there for improvement.
The White Sox designated Viciedo for assignment earlier this week and if he winds up getting released, I'd be fine with him on a minor league contract. The Yankees don't have anywhere else to put him, really. Viciedo is a DH who's hit .250/.294/.425 (94 wRC+) in his three full MLB seasons. That includes a .274/.318/.487 (115 wRC+) line against lefties, but "right-handed platoon DH" is hardly a guy worth a roster spot. Besides, the Yankees already Alex Rodriguez for that role anyway. I know he's only 25, but age isn't a get out of jail free card. Viciedo has been pretty bad the last three years and shown no improvement (he's actually gotten worse each year). A minor league deal is fine, but I'm not giving him a 25-man roster spot.
Dan asks: We have heard a lot about declining offense in MLB. Are there similar trends taking place in the minors and foreign baseball leagues?
Let's start with the hard data. Here is average runs-per-game total (for one team, not both teams in a game combined) in the five best pro baseball leagues in the world over the last five seasons.
| | 2010 | 2011 | 2012 | 2013 | 2014 |
| --- | --- | --- | --- | --- | --- |
| MLB | 4.38 | 4.28 | 4.32 | 4.17 | 4.07 |
| NPB (Japan) | 4.32 | 3.28 | 3.26 | 3.99 | 4.12 |
| KBO (Korea) | 5.08 | 4.62 | 4.24 | 4.74 | 5.62 |
| IL (AAA) | 4.51 | 4.34 | 4.30 | 4.23 | 4.36 |
| PCL (AAA) | 5.22 | 5.56 | 5.13 | 4.83 | 5.03 |
MLB offense is trending down. We knew that. The Triple-A International League has held fairly steady the last four years and the Triple-A Pacific Coast League has had some pretty big year-to-year fluctuations while still staying close to that overall five runs per game rate. I'm not sure how useful the Triple-A data is though because there is so much roster turnover each year.
The Japan numbers are crazy. NPB started using a new ball in 2011 — they wanted to use something closer to the MLB ball, which is slicker and has higher seams — and it took a huge bite out of their offense. They went through a mini-Deadball Era until they switched back to a livelier ball for 2013. The problem? The league never told the players' union they changed the balls in 2013 and eventually the commissioner had to resign as a result. KBO also switched to a livelier ball for the 2014 season and offense shot up.
The two main leagues overseas decided to fix their offensive issues by changing the baseball itself and that seems like the easiest and quickest fix. I don't know if it's the best fix, but I like it more than eliminating shifts. Embrace creativity! Besides, I don't think an extra seeing eye ground ball single or two per game is going to put much of a dent in the league-wide offensive numbers overall anyway.
Gus asks: Everyone always talks about Jeter potentially wanting to own a team but we never hear anything about Mariano Rivera's future with relation to MLB.  Do you think that he may ever come back to the Yankees on either a full-time or even limited basis and in what capacity?
I'm sure he'll be back as a guest instructor in Spring Training at some point, but I've never thought of Rivera as someone who would return to baseball full-time after his playing days are over. Either as a coach or a special advisor to the GM or anything like that. I've always thought Rivera was more likely to dedicate his post-playing career life to building churches and charity work, that sort of stuff. I'm sure Mo will eventually be a regular Spring Training guest instructor, and I'm sure he'll be involved in outreach programs for the Yankees and MLB, but a full-time baseball man? I would be surprised. That's just my opinion.
Rob asks: Rumor is the Yankees are looking to fight A-Rod's home run bonuses based on his steroids suspension. Couldn't teams write that sort of thing into contracts? That parts or all of a contract is void if there's a positive test for PED's? Wouldn't it make sense since PED use is a risk for the teams as well?
Nope. All PED-related discipline is handled by the collectively bargained Joint Drug Agreement. I think voiding a contract for PED reasons is a zero tolerance item for the players' union. I think they'd go on strike before allowing that to happen. Making contract more easily voidable is not a precedent the union wants to set. MLB and the MLBPA agreed to beef up PED suspensions last year — first and second offenses went from 50 and 100 games, respectively, to 80 and 162 games — and the JDA is by far the best and toughest PED system in the four major sports. Letting teams void contracts for a failed test is a can of worms I do not expect the MLBPA to allow to open. Not unless MLB agrees to let players opt out of their contracts if they feel underpaid, of course.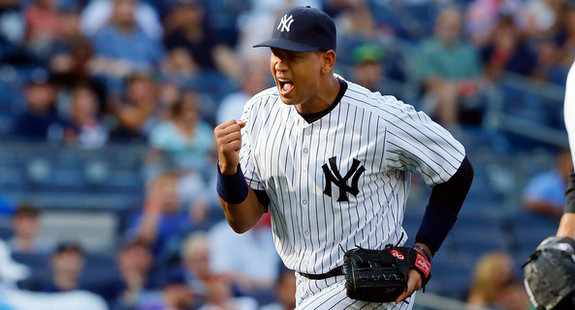 Dan asks: How do you think the clubhouse is going to receive A-Rod.  The only guys who are still on this team from the last time he played are CC Sabathia, Mark Teixeira, John Ryan Murphy (for about a month), Ivan Nova (who will miss at least 2 months) and Brett Gardner.  It seems like it would have been better for him to come back to a team where the guys know him for more than just his reputation.
Don't forget Brendan Ryan! He played with A-Rod a bit too in 2013. Dellin Betances too, I think. Anyway, I really have no idea how Alex will be received in he clubhouse. Some days I think it think he'll fit right back and other days I wonder if the new guys will be uncomfortable. A-Rod has always been really good with young players though, both on the field and off the field, so maybe his presence in the clubhouse won't be a big deal. A-Rod is a gym and baseball rat and he's worked with a lot of young players — Robbie Cano took his game to another level after Alex got him to work harder, most notably — in addition to taking them out to dinner or buying them suits, that sort of stuff. The ol' mentor thing. I'd like to think he would be accepted after serving his time, but who really knows. I don't think there will be outright mutiny or anything like that though.
Daniel asks: What do you think are the percentage probabilities that Tanaka will be the same pitcher he was in the first half of last year for a whole year, succumb to Tommy John, and stay on the field but not be the same pitcher?
I'll say … 20% he stays healthy and is the same guy, 60% he has his elbow rebuilt, and 20% he stays healthy but is not the same pitcher. Tanaka was insanely good last year — he had a 1.99 ERA (2.74 FIP) in his first 14 starts before the elbow started to become an issue — and I'm not sure we can realistically expect that over a full season. He had a 2.47 ERA (3.03 FIP) in 19 starts before that disaster in Fenway Park to close out the season, so maybe that's the best realistic case scenario for 2015. As for the elbow, I'm just not very optimistic right now. I think it'll give out at some point and soon. Not sure how anyone could expect differently.
D.J. asks: What series with a National League team are you looking most forward to watching?
Definitely the four-game home and home series with the Marlins from June 15-18. I love their outfield — it's not just Giancarlo Stanton; Christian Yelich and Marcell Ozuna are two of the best young outfielders in baseball as well —  and I irrationally love Henderson Alvarez. He throws in the mid-90s with nasty offspeed stuff, couldn't miss a bat to save his life, and still dominates. I enjoy it because it's so unconventional. Their bullpen is really fun too, they've got a lot of different arm angles (Steve Cishek), big velocity (Bryan Morris), and big breaking balls (A.J. Ramos). Jose Fernandez might be back by time that series against the Yankees rolls around as well. Miami has themselves a fun up and coming roster this year.