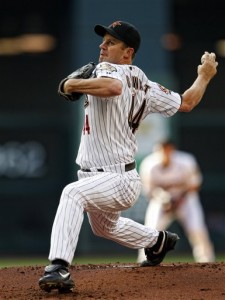 It's one of the rights of summer: if a big name player is available, the Yankees will be discussed as a landing spot, regardless of how much sense it makes. So naturally when Roy Oswalt went to his bosses in Houston and essentially demanded a trade, many saw it as a chance for the Yanks to jump in and upgrade the rotation. It doesn't matter that the team already has more than $63M committed to it's current rotation with a competent sixth starter in tow, or that they just picked up some more depth yesterday, it's Roy Oswalt people! True Warrior™ status!
Anyway, a team official shot down the idea, telling Jon Heyman that "we like our starters," which is a candidate for the obvious statement of the year award. Despite Javy Vazquez's early season awfulness, the rotation has a 3.70 ERA (sixth best in baseball), a 4.16 FIP, and a 4.20 xFIP, all strong marks. They're averaging close to 19 outs recorded per start, which is a big help with a somewhat shaky bullpen. There's always room for improvement, but given the cost, it's not worth it to the Yanks.
First of all, let's talk about the money. Oswalt is owed about $11.8M for the rest of this season, then another $16M next year, and then $2M to buy out his $16M option for 2012. Even if the trade was made two months from now at the deadline, that's a commitment of $23M through the end of 2011. And remember, every dollar the Yankees take on is actually $1.40 because of the luxury tax. That $23M turns into $32.2M before he'd even throw a pitch. People laugh at the idea of the Yanks having a budget, but it's very real, otherwise Johnny Damon or Matt Holliday or whoever would be in pinstripes. Hal Steinbrenner wouldn't add $5.5M to the payroll last year for Mike Cameron, so $32.2M for what could be perceived as an unnecessary update would be a rather tough sell.
Then there's the talent. Houston's not just going to give their franchise pitcher away, and if they eat any of the money left on Oswalt's contract, the better the prospects they'll expect to receive. Just looking around for some comparable deals, I don't think the Cliff Lee trade works because a) Lee is flat out better than Oswalt, and b) is much, much cheaper. The best comparison might just be Javy Vazquez, who fetched a top prospect, a young big leaguer with six years of team control, another decent prospect, and a live lower levels arm when the Braves acquired him from the White Sox. That's a significant package.
The Yanks don't have many high end prospects at the moment, so the Astros are going to ask for Jesus Montero or Austin Romine plus more. The Yanks could move someone like Hector Noesi or Jose Ramirez, but their trade value isn't great because they're still so far away. I've already seen a few people suggest that sending Javy back to Houston could work, which of course is completely nuts. Why would the Astros take him on when they're trading Oswalt? Someone is going to need to explain this one to me, because it makes absolutely no sense. None of this mentions the righty's history of back issues, either.
If the rotation had an obvious opening AND the Yanks had the financial flexibility AND enough prospects to spare, then yeah, it might make some sense. Given where the team is right now, with the second best record and the second best run differential in all of baseball, there's no need to go out and make a move. Injuries are always a possibility, but Oswalt is a rather expensive back-up plan. Something would really have to go wrong for him to become an option.
Remember, the Yankees got through last season with three reliable veteran starters and (for all intents and purposes) a rookie in the 4th spot with a hodgepodge of mediocrity rounding things out. That same veteran front three is still intact this year, the rookie has been replaced by an equally young starter who's been a bit better, and even with all his struggles, Vazquez is an upgrade over that last spot if he continues to rebound. Oswalt's a big name and a really, really good pitcher that would make every team better, but there's just not a realistic fit for the Yankees at this time.