I promised a Jesus Montero-free mailbag last week, so here it is. Instead you get a whole bunch of Dodgers-related questions, which seems like nothing more than a coincidence. Remember to use the Submit A Tip box in the sidebar to send in your questions throughout the week.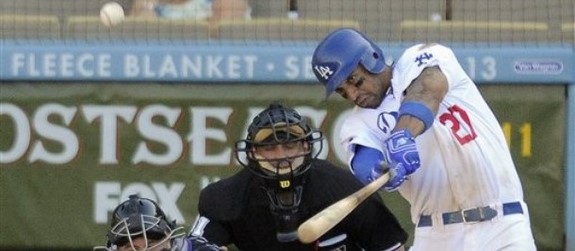 Evan asks: With the ongoing drama regarding the Dodgers and Frank McCourt, it's looking more and more likely that Matt Kemp will hit the open market following the 2012 season. What type of contract do you think he will receive? Could it be the largest in baseball?
Kemp's season was basically Curtis Granderson's season plus another 10-15% on top of it. He hit .324/.399/.586 with 39 homers and 40 steals, which works out to a .419 wOBA. All that happened in one of the game's best pitchers' parks and in a lineup with zero protection (if you believe in protection). He was a monster this year, I think the obvious NL MVP and arguably the best player in all of baseball.
Reportedly, Kemp will not talk about a contract extension once the 2012 season starts. He can be a free agent after next season (MLBTR projects his 2012 salary at $16.3M), and his agent says he isn't giving a hometown discount. If Kemp has another year like this one, which is very possible because he is that talented and just turned 27 in September, I think we're talking Joe Mauer money on the open market (eight years, $184M). He's not a Scott Boras client, which will cost him some money and likely prevent him from getting an Alex Rodriguez contract, but he's so young and so productive that it wouldn't surprise me if he got it anyway. Who will give it to him though? The Yankees with at least three $100M+ deals already on the books? The Red Sox? The Tigers? Maybe the Rangers since Josh Hamilton will be off the books? Someone's going to pay Kemp huge money and deservedly so.
Reggie asks: What's the chances that Hiroki Kuroda could be swayed from returning to the Dodgers or Japan with a lucrative two-year offer? Kuroda could simply be trying to gain some leverage in talks with east coast teams. How awesome would it be to have a rotation featuring both Kuroda and Yu Darvish!  The stadium would turn into lil Tokyo two days a week.
I think the economic impact of high-profile Japanese players is easy to overstate (we've seen studies about how revenue Hideki Matsui actually generated), but it's definitely real. That's neither here nor there though.
We're Kuroda fans here at RAB, dating back to last offseason when we considered him the best Plan B behind Cliff Lee. The Yankees like him as well, judging by the fact that they wanted him in August 2010 and before the 2011 trade deadline. The 36-year-old right-hander (37 in February) still makes a ton of sense for New York on a short-term contract, but he likes Los Angeles so much that he took a below market contract to stay their last year and refused to waive his no-trade clause to come east at the deadline. Two years might be pushing it at Kuroda's age, but I would much prefer that to five years for C.J. Wilson or four years for Edwin Jackson.
Mark asks: How would you feel about a deal for Chad Billingsley that centered around Eduardo Nunez and someone like Adam Warren or D.J. Mitchell? Given his mileage and down year, would that be too much?
No, I don't think that would be too much at all. I like Adam Warren, but I'd drive him and Nunez to the airport myself if it meant getting a guy like Billingsley. He's young (27), signed affordably through 2014 ($32M plus a $14M option for 2015), durable (at least 31 starts and 188 IP in each of the last four years), and really effective (3.52 FIP last four years). Even if that shoots up to a 4.00 FIP in the AL East, he's still a really good pitcher.
My biggest concern is that Billingsley's strikeout and swing-and-miss rates have declined every year since 2008 while his walk rate has hovered closer to 4.0 BB/9 than 3.0 BB/9. Mike Scioscia's Tragic Illness dubbed him "a conundrum, consistently inconsistent" just yesterday. On the bright side, he is a ground ball guy (47.3% last four years) and has only been on the DL once (16 days for a groin strain in 2010). Definite pluses.
I look at Billingsley almost like another Ubaldo Jimenez, and I think it would take a similar kind of package to get him. Ned Colletti isn't the sharpest tool in the shed, especially when it comes to making trades (as he's shown with Casey Blake, Octavio Dotel, etc.), so perhaps that makes it easier to acquire the right-hander. I'd include Dellin Betances in a package for Billingsley no questions asked, but not Manny Banuelos and certainly not Montero. Betances plus two lesser pieces (Mitchell? Brandon Laird?) would be ideal, but probably not realistic.
Nick asks: Could the Yankees trade for Scott Elbert?
Sure they could. I have no idea how open the Dodgers would be to moving the lefty, who emerged as a dominant late-inning reliever in 2011 after going back and forth to Triple-A for a few years. The 26-year-old held same-side hitters to a .191/.267/.250 batting line this year (75 plate appearances), though the 18 strikeouts don't really blow you away. Elbert battled some serious arm problems in the minors, which is why he can't start anymore, but he's still a power arm with a low-90's fastball and high-80's slider capable of doing the lefty specialist thing. He'd be a fine trade target, but I hope the Yankees don't overpay for a LOOGY.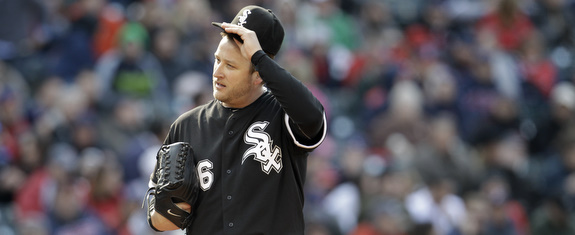 Jon asks: What are your thoughts on Mark Buehrle?
Brad asks: What are the details of Mark Buehrle's contract situation? If memory serves, he is a free agent this year. He's a durable lefty with a proven track record. Would he be a viable signing for the Yankees?
Yep, he is a free agent this winter, and just to get this out of the way, I can only see Buehrle pitching in two places next season: with the White Sox, or for his hometown Cardinals. He'd made it known in the past that he would only waive his no-trade clause to pitch in St. Louis, and he's also discussed retirement if the right deal doesn't come along.
Anyway, I'm not much of a Buehrle fan. He's the definition of a soft-tosser, keeping hitters off balance with a mid-80's fastball (both two- and four-seamers), a low-80's cutter, a high-70's changeup, and a low-80's curveball. The 32-year-old southpaw (33 in March) doesn't strike anyone out (three straight sub-4.80 K/9 seasons) and doesn't get a ton of ground balls (sub-45.7% last three years), but he is stingy with ball four (no worse than a 2.14 BB/9 since 2003).
Buehrle's a classic wily ol' veteran that just knows how to pitch and keep his team in games and [insert cliche here]. His value is in his innings (just finished his 11th straight year of 200+ IP) and veteran presents. Viable signing? Sure, but a) I don't see it happening, and b) definitely not with the expectation of him being a number two starter. Buehrle's had a great career, but you don't want to be the one on the hook when the other shoe drops.
Dave asks: We all know about the weak free agent class for starting pitchers this year, but I'm interested in next year's pitchers. Or more specifically, which of next year's free agents (or the following year) might be made available at the trade deadline, a la Ubaldo. Cole Hamels probably won't be made available, but maybe Clayton Kershaw? BTW, I still refer to this post for future free agent pitchers.
Next year's free agent class is right here, and it's loaded with pitchers. Hamels, John Danks, Matt Cain, Shaun Marcum, Zack Greinke, Francisco Liriano … the list goes on and on. I think Cain is by far the most likely to sign an extension, but I wouldn't be surprised if Hamels does as well. Danks and Liriano could definitely be on the block if the White Sox and Twins fall out of the race early, and I wouldn't be surprised if the Brewers try to flip Greinke for something better than two draft picks if they struggle without Prince Fielder. I'd be surprised if Tim Lincecum or Josh Johnson, two guys that will become free agents after 2013, hit the trade market this summer. Heck, in Lincecum's case, I'd be surprised if he ever hits the trade market. He's the definition of a franchise pitcher.