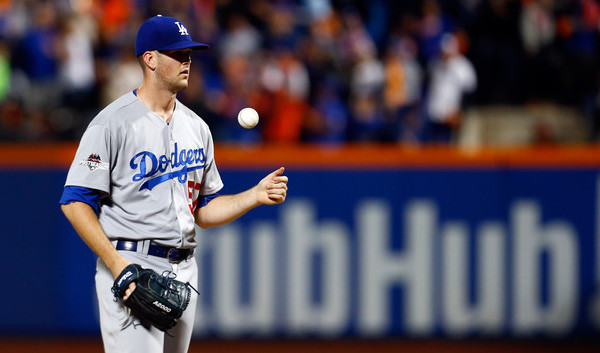 After losing Zack Greinke to the division rival Diamondbacks earlier this offseason, the Dodgers finally took some steps to improve their rotation last week, signing both Scott Kazmir and Kenta Maeda. Those two will join Clayton Kershaw and Brett Anderson in the rotation. Alex Wood and Mike Bolsinger figure to round out the starting staff until Hyun-Jin Ryu (shoulder) and Brandon McCarthy (elbow) are healthy.
Since the Maeda signing, there's been speculation the Dodgers would be open to trading Wood for help elsewhere on the roster. (For what it's worth, there was talk Los Angeles would flip Wood to the Cubs or Indians at the trade deadline.) GM Farhan Zaidi said they're still trying to add to the rotation — "To the extent that adding more certainty to the rotation is an option for us over the next couple of months, we'll definitely continue to look," he said to reporters following the Kazmir deal — though that's something every GM says.
The Yankees are in the market for rotation help, particularly a young starter they can control beyond the next two seasons. A left-hander would be preferable — CC Sabathia is the only southpaw starter either in MLB or remotely close to MLB in the organization at the moment — but isn't a necessity. Quality is more important than handedness. Anyway, let's see whether Wood is a fit for the Yankees.
The Performance
The Braves picked Wood right out of their backyard (University of Georgia) with their second round pick in the 2012 draft. The 24-year-old zoomed through the minors and made his big league debut in May 2013. He started out as a reliever and eventually moved to the rotation. Here are Wood's two and a half seasons in the big leagues:
| | G/GS | IP | ERA | FIP | K% | BB% | GB% | HR/9 | RHB wOBA | LHB wOBA |
| --- | --- | --- | --- | --- | --- | --- | --- | --- | --- | --- |
| 2013 | 31/11 | 77.2 | 3.13 | 2.65 | 23.6% | 8.3% | 49.1% | 0.35 | .307 | .280 |
| 2014 | 35/24 | 171.2 | 2.78 | 3.25 | 24.5% | 6.5% | 45.9% | 0.84 | .288 | .299 |
| 2015 | 32/32 | 189.2 | 3.84 | 3.69 | 17.4% | 7.4% | 49.5% | 0.71 | .343 | .228 |
| Total | 98/67 | 439.0 | 3.30 | 3.34 | 21.2% | 7.2% | 48.1% | 0.70 | .316 | .267 |
That all looks pretty good, doesn't it? Wood has a history of missing bats and getting grounders, the latter of which has helped him keep the ball in the park. (Playing in pitcher friendly Turner Field and Dodger Stadium helped too.) His walk rates have been fine and, up until last season, his platoon split wasn't huge.
Last season was Wood's first as a full-time starter and his strikeout right fell big time while his platoon split stretched out substantially. That leads me to wonder what his performance as a starter looked like from 2013-14. Are his numbers as a reliever skewing things? Here's the split:
| | IP | ERA | FIP | K% | BB% | GB% | HR/9 |
| --- | --- | --- | --- | --- | --- | --- | --- |
| as SP | 402.0 | 3.31 | 3.42 | 20.6% | 7.2% | 47.8% | 0.72 |
| as RP | 37.0 | 3.16 | 2.41 | 27.8% | 7.3% | 52.1% | 0.49 |
Like most pitchers Wood has been more effective in relief throughout his career, albeit in a small sample. His numbers as a starter from 2013-14 are much better than his numbers as a starter in 2015 though. Look at the averages — he had a 17.4% strikeout rate last year but is at 20.6% overall as a starter in his career.
Generally speaking, Wood's performance is rock solid. He's not a front of the rotation guy or anything like that, but he has been an average or better starter over the years. The big dip in strikeout rate and suddenly massive platoon split last season are curious. Not sure I'd call them red flags just yet, but they exist. Something happened there.
The Stuff
From a stuff perspective, Wood is nice and simple. He throws three pitches: a sinker, a changeup, and a breaking ball. The breaking ball is pretty slurvy — at times it looks like a curveball and at others it has shorter break like a slider. Wood's stuff doesn't qualify as electric but it does play up because of his ridiculous delivery. I don't know how to describe it. Just watch:
I can't imagine Wood is a comfortable at-bat. He's a deceptively big guy — he's listed at 6-foot-4 and 215 lbs. on the
team's official site
— and that herky jerky delivery is all arms and legs. There's a lot of moving parts. The hitters react to Wood's sinker like it's 4-5 mph faster than it really is. Look at the swings in the video. They don't seem to pick up the ball well out of his hand.
Wood has thrown the sinker roughly 60% of the time throughout his career and both the breaking ball and changeup about 20% of the time each. Wood's not one of those fastball/breaking ball guys with a show-me changeup. He legitimately uses all three pitches, which is why he's had success as a starter.
The three-pitch repertoire and the deception are nice. This is not: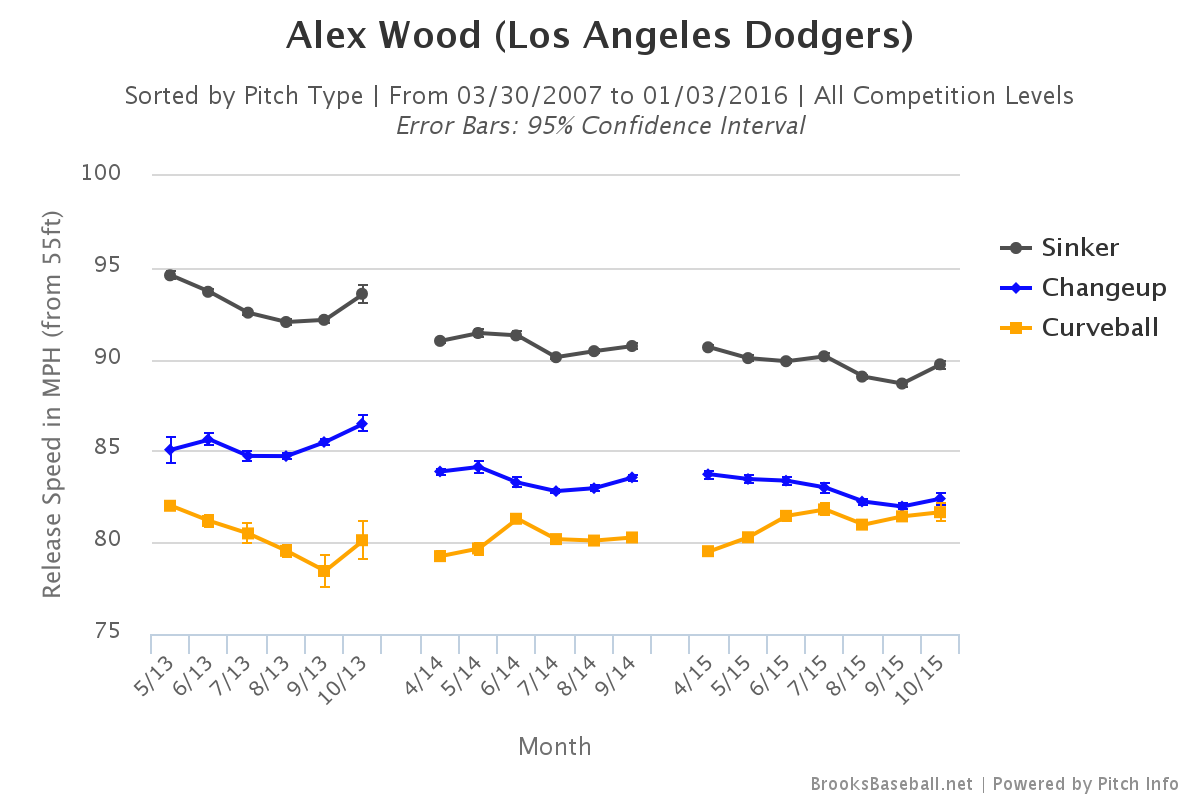 Wood's velocity is trending downward and not so gradually either. His sinker went from averaging 92.5 mph in 2013 to 89.8 mph in 2015. That's almost a 3 mph decline in the span of three seasons for a guy who has yet to turn 25. Yikes. Also, Wood has a history of losing velocity in the second half, indicating he wears down during the season.
Furthermore, Wood operated at basically two velocities last season. His sinker was right around 90 mph and both the breaking ball and changeup sat around 83 mph. Two years ago it was a low-to-mid-90s sinker, a mid-80s changeup, and a breaking ball around 80 mph. That's three distinct speeds. Now it's only two. Chances are that contributed to Wood's falling strikeout rate.
Because of his falling velocity, Wood now is not the same guy that he was two years ago. His 2013 performance — which was split between the rotation and bullpen anyway — is much less relevant than his 2015 performance. Last year Wood set career worsts in ERA and FIP. The decline in stuff suggests it's no fluke.
Injury History
Wood is a Tommy John surgery survivor. He had his elbow rebuilt in the spring of 2009 and took a medical redshirt as a freshman as Georgia. Wood was also shut down late in the 2014 season due to a forearm strain. He also missed a start with a blister in 2013, but that's no big deal.
It's important to point out Wood was completely healthy last season. He returned from the forearm strain and had no problems in 2015. It's still something of a red flag though, especially for a guy with Tommy John surgery in his history and that wild delivery. It's possible Wood simply isn't built to hold up under a starter's workload.
Contract Status
Unfortunately for Wood, he fell about a week shy of qualifying for Super Two status this offseason. He has two years and 123 days of service time (2.123) while the Super Two cutoff was roughly 2.130. Sucks. That'll cost him a couple million bucks. Wood has four years of team control remaining, one as a pre-arbitration player and then three of arbitration-eligibility.
From what I can tell, Wood has at least one and possibly all three minor league options remaining. He was sent down in 2013 and 2014 but only briefly. It doesn't appear he was down long enough (20 days) to burn an option. Still though, you don't want Wood to use his options at this point of his career. Any team that trades for Wood wants him to contribute to their MLB team. Having to send him to Triple-A means something went wrong.
What Would It Take?
Wood himself was traded at the deadline last year, but it was as part of a massive 13-player, three-team trade. We can't gauge his trade value from that. Pitchers traded in recent years with four seasons of control remaining include …
Shelby Miller: Traded with Jordan Walden for one year of Jason Heyward and a prospect.
Jake Arrieta: Traded with Pedro Strop for rental Scott Feldman and a prospect.
Gio Gonzalez: Traded for four prospects, most notably Tommy Milone and Derek Norris.
… which gives us an interesting cross section of pitchers. Gonzalez was about to get expensive as a Super Two and the Athletics traded him for prospects. Arrieta was a busted former top prospect the Orioles flipped for Feldman to help their 2013 postseason drive. The Cardinals dealt Miller in a win-now move that brought them an impact player, albeit one year of one.
Which one of those applies most to Wood? It's Miller, right? The Dodgers are a win-now team and they've not going to move Wood in what amounts to a salary dump like the A's did with Gonzalez, and Wood's not broken like Arrieta. (Arrieta was really, really bad in Baltimore.) That said, Miller was generally held in much higher regard then Wood. Miller was a former top prospect with high-end stuff. Wood's mostly a deception guy with some believers and also some detractors.
Wrapping Up
I don't really understand how president of baseball operations Andrew Friedman is running the Dodgers. He's obsessing with team control like he did with the Rays but is also sprinkling in some win-now moves, like Kazmir and Maeda. (And the failed Aroldis Chapman trade.) What would he want for Wood? Big league pieces or prospects? They traded Dee Gordon for prospects, remember. That was weird.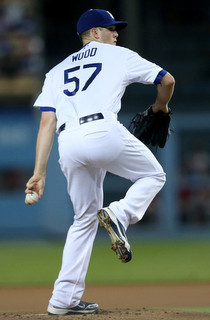 Anyway, the framework of an Andrew Miller for Alex Wood trade exists, but a straight one for one swap makes no sense for the Yankees. Zero. Three years of an elite reliever for four years of a good starter with a vanishing fastball doesn't make sense for New York. Wood would have to be part of a three or four player package, and the second piece would have to be pretty significant. Right? I'm not being crazy here. Miller for Wood makes the Yankees worse. They need quite a bit more.
The Dodgers have too many outfielders — they're still trying to unload Andre Ethier and Carl Crawford — so Brett Gardner doesn't really fit here. One year of Chapman for Wood would be kinda interesting, but Los Angeles backed away from Chapman after the domestic violence case came to light, so I doubt they're interested. I suppose the Dodgers could focus on a prospect package for Wood. I dunno.
The Yankees have been looking for a young controllable starter all offseason and Wood fits the bill, though he is not without his flaws. His velocity has been fading, his performance suffered last season, and he pairs an ugly delivery with a history of elbow problems. There's a decent chance Wood will be relegated to the bullpen full-time at some point during his four remaining years of team control if his velocity doesn't bounce back.
That said, Wood is a three-pitch lefty who has a history of limiting bats and getting grounders. That's not nothing. There are always reasons to not trade for a guy. Those are some reasons to trade for him. Whether the Yankees and Dodgers can find common ground is another matter. As far as I'm concerned, the Miller for Wood framework only makes sense if the Yankees are getting at least one other significant piece.