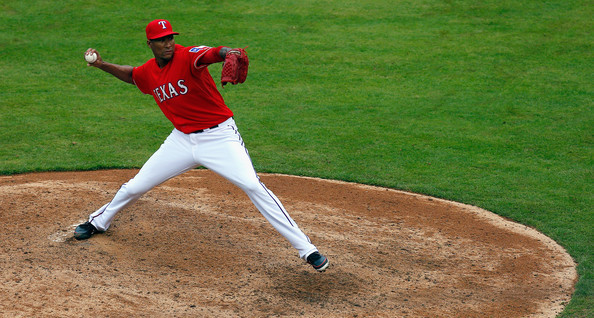 Aside from the still unsigned Max Scherzer and James Shields, the free agent pitching market is very thin. All that's left is a bunch of reclamation project types — guys coming off injury or veteran pitchers nearing the end of the line. Guys like that. The Yankees could use another arm or two to protect against their risky rotation, though the current options aren't all that appealing.
One of the many available reclamation project arms is ex-Rangers right-hander Alexi Ogando, who was non-tendered back in November after throwing only 25 ineffective innings last season due to injury. Ogando held a showcase in Tampa last week and Peter Gammons said about two dozen clubs were expected to attend. Nick Cafardo heard teams are still concerned about his health, and then of course Ogando's agent shot that down. From MLBTR:
"Alexi Ogando was 92 to 93 and touched 94 at a bullpen session for numerous teams last week," says (agent Larry) Reynolds. "After an earlier examination by Dr. [James] Andrews, coupled with his promising progression, we believe Alexi should have no problem securing a job and will be pitching on Day 1 of 2015 Spring Training."
The 31-year-old Ogando has worked as both a starter and a reliever throughout his career, and his career numbers to date make him something of a rich man's Esmil Rogers. For the Yankees, he could serve as rotation protection — perhaps only early in the season, until Ivan Nova returns or a better option becomes available via trade — and additional bullpen depth, at least if healthy. Let's break Ogando down.
Injury History
Might as well start here and get it out of the way. Ogando missed most of last season with a ligament sprain in his elbow that did not require Tommy John surgery, but was serious enough to sideline him for an extended period of time. In 2013, Ogando landed on the DL three times with arm problems: he missed three weeks with a biceps strain, seven weeks with shoulder inflammation, and three weeks with a nerve issue in his shoulder. Aside from that, the only other time Ogando has been hurt in his career came back in 2012, when he missed a month with a groin strain.
The arm injuries are obviously a major concern. We're talking about a recent history of both elbow and shoulder problems for a pitcher who is over 30. Barely over 30, but over 30 nonetheless. The teams telling Cafardo they are concerned about Ogando's health and Ogando's agent telling MLBTR his client is fine are both self-serving — teams are trying to depress his market and the agent wants to pump it up. Either way, it's clear the physical will be a big part of the signing. Ogando has some name value and a history of strong performance, but he's no help if he's hurt or otherwise compromised on the mound due to injury.
Overall Performance
Did you know Ogando was once drafted in the minor league phase of the Rule 5 Draft? Those guys almost never amount to anything, but the Rangers took him as an outfielder from the Athletics in 2005, converted him into a pitcher, and away he went. Neat story. Anyway, here is Ogando's overall performance through the years, via Baseball-Reference:
Year
Age
Tm
ERA
G
GS
IP
H
R
ER
HR
BB
SO
ERA+
FIP
WHIP
H9
HR9
BB9
SO9
SO/W
2010
26
TEX

1.30

44
0
41.2
31
6
6
2
16
39
348

3.06

1.128
6.7
0.4
3.5
8.4
2.44
2011

 ?

27
TEX

3.51

31
29
169.0
149
73
66
16
43
126
126

3.65

1.136
7.9
0.9
2.3
6.7
2.93
2012
28
TEX

3.27

58
1
66.0
49
26
24
9
17
66
134

3.73

1.000
6.7
1.2
2.3
9.0
3.88
2013
29
TEX

3.11

23
18
104.1
87
38
36
11
41
72
133

4.36

1.227
7.5
0.9
3.5
6.2
1.76
2014
30
TEX

6.84

27
0
25.0
33
19
19
1
15
22
57

3.81

1.920
11.9
0.4
5.4
7.9
1.47
5 Yrs
3.35
183
48
406.0
349
162
151
39
132
325
129
3.80
1.185
7.7
0.9
2.9
7.2
2.46
Last season was a total disaster because of the injuries. Before that Ogando was a very good Major League pitcher, compiling a 3.12 ERA (3.79 FIP) in 381 innings from 2010-13. He is very much a fly ball pitcher — his career ground ball rate is 38.2% and his single-season best was only 43.8% in 2010 — but that isn't automatically a bad thing. Ogando excels at getting infield pop-ups, which are very high percentage outs. His career fly ball rate is 40.8%, and of those fly balls, 12.8% have been pop-ups. Since 2010, only six pitchers have had a higher infield pop-up rate (min. 350 IP).
Infield pop-ups seem to be a common trait for pitchers who outperform their FIP — Jered Weaver, the poster boy for outperforming peripherals, has a 12.7% infield fly ball rate since 2010, essentially identical to Ogando's — but there is a catch: Ogando's infield pop-up rate has been consistently declining since his MLB debut. It was 18.6% during his debut in 2010, and it has since dropped to 14.7% in 2011, 13.7% in 2012, 9.5% in 2013, and 5.3% in 2014. That's not good. Pop-ups aren't the only reason Ogando has been successful, but they are a big part of who he is as a pitcher.
The league average pop-up rate has hovered right around 9.8% over the last five years, so Ogando still had an average rate two years ago. The big drop last season could be due to his elbow issue. At least that's what whoever signs him will hope.
Rotation vs. Bullpen
Ogando has spent approximately one full season and one half season as a regular big league starter. He's spent the rest of his career working out of the bullpen. Surprisingly, Ogando the starter and Ogando the reliever have been very similar statistically:
| | IP | ERA | FIP | K% | BB% | GB% | IFFB% | HR/FB% | BABIP |
| --- | --- | --- | --- | --- | --- | --- | --- | --- | --- |
| as SP | 267.2 | 3.40 | 3.95 | 17.6 | 7.4 | 38.1 | 12.7 | 8.3 | .261 |
| as RP | 138.1 | 3.25 | 3.51 | 22.7 | 8.8 | 38.5 | 13.1 | 7.5 | .278 |
Regardless of role, Ogando has always performed a bit better against righties (.283 wOBA and 3.02 FIP) than lefties (.296 wOBA and 4.02 FIP). The difference in strikeout rate between roles is fairly standard but otherwise Ogando managed to keep everything relatively close. If teams knew Ogando was 100% healthy, they'd be lining up to sign him thanks to his versatility. The injuries add a ton of risk and are why he remains unsigned in mid-January despite such a thin pitching market.
Stuff
For the first three years of his MLB career, Ogando was a pure fastball/slider pitcher who rarely threw a changeup. Even as a starter in 2011, he threw 67% fastballs, 29% sliders, and 4% changeups. Ogando has increased the usage of his changeup the last two years though, throwing it a bit more than 12% of the time from 2013-14. That's nice, but the fastball and slider are still his bread and butter. The changeup is a distant third pitch.
Ogando had premium velocity early in his career, averaging 97.5 mph with his fastball as a reliever in 2010, 96.1 mph as a starter in 2011, and then 98.1 mph as a reliever in 2012. He's sat a bit below that the last two years — 94.8 mph as mostly a starter in 2013 and 95.2 mph as a reliever in 2014 — but still offered above-average velocity in general. Obviously the injuries likely played a part in the velocity decline. For what it's worth, Ogando's slider has consistently sat in the 82-85 mph range over the years.
Here is how Ogando's fastball/slider with a show-me changeup mix has fared at getting swings-and-misses and ground balls over the years, via Brooks Baseball:
| | FB Whiff% | FB GB% | SL Whiff% | SL GB% | CH Whiff% | CH GB% |
| --- | --- | --- | --- | --- | --- | --- |
| 2010 (RP) | 11.8% | 35.4% | 12.2% | 51.2% | 13.2% | 60.0% |
| 2011 (SP) | 9.0% | 39.2% | 13.3% | 36.3% | 16.5% | 41.2% |
| 2012 (RP) | 13.9% | 27.9% | 16.6% | 52.5% | 0.0% | 75.0% |
| 2013 (SP) | 6.7% | 32.5% | 13.1% | 48.7% | 12.3% | 59.7% |
| 2014 (RP) | 7.5% | 28.4% | 15.3% | 54.6% | 23.5% | 63.6% |
| MLB AVG | 6.9% | 37.9% | 15.2% | 43.9% | 14.9% | 47.8% |
Remember, Ogando barely threw his changeup from 2010-12, so only the 2013-14 numbers matter there. His fastball has never been much of a ground ball pitch but from 2010-12, it was a top notch swing-and-miss pitch. The last two years, thanks to the reduced velocity and injuries, it's been closer to average. Ogando's slider has actually been generally been below-average at getting empty swings through the years.
Ogando's fastball is his money-maker based on how often he's thrown it throughout his career, which has been north of 60%. At its best, it had upper-90s velocity, got a well-above-average amount of swings and misses, and helped get all those infield pop-ups. Ogando's fastball has been compromised these last two years though, presumably due to his injuries, and that means he's simply not the same pitcher.
Ogando's agent told MLBTR his client was "92 to 93 and touched 94" at his workout last week, which is actually encouraging if true. Remember, it's only mid-January and he's not in midseason form. After a full Spring Training and all that he should add a tick or two of velocity, like just about all other pitchers. That's not guaranteed though, and there's no possible way to know what Ogando's fastball will look like come the regular season. It's all guesswork.
Contract Situation
The Rangers opted to non-tender Ogando rather than pay him a projected $2.6M in 2015, his second to last year of team control, which I think speaks volumes about his health. Texas' pitching staff is pretty thin and you'd think they would take Ogando at that salary this coming year if they were at all confident he could stay healthy and/or be effective. Instead, they walked away. That's a red flag. They know him better than anyone, remember.
Ogando's agent said he is seeking a big league contract, and that could still happen, but I don't think he'd make sense for the Yankees in that case. Remember, signing Ogando to a big league deal means someone has to be dropped from the 40-man roster, so it costs you a player. With Eury Perez likely to go for Stephen Drew, next in line to get the axe is probably Gonzalez Germen. Either him, Chase Whitley, or Jose DePaula. Ogando might be worth the roll of the dice in that case, but the Yankees would be letting go of a healthy, MLB ready and able body for a pitcher who might not be what he once was.
As for a minor league contract, of course, go for it. If he does have to settle for a minor league deal, Ogando and his agent are going to be looking for the best opportunity, a team with a rotation opening or a thin bullpen. The Yankees have an open bullpen spot but a lot of internal candidates. Their rotation looks like it will need help, but right now that isn't set in stone. Ogando could opt to go to a team with a more obvious rotation need, like, say, the Diamondbacks or White Sox.
Bottom line, Ogando will be a big risk next year given his recent injuries. He could be throwing well in showcases this winter and that's fine, but pitchers who have had arm injuries two years running tend to continue getting hurt going forward. The Yankees need to add more certainty to their rotation somehow and Ogando would be doubling down on risk. And at this point of the offseason, that might be the only way to help the rotation without breaking the bank for Scherzer or Shields.