Teams have until midnight ET this Friday to offer contracts to their players with less than six full years of service, and those who don't receive an offer will become free agents. It's a non-tender deadline, when a team decides if a player's production is worth his expected salary through arbitration. Most non-tendered players are nondescript, but there are always some useful pieces to be found as well. The Yankees signed Russell Martin after the Dodgers non-tendered him two years ago, for example.
The Bombers have a number of holes to fill this winter, more than any other offseason in recent years, plus they're looking to find cheap future production to help get under the $189M luxury tax threshold in 2014. Since many non-tendered players (like Martin) offer multiple years of team control, the Yankees figure to mine this market hard once the deadline passes. With an assist from MLBTR's Non-Tender Candidates List, let's look at a few players who could be fits for New York should they hit free agency at the end of the week.
Nate Schierholtz, OF
Part of the trade that sent Hunter Pence to San Francisco, the 28-year-old Schierholtz hit .273/.319/.379 (90 wRC+) in just 73 plate appearances for the Phillies before fouling a pitch off his foot and breaking a toe. I wrote a Scouting The Market post on him during the season, so I'll refer you to that and give you the short version here: he's a platoon left-handed bat with strong defense and one of the game's best outfield arms. MLBTR projects him to earn just $1.6M next year, but there have been rumblings Philadelphia may cut ties and look for veteran outfield help. Schierholtz would make a ton of sense for the Yankees as a cheap right field option, and as an added bonus he'd remain under team control in 2014.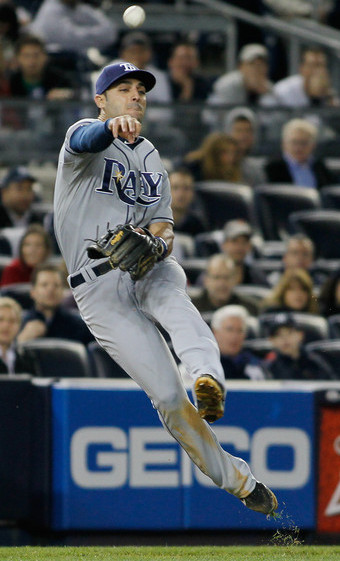 Sean Rodriguez, UTIL
The Rays have a knack for digging up annoyingly useful and versatile players, and Yankees fans have seen how annoying, useful, and versatile the 27-year-old Rodriguez can be over the last three seasons. He's not much of a hitter (career .225/.301/.356, 84 wRC+), but the right-handed swinger can handle lefties (career .252/.362/.389, 113 wRC+), offer some speed, and play average or better defense at the three non-first base infield spots. He's even dabbled at first and in all three outfield spots as well with Tampa.
The Yankees are said to be seeking a utility man capable of playing short and third a combined 100 times next year, basically someone better than Jayson Nix, and Rodriguez fits the bill. He is projected to earn $1.2M next season and remains under team control through 2015, though he fell out of favor with the Rays a bit this year and wound up spending a few weeks in Triple-A. I think they'll be able to find a taker via trade before the non-tender deadline if they plan to cut ties, so this one is a bit of a pipe dream.
George Kottaras, C
Another guy I covered in a Scouting The Market post, Kottaras is a career .220/.320/.412 (97 wRC+) hitter and a three-true outcomes machine from the left side: career 20.9 K%, 13.1 BB%, and .193 ISO. Over the last three seasons, when the 29-year-old became a full-time big league backup, he's produced a .217/.323/.417 (102 wRC+) line with 20.3 K%, 13.2 BB%, and .200 ISO. He's a poor defender behind the plate but he has definite offensive value, especially for a catcher. Talks between the Yankees and Russell Martin are reportedly "heating up," but they could still use Kottaras as a platoon mate even if Martin returns. MLBTR projects a $1.1M salary for next season, and Kottaras would remain under team control through 2014 as well.
Brian Wilson, RHP
Joakim Soria and Ryan Madson are getting all of the attention, but the 30-year-old Wilson is also coming off a season lost due to Tommy John surgery. He battled elbow problems last year and both his strikeout (8.84 K/9 and 22.2 K%) and walk (5.07 BB/9 and 12.8 BB%) rates declined considerably, but prior to that he was as good as any closer in the game. During the 2009-2010 seasons, Wilson pitched to a 2.27 ERA (2.35 FIP) with 10.78 K/9 (28.7 K%), 3.24 BB/9 (8.6 BB%), and 47.3% grounders in 147 innings. MLBTR projects him to earn a $8.5M in his third and final trip through arbitration, a hefty price for a reliever who hasn't pitched in a year and been truly dominant in two years. If the Giants cut ties with their long-time closer (it seems likely), he could be a fit for the Yankees on a low-base salary, incentive-laden one-year pact. As an added bonus, he'd have to shave that stupid beard if he joined the Bombers.
* * *
The Yankees don't have many (if any) non-tender candidates themselves. Casey McGehee was the obvious one but they cut ties with him last month. Eli Whiteside and David Herndon recently signed new contracts for 2013, so they won't be non-tendered. Nix is the only other player in the team's class of arbitration-eligible players who has a chance of being non-tendered, but his projected salary comes in at less than $1M. Plus it's not like the Yankees are in a position to be giving away infield depth at the moment. I suppose there's a chance Frankie Cervelli could be non-tendered, but again, not in a position to give away catching depth. On the other hand, the Yankees could look to add several pieces following Friday's deadline.