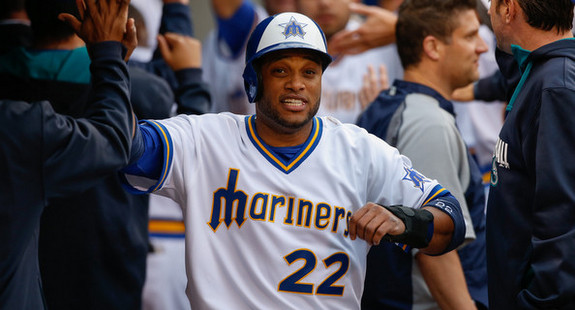 Thanks to a rainout on April 30th, the Mariners are back in the Bronx for one night only. The Yankees and Mariners are making up that postponed game tonight, on what should have been an off-day. Seattle did win the two other games in the series back in April.
What Have They Done Lately?
The Mariners just took two straight from the Tigers but have still lost five of their last eight overall. They played in Seattle yesterday afternoon and had to fly in overnight for this game. They leave for Atlanta later tonight. That must suck. Overall, the Mariners are 28-28 with a +13 run differential on the season, which has them sitting in fourth place in the top heavy AL West.
Offense
At 4.07 runs per game with a team 83 wRC+, manager Lloyd McClendon's squad is comfortably below-average offensively. They are without 1B Logan Morrison (8 wRC+) and DH Corey Hart (82 wRC+), who are on the disabled list with knee and hamstring problems, respectively. Neither will be back tonight. 2B Robinson Cano (115 wRC+) has not played the last three games due to a bruised hand after being jammed by a pitch. If he doesn't play tonight, then it must be a really bad bruise. I can't imagine Robbie will pass up an opportunity to torch his old team.
3B Kyle Seager (125 wRC+) has been the team's best hitter on a rate basis this year, and that is especially true right now with Cano banged up. OF Michael Saunders (109 wRC+) and OF James Jones (107 wRC+ in limited time) are the only other hitters who have been even average for Seattle. 1B Justin Smoak (88 wRC+) and OF Dustin Ackley (85 wRC+) continue to be monumental disappointments, as is SS Brad Miller (42 wRC+). Miller might legitimately be the worst regular player in baseball. It's amazing he's not back in Triple-A yet.
Aside from that group, the Mariners are trotting out C Mike Zunino (88 wRC+) and IF Nick Franklin (-1 wRC+ in limited time) fairly regularly right now. OF Stefen Romero (56 wRC+) plays against lefties, OF Cole Gillespie (88 wRC+ in limited time) plays against righties, and UTIL Willie Bloomquist (53 wRC+ in limited time) is the veteran bench guy every team loves to have. C John Buck (65 wRC+) is the backup catcher and OF Endy Chavez (79 wRC+) the designated "holy moly he's still in baseball?" guy.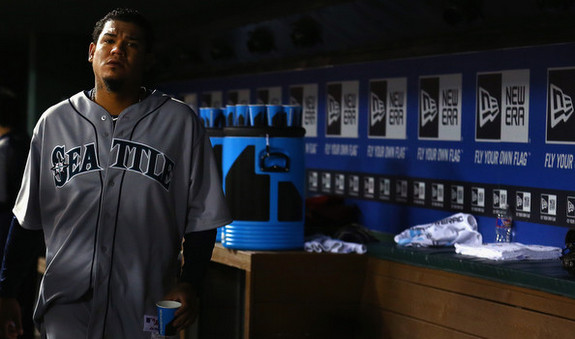 Pitching Matchup: RHP David Phelps (vs. SEA) vs. RHP Felix Hernandez (vs. NYY)
One game series and of course it's Felix. How could it not be? The rainout pushed the 28-year-old Hernandez out of the series in New York, but I guess the Yankees can't escape him that easily. Felix has been superb this season, as usual, with a 2.57 ERA (2.23 FIP) in 12 starts and 84 innings. Lots of strikeouts (8.89 K/9 and 24.8 K%), lots of grounders (51.7%), few walks (1.71 BB/9 and 4.8 BB%), fewer homers (0.32 HR/9 and 5.9% HR/FB). Definition of elite. He also has a bit of a reverse split this year — righties have a .271 wOBA while lefties have a .248 wOBA — but still, he's good against everyone. Felix has probably the nastiest stuff in the game, with a low-90s fastball that runs back in on righties, an upper-80s changeup that falls off the table, an unhittable mid-80s slider, and knee-buckling low-80s curveball. Every positive pitching adjective in the book applies to this guy.
Bullpen Status
Left-hander Roenis Elias threw a complete game shutout against the Tigers yesterday, so McClendon's bullpen got a nice day of rest. Closer RHP Fernando Rodney (3.02 FIP) is the anchor and he has been a high-wire act all season. Every time I watch him he's putting the tying run on base. RHP Yoervis Medina (4.07 FIP) and former Yankees farmhand RHP Danny Farquhar (2.76 FIP) are the primary setup men. Farquhar went to Seattle in the Ichiro Suzuki trade.
LHP Charlie Furbush (4.09 FIP) and LHP Joe Beimel (2.95 FIP) are the team's two lefties while RHP Dominic Leone (3.24 FIP) and RHP Tom Wilhelmsen (3.97 FIP) handle pretty much all other situations. Outside of David Robertson, who has thrown a ton of pitches the last two days, the Yankees' bullpen should be in good shape behind Phelps tonight. Check out our Bullpen Workload page for recent reliever usage, then check out USS Mariner and Lookout Landing for everything you need to know about the Mariners over the next like, ten hours or so.