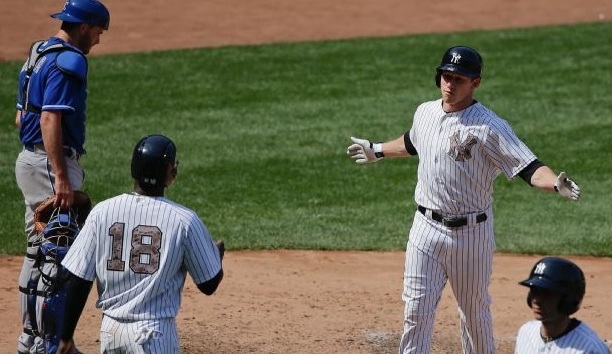 Back a few weeks ago, when the Yankees were winning on a consistent basis, they were doing so thanks in part to fourth outfielder Chris Young, who was providing power and strong overall play off the bench. His production was forcing Joe Girardi to pencil him into the lineup as often as possible, even at the expense of Brett Gardner at times. It appeared the Yankees had struck bench player gold.
The last few weeks have been much different, however. Both for the Yankees and Young. Since the calendar flipped to May, Young is gone a weak 6-for-42 (.143) overall, including his current 2-for-31 (.065) rut. And while that isn't a ton of playing time, it is enough to know Young no longer belongs in the lineup as often a possible. His struggles seem to have flown under the radar a bit given everything else happening with the team, yet there they are.
Young's hot start earned him some rope, and with Jacoby Ellsbury out hurt and Carlos Beltran always at risk of getting hurt, there are lots of reasons to keep him around. I don't think anyone is lobbying to get rid of him anyway. What the Yankees should do though is reduce Young's playing time, especially against righties, with those at-bats going to Slade Heathcott instead.
Heathcott was called up when Ellsbury got hurt and he's gone 5-for-12 (.417) with a double and a homer in three starts so far, which tells us … nothing, really. Outside of a serious injury, there's no way three games should change your opinion about any player. Heathcott should play more simply because he's young player with two-way ability who — bear with me a second, it's about to get a little crazy — might actually carve out a role with the team going forward because his best years are ahead of him.
The Yankees are being hush hush about Ellsbury's timetable, though we do know he will spend more than the minimum 15 days on the DL. That could mean 16 days, 30 days, 60 days … who knows? Either way, Ellsbury is not returning anytime soon, so playing time is plentiful, and that's an opportunity to evaluate Heathcott at the MLB level. The Yankees called Slade up over other deserving players (Ramon Flores, most notably), so it's clear they like him. He's not just a warm body.
Remember, Heathcott is a former first round pick and tools aren't a question. He's battled injuries and off-the-field demons over the years, not a lack of production, and we've seen just how dynamic he can be when healthy these last few days. Slade plays defense, seems to have a plan at the plate, has speed, and is sneaky strong. Plus he plays with the dial turned to eleven at all times. That doesn't necessarily make him a better player, but it makes him fun to watch. Talent, effort, health. For years he only had two of the three. At this very moment he has all three.
Heathcott is someone who could have a future with the Yankees and force the team to clear a spot for him down the road. This call-up during Ellsbury's injury may only be temporary, but that's okay, it's still an opportunity for Slade to get his foot in the door. Play well now and make a good first impression, and the next time an outfielder gets hurt, the club's call-up decision won't be tough. Keep playing well and suddenly a roster spot could be there come Spring Training 2016.
This isn't Melky Cabrera circa 2005-06, when he fell on his face (almost literally too) during his 2005 cameo but got called up again in 2006 because he was the best option. Heathcott has competition and the Yankees have options. If he doesn't play well now, Flores is waiting to get the next opportunity. If Flores doesn't work, there's Tyler Austin. Slade is the most well-rounded player though, one who can contribute on both sides of the ball, and he's the kind of young player the Yankees should be embracing given their current roster.
Young did some fine work earlier this season. The Yankees benefited greatly and he remains a useful piece off the bench. He shouldn't get playing time priority over Heathcott though, and, to be fair, Heathcott has started three of the last four games against right-handed starters, so Young isn't stealing at-bats from him right now. Slade is an underdog with one heck of a story. He's also a young player with talent who could help the Yankees short and long-term. The Yankees owe it to themselves to use Ellsbury's injury as an opportunity to let Heathcott show what he can do. Otherwise I don't see much point in calling him up.