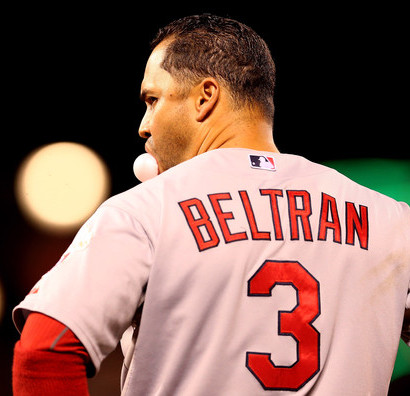 The World Series starts Wednesday night and the Yankees won't be playing in it because of their complete inability to generate offense against the Tigers in the ALCS. They scored six runs in the four-game sweep, and four of those runs came in two-thirds of an inning against Jose Valverde. It's still fresh in everyone's mind so I don't need to remind you of how ugly the series was.
The Cardinals also won't be playing in this year's World Series because they too just stopped hitting. They blew a three games to one lead against the Giants in the NLCS and were outscored a whopping 20-1 in the final three games. That's despite the presence of Carlos Beltran, a .363/.470/.782 career hitter in 151 playoff plate appearances and the proud owner of the highest postseason OPS in baseball history. It's hard to believe that their offense just evaporated.
I bring this up because the Yankees and Cardinals have more in common than their LCS exits. They each led their league in offense during the regular season (113 wRC+ for NYY and 107 for STL), but they did it in very different ways. The Yankees hit .265/.337/.453 as a team and led the world in homers (245) while the Cardinals hit .271/.338/.421 with just 159 homers. The big difference is that New York hit .262/.345/.449 with men on base while St. Louis hit .272/.345/.435 in those situations. Same OBP but less power production for the Cardinals (due in part to the pitcher hitting), but they hit for a higher average in those spots (.272 was the seventh highest team average with men on base this year). Their offense was built more on sustained rallies and getting so-called "clutch hits" whereas the Yankees just bludgeoned their opponents.
Anyway, a lot of people attribute New York's postseason failure to their inability to score runs without the long ball and want to see them embrace a more contact-oriented approach. I don't necessarily buy the former but I am on board with the latter to a certain extent. However, the Cardinals had a contract-oriented approach and their offense still disappeared for a stretch in the playoffs. The point I'm trying to make is that there is no magic formula for a winning offense, there's no right or wrong. You can do everything right and hit all the homers and drive in every runner in scoring position … and it still might not matter because anything can happen in a short series. It's not luck, it's just the day-to-day randomness of baseball and life in general.