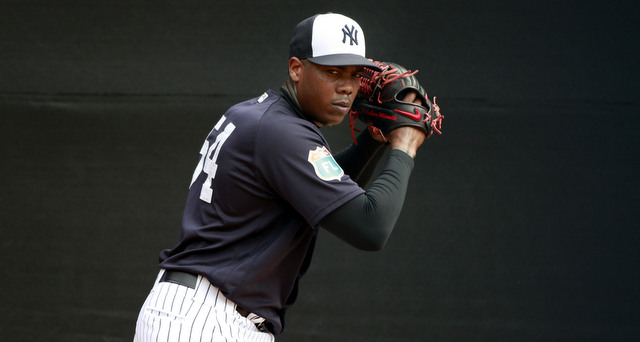 For the first time this season, the Yankees have the three key components of their potentially historically great bullpen available. Aroldis Chapman's 30-game suspension is over — he only served 29 games due to a rainout — and he is on the roster today and ready to pitch. He's the closer, says Joe Girardi. If the Yankees have a save situation in the ninth tonight, Chapman will get the call.
Of course, getting leads and save situations has been awfully tough for the Yankees this season. Just when it looks like they're starting to come around, they go and get nearly shutout by a knuckleballer. Adding Chapman will be a big time help, assuming the rest of the roster does its job first. Here is the Royals' lineup and here is the Yankees' lineup:
LF Brett Gardner
CF Aaron Hicks
C Brian McCann
1B Mark Teixeira
DH Carlos Beltran
RF Dustin Ackley
SS Didi Gregorius
3B Chase Headley
2B Ronald Torreyes
RHP Ivan Nova
That weather has been okay in New York today. The sun was out earlier, but now it's hiding behind a bunch of clouds. The good news is there is no rain in the forecast. Tonight's game will begin at 7:05pm ET and you can watch on YES. Enjoy.
Injury Updates: Starlin Castro (oblique) is feeling better and is available off the bench. Girardi is giving him a day off as a precaution, basically … Jacoby Ellsbury (hip) is not available, however. Doesn't sound like he will be available tomorrow either.
Roster Updates: Johnny Barbato was optioned to Triple-A Scranton to clear a 25-man roster spot for Chapman, the team announced. I thought it would be Nick Goody, but nope. Branden Pinder (Tommy John surgery) was transferred over to the 60-day DL to clear 40-man roster space.
Schedule Update: The April 10th rainout against the Tigers has been rescheduled for Thursday, June 2nd, both teams announced. That means tonight is now the seventh game of a 40 games in 41 days stretch for the Yankees. Blargh. The Yankees will be in Toronto on June 1st and Baltimore on June 3rd, so at least the travel will be easy.