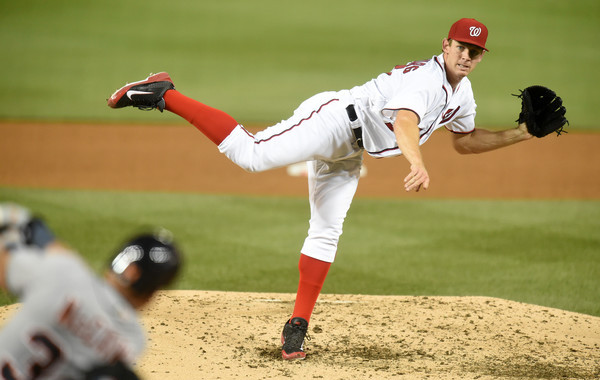 Nationals right-hander Stephen Strasburg managed to agree to a contract extension in the middle of a start last night. While he was on the mound against the Tigers, news broke Strasburg and the Nats had a seven-year extension in place. The deal is worth $175M and includes opt-outs after the third and fourth years. The contract will be made official later today.
Massive contracts like this change the baseball landscape. Strasburg was on track to become a free agent after the season and pretty much every team with money to burn and a hole in their rotation was going to be interested. The Nationals opened their wallets and paid up. If nothing else, their fans now a least have some hope they will do the same with Bryce Harper in a few years. For now, here are some ways the Strasburg deal affects the Yankees.
Wow Does The Free Agent Pitching Class Stink
Strasburg was, by far, the best pitcher scheduled to become a free agent after the season. I wasn't expecting the Yankees to make a run at him or any other big name free agent — that might not happen until they reset their luxury tax rate — but you can never truly rule this team out on free agents. What if they win 70 games and finish in last place? Would it surprise anyone if the Yankees respond by spending $400M in free agency? Nah.
The Yankees need pitching the same way every team needs pitching. With Strasburg off the board, here is a quick list of the best starters scheduled to become free agents after the season (full list):
Clay Buchholz
Andrew Cashner
Bartolo Colon
R.A. Dickey
Jeremy Hellickson
Rich Hill
Mat Latos
There are some options and opt-outs that can come into play (Gio Gonzalez, Scott Kazmir, Derek Holland, Edinson Volquez are the notables) but that's the list. You really have to squint your eyes to find a difference maker in that group. I'm really surprised Strasburg and Scott Boras decided to forego free agent with that class. He might have gotten $200M on the open market.
The Yankees have quite a bit of money coming off the books after the season and spending on a free agent starter to beef up the rotation seemed possible. Maybe not a huge money deal, but a little something, you know? Now that Strasburg is off the board, there's going to be much more competition for the mid-range arms. Someone's going to end up betting a lot of money on Buchholz and Cashner not being enigmas going forward.
The Trade Market: As Buyers
Because the free agent pitching market looks so weak, expect the trade circuit to be busy. No team has too much pitching, but some have more pitching than others, and a few of those clubs figure to cash in an extra arm as a trade chip. The Dodgers, Mets, Nationals, Braves, and Indians stand out as candidates to move a pitcher. Sonny Gray is going to be the big name. Jose Fernandez too. Expect to hear a lot of Gray and Fernandez rumors over the next, I dunno, eight months or so.
The Yankees have exactly one starter under control beyond next season (Luis Severino) assuming Masahiro Tanaka opts out, so they'll be one of the many clubs looking for pitching this coming offseason. They always are. They were looking for pitching this past offseason, remember. Teams looking for an impact pitcher can't turn to free agency with Strasburg signed. The Yankees will have more competition on the trade market, which seems to be their preferred way to acquire talent nowadays. Not great, Bob.
The Trade Market: As Sellers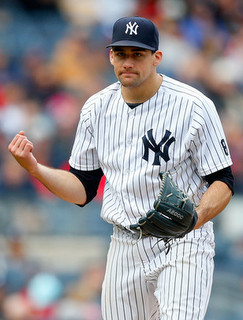 On the other side of the coin, the Yankees will potentially be in position to take advantage of the seller's trade market. Nathan Eovaldi and Michael Pineda will be free agents after next season. The Yankees would be foolish not to see what those two could fetch in trades this offseason. Some team could look at Pineda, see a guy with ace ceiling, and pay big. Same with Eovaldi.
Pineda and Eovaldi are both reasonably young. They both have sexy peripherals, they both have big time stuff, and there's a chance to get a draft pick when they do become free agents. That makes both very desirable in trades. If the Yankees do not plan to sign either long-term term, they owe it too themselves to put them out on the trade market and try to get a nice return this winter. It's not necessarily about selling to rebuild. It's about maximizing assets. Pitching will be at a premium.
The Tommy John Discount?
This past offseason Jordan Zimmermann became the first pitcher to sign a $100M+ deal after having Tommy John surgery. (Shin-Soo Choo was the first to do it overall.) Strasburg is the second, and he blew away Zimmermann's deal. There is no doubt Tommy John surgery presents certain risks going forward, even for guys like Zimmermann and Strasburg, who have thrown hundreds of innings since having their elbows rebuilt.
Both Strasburg and Zimmermann signed deals that were probably smaller than most expected. Heck, I thought Strasburg and Boras were going to try to eclipse David Price's pitching record $217M deal because he's a few years younger and the market was less saturated. So many pitchers are having Tommy John surgery early in their careers that now these guys are hitting free agency in their late-20s and early-30s, their prime years. It's not just the old workhorses getting new elbow ligaments.
The Strasburg and Zimmermann contracts could indicate there is some sort of discount applied to pitchers who have had Tommy John surgery. That's relevant to the Yankees because Eovaldi and Ivan Nova are due to hit free agency soon, and both have the zipper. Is it possible elbow reconstruction means it would be cheaper to re-sign those two? Two data points like Strasburg and Zimmermann doesn't mean much in the grand scheme of things, really. It's just an observation.
* * *
Like I said, I wasn't expecting the Yankees to be a serious player for Strasburg after the season. His signing does change the pitching landscape though, both the free agent and trade market, and that will affect the Yankees. Fewer available quality starters means more competition, and it also may represent an opportunity to turn players like Pineda and Eovaldi into other assets.