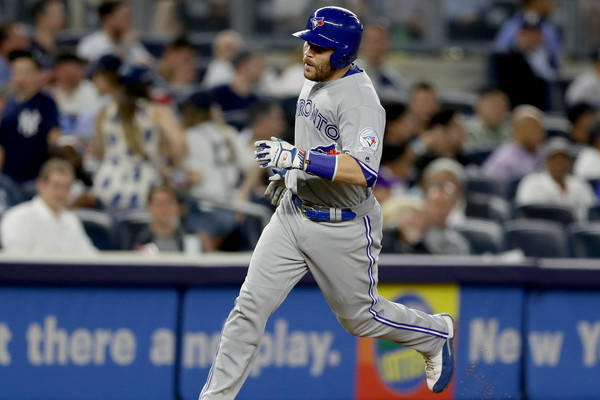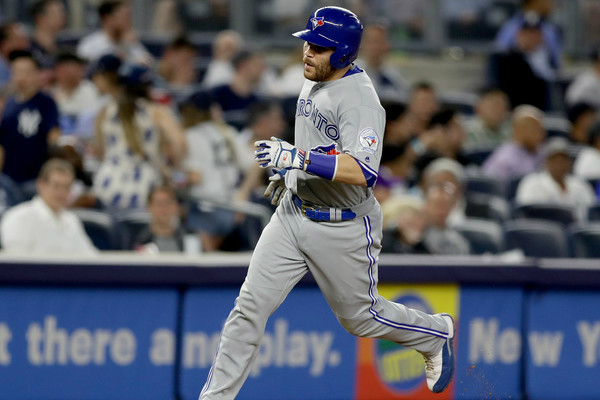 Plenty of players throughout baseball, but particularly in the American League East, develop the reputation as Yankee killers. Certain guys just play especially well when opposite the pinstripes. Howie Kendrick with the Angels comes to mind. So does the mysterious contributions of Pedro Ciriaco with the Red Sox.
But there is a special breed of Yankee killer: The former Yankee turned Yankee killer. The group I call the All-Revenge team. The guys who the Yankees let go, trade or otherwise give up on and have turned into a thorn in their sides, a few meetings a year.
So I unveil the All-Revenge lineup, former Yankees who have turned their former employers into a most despised adversary. (Note: I chose to use only active players and focused on players who have performed well vs. NYY since leaving the team).
C: Russell Martin
Why does Martin make the team? Martin is perhaps the most obvious thanks to the 2015 division race. He left the Yankees after the team chose to let him walk and instead go with Chris Stewart and Francisco Cervelli as his immediate replacements. When Martin came back to the AL in 2015 and was in a race with the Yankees, he was ready to pounce.
Over the course of 16 games (13 starts) in 2015, he hit .300/.362/.660 vs. NYY, hitting five home runs with a whopping 18 RBI. Particularly stinging was a two-homer game in September followed up by a go-ahead walk in the 11th inning the next day. He followed that up with four homers, nine RBI and a much more modest .207/.319/.431 line in 2016. He also tried to fight Gary Sanchez last September and extract his pound of flesh from the Yankees. The Bombers held him in check this series, but he's been a menace in the past.
Signature game: The two-home run game vs. the Yankees on Sept. 11, 2015 was a masterpiece for Martin. He singled home a run to knock Luis Severino out of the game, hit a solo home run off Andrew Bailey and then hit a two-run shot off Chasen Shreve that all but finished off the Yankees. Honorable mention goes to his two-homer game last Aug. 16, which included a go-ahead homer in the eighth inning off Adam Warren. I'll take the first one because of the division race implications.
1B: Steve Pearce
Why does Pearce make the team? Pearce has played for every team in the AL East except the Red Sox and he has more home runs against the Yankees (10) than any other team except the Rays (10). Pearce has a solid .293/.397/.579 line vs. the Yankees, a tOPS+ of 152, which indicates he's much better against the Yankees than vs. other teams.
The Yankees gave Pearce just 30 PA in 2012, and he's had 148 PA to pay them back over the last four years, picking up 34 hits, 14 of which have gone for extra bases. Five of his 25 career HBP are from Yankees pitching. He does special damage at Yankee Stadium with seven home runs with a .338/.419/.692 mark.
Signature game: Pearce has a plentiful number of performances for this list. He had a go-ahead homer off Adam Warren in an Orioles win on Sept. 9, 2015. He almost single-handedly beat the Yankees with a three-hit game last Aug. 28 with a home run and two-run single off CC Sabathia and Warren, respectively. (Man, Warren's getting beat down in these games). His four-hit, two-homer game Tuesday would be a surefire winner if the Jays had won.
But his most clutch anti-Yankee moment came Sept. 14, 2014, again with the Orioles. With the O's trailing 2-1 in the ninth inning at Camden Yards on Sunday Night Baseball, Pearce lined a game-tying double off David Robertson. He'd come home to score on a walk-off double from All-Revenge team honorable mention Kelly Johnson.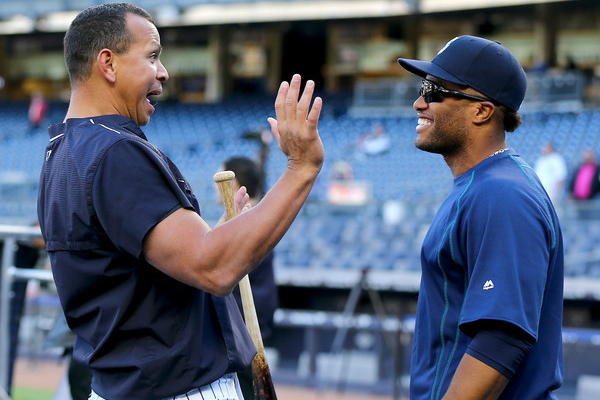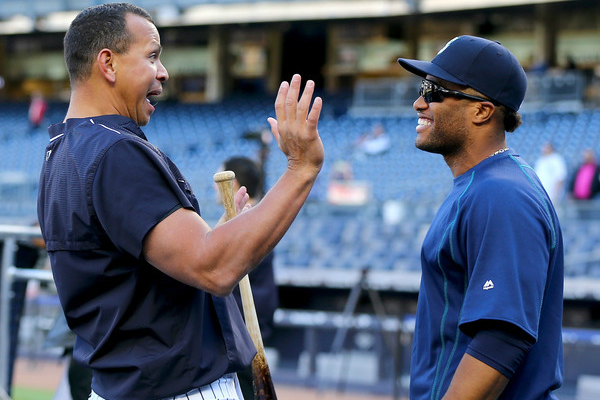 2B: Robinson Cano
Why does Cano make the team? Cano leads the rest of the All-Revenge team infield, which has had less experience facing the Yankees, having done so only in the last three seasons. However, Cano did quick work to get onto this list. He's batting .324/.377/.479 vs. his former squad and has three home runs. His batting average jumps up to .363 when you take out his 3-for-16 struggles against Masahiro Tanaka
Signature game: His highest Win Probability Added in his first two seasons with the Mariners came against the Yankees. He had two two-run homers against Michael Pineda on July 18, 2015, knocking in all four runs during the Mariners' 4-3 win over the Yankees. Both home runs came with the game tied and one-upped his former squad.
3B: Yangervis Solarte
Why does Solarte make the team? The No. 1 reason Solarte is here? There aren't many third basemen to work with. Thanks to Alex Rodriguez for holding down the position for so long. Solarte still made a big impact in his three games vs. the Yankees last July. Six hits in 10 at-bats with two walks, a home run and two doubles. Batting .600 with a 1.767 OPS against a team, even in one series, still has merit.
Signature game: Even though the Padres lost, 6-3, Solarte had one of his four career four-hit games last July 3, scoring two runs and hitting a solo shot. Solarte turns 30 this July, so there's a solid chance he gets more games to get further revenge for the Yankees trading him.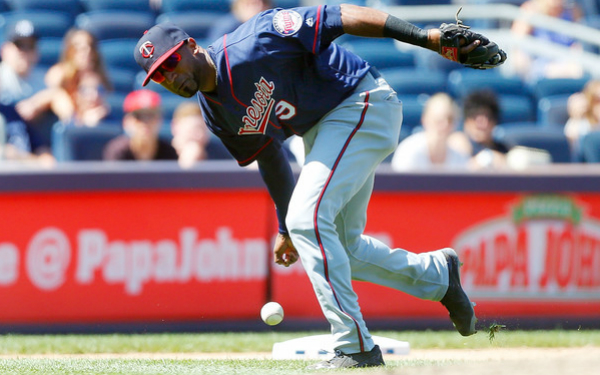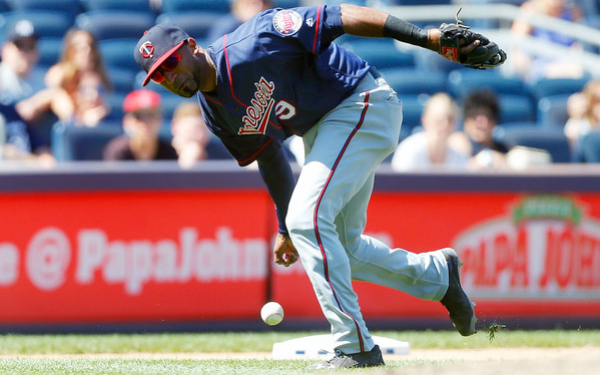 SS: Eduardo Nunez
Why does Nunez make the team? Again, a lack of shortstops. But Nunez has still performed well. 15 hits in 48 at-bats vs. the Yankees. Only two extra-base hits, but one went for a home run. All of his 14 games against the Yankees were with the Twins, and now he's playing a bevy of positions for the Giants.
Signature game: Nunez had a clutch double off the bench in 2014 but it came with the Twins already leading and Matt Daley in the game. He also had a two-hit game with a home run last June. But his top anti-Yankee moment came in a game where he went 1 for 4 with a walk in 2015. On Aug. 17, his one hit was lined off Bryan Mitchell's face, ending the rookie's night early and turning the game into a bullpen affair. I get wanting revenge, but that was ugly!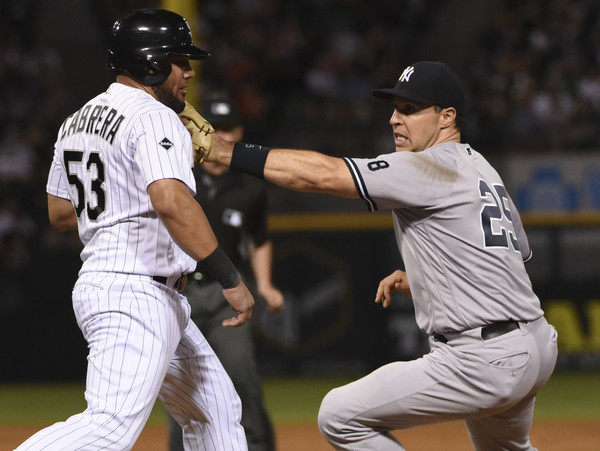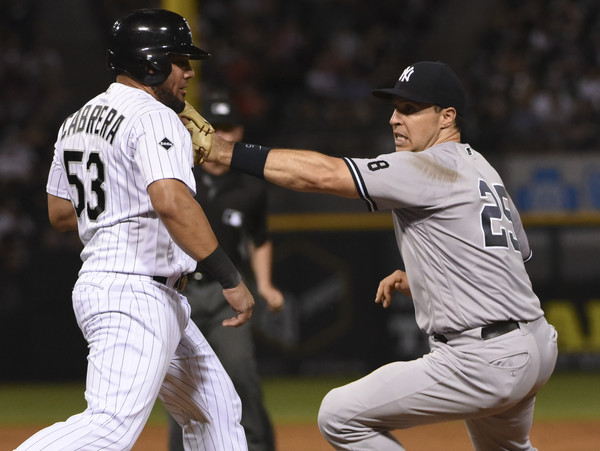 OF: Melky Cabrera
Why does Cabrera make the team? If Martin isn't the captain of the All-Revenge squad, Melky would do just fine in the role. He's batting .302/.350/.527 in 198 plate appearances against his former club. He's actually played more seasons out of NY (8) than with the Yankees (5) at this point. In 2014 alone, he faced the Yankees 15 times, had hits in all but two games and racked up six multi-hit games.
Signature game: Cabrera's first ever series against the Yankees came in 2011 with the Royals and he helped KC win the series in the clincher on May 12 with a two-hit night. Both his hits went for extra bases, including an RBI double (before getting picked off second) and a home run off Ivan Nova in a 11-5 Royals win.
OF: Curtis Granderson
Why does Granderson make the team? Granderson is the one player on this list with experience playing vs. the Yankees both before and after coming to the Bronx. He had four HR and 15 extra-base hits vs. the Yankees during his Tigers days (not including the '06 playoffs). He's 12 for 46 with four home runs and eight walks since joining the Mets.
Signature game: In his second game vs. the Yankees since moving crosstown, Granderson came through big time. He went 2 for 3 with two walks, a home run, three RBI and two runs scored. This game (May 13, 2014) was highlighted by both Vidal Nuno and Zack Wheeler exiting early and Daisuke Matsuzaka outdueling Alfredo Aceves in the battle of the bullpens. 2014 was a weird time.
P.S. If I was willing to include pre-Yankee days, this is the obvious winner.
OF: Austin Jackson
Why does Jackson make the team? Capping off the list is a player who never actually played for the Yankees. Jackson was a top prospect but was traded for the man above him on this team, never giving him a chance to don the pinstripes. In 158 plate appearances over 37 games against his ex-organization, he has a respectable .289/.361/.444 batting line with nine doubles, two triples and three home runs. Not to mention five stolen bases. In classic Jackson fashion though, he does have 48 strikeouts.
Signature game: Flash back to mid-August 2013, when Jackson was center fielder for the AL Central-winning Tigers. He led off an Aug. 10 game vs. Phil Hughes with a triple and scored, then later hit a solo dinger in the top of the fifth, helping knock Hughes out of the game. The Tigers would go on to win 9-3 after Jackson drew a walk and scored later in the game.
—
Disagree with a player making the team? Have someone else in mind? Or suggestions about current pitchers who have made good on their sweet sweet revenge against the Yankees? Let me know. The All-Revenge team can change series to series with one or two standout performances or with a trade. But for now, this is the lineup that prevails.