A second half series between these two clubs is supposed to be important, it's supposed to have major ramification on both the AL East and wildcard races. Instead, this one is just another series because Tampa has fallen out of it. This will be the third time the Yankees and Rays will play each other in a little less than a month, and right now New York leads the season series 5-4.
What Have The Rays Done Lately?
Tampa just swept a four game series against the Royals at home, and they're 7-2 in their last nine games. Despite that, they're just 12-13 since the All-Star break, and have fallen 9.5 games back in the AL East and 8.5 back of the wildcard. The Yankees need to win games for the sake of winning games, but there's not much significance in specifically beating the Rays right now.
Rays On Offense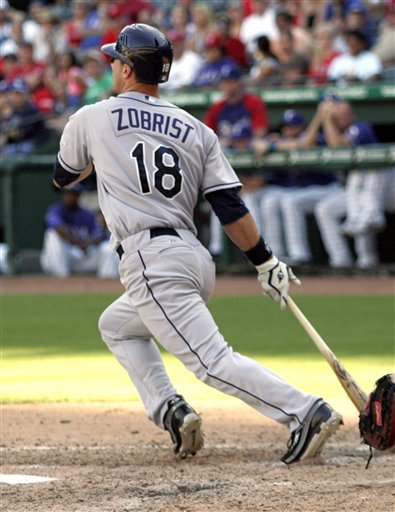 With a .315 wOBA and a .153 ISO, the Rays have close to a perfectly average offense this season. The three centerpieces of their attack are Ben Zobrist (.279/.371/.498), Evan Longoria (.231/.329/.450), and (surprisingly enough) Casey Kotchman (.337/.398/.471), but they recently made a significant addition to the lineup: leadoff man Desmond Jennings. The hot shot prospect was called up about three weeks ago and has hit .333/.422/.597 with eight steals in 11 attempts in 19 games. He's not really a .442 wOBA hitter, but he is quite good and a lot better than the dreck they were running out there in left field earlier this season.
As for the supporting cast, you have Johnny Damon (.262/.317/.387), B.J. Upton (.227/.309/.394), and Matt Joyce (.283/.345/.501, and he's come back to life a bit of late). Robinson Chirinos (.250/.321/.354 in limited time) does the majority of the catching these days, though Kelly Shoppach will start against southpaws (.230/.337/.345 vs. LHP). Sean Rodriguez is a lefty masher (.274/.384/.505) and has been getting some regular playing time at shortstop (even against righties) because Reid Brignac (.193/.234/.219) and Elliot Johnson (.179/.242/.314) are terrible. Too bad Rodriguez isn't much of a hitter against non-lefties (.175/.250/.263 vs. RHP). And then there's Sam Fuld with his legendary .244/.309/.371 batting line, though I should note that he's hitting .275/.362/.451 over the last month or so.
Rays On The Mound
Friday, LHP David Price (vs. CC Sabathia): The Yankees have seen Price three times this year, and he's thrown one great game (7.1 IP, 2 R), one decent at best game (5 IP, 4 R), and one poor game (5 IP, 5 R). That's actually in reverse chronological order, so he's improved against New York each time out. Everyone knows Price's shtick by now, he lives off his mid-90's heat and will also throw a curveball, changeup, and occasional slider. His strikeout (8.68 K/9) and walk (2.14 BB/9) numbers are better than last season, but his homer rate (1.01 HR/9) is considerably worse. Price hasn't been pitching all that well of late, with a 5.14 ERA in seven starts.
Saturday, RHP Jeremy Hellickson (vs. Phil Hughes): It took longer than expected, but the Yankees finally got their first crack at Hellickson the last time these clubs played, and he held them to two runs in seven innings. Remember he was supposed to start in the Bronx right before the All-Star break, but the game got rained out and Tampa skipped him. Hellickson is more of a command guy that a pure stuff guy, throwing his two and four-seamers right at 90 mph. His low-80's changeup is his out pitch, and he'll also mix in the occasional curveball. With strikeout (5.95 K/9) and ground ball (33.2%) rates that are less than stellar, Hellickson seems like a guy Yankee Stadium could eat alive. Tomorrow will be his first ever start there.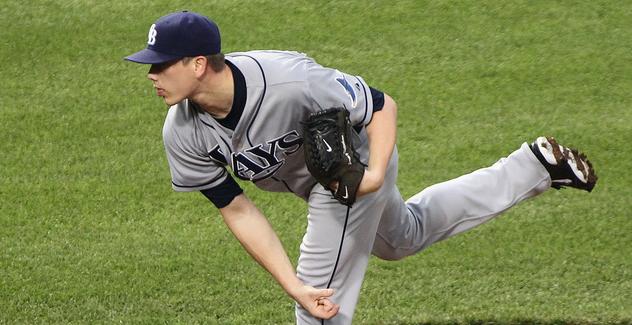 Sunday, RHP Jamie Shields (vs. Freddy Garcia): Another guy the Yankees have seen three times this year, Shields has shut New York down the last two times he faced them (8 IP, 1 R and 7.2 IP, 1 R), though his first start against them was merely pretty good (7 IP, 4 R). He'll live off that world class changeup, setting it up with a low-90's heater, a cutter, and a curveball that he continues to use more than ever. Shields has allowed no more than one run in four of his last six starts (two complete games), but in the other two he's allowed six and ten runs. I'd count on the good version showing up this weekend.
Bullpen: Despite the continued success of Kyle freaking Farnsworth (2.56 FIP), Tampa actually has a bottom nine bullpen in MLB in terms of ERA (3.88), FIP (4.19), and xFIP (4.48). Joel Peralta (3.79 FIP) and Juan Cruz (3.57 FIP) have been fine in setup work, and Brandon Gomes (3.44 FIP) is starting to play a more prominent role. After those four you have three lefties are varying effectiveness. J.P. Howell has been terrible this season (5.60 FIP), which isn't all that surprising since the guy missed a year and a half with major shoulder surgery. He does have value against same-side batters though (.217/.280/.283 vs. LHB). Cesar Ramos (4.98 FIP with no platoon split) has been sketchy, and hard-throwing Jake McGee's dominant stretch after being recalled last month has came to an end about two weeks ago. He's got a 6.01 FIP on the season.
Recommended Rays Reading: DRays Bay. If you want to catch one or all of the games this weekend, here's some ticket info courtesy of RAB Tickets and TiqIQ.