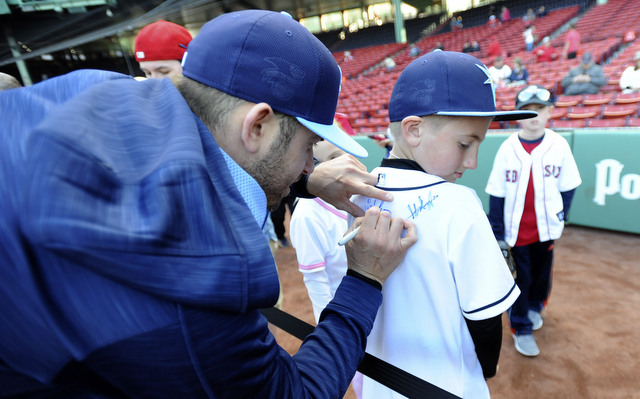 The Yankees wrap up this disaster of a homestand with three games against the Rays this weekend. Will runs be scored? Maybe! This is the first meeting of the season between the two AL East rivals.
What Have They Done Lately?
The Rays rallied from a 5-1 deficit to beat the Red Sox 12-8 yesterday. They've won four of their last five games overall, and they are 7-8 with a -5 run differential on the young season. Wee bit early to start worrying about records and run differentials though.
Offense & Defense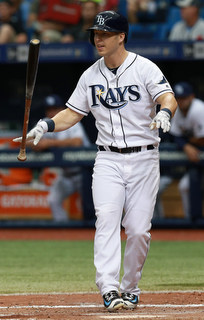 Does Tampa Bay ever have a good offense? They made a bunch of moves this offseason designed to generate runs, and the result is a team 92 wRC+ and an average of 3.47 runs per game. Last year they had a 100 wRC+ and scored 3.98 runs per game. Mission not accomplished. Still early though. Manager Kevin Cash's team is healthy on the position player side. No one on the DL or even day-to-day.
As always, the Rays' offense is built around 3B Evan Longoria (113 wRC+), who remains a force even though he is no longer the hitter he was early in his career. 2B Logan Forsythe (154 wRC+) has taken over as the leadoff hitter, and OF Corey Dickerson (149 wRC+), who came over from the Rockies in the Jake McGee trade, is the cleanup hitter. For some reason Cash has continued to bat 1B Logan Morrison (-57 wRC+) second ahead of Longoria. I do not understand.
OF Desmond Jennings (100 wRC+), OF Kevin Kiermaier (109 wRC+), and OF Steven Souza (134 wRC+) form the regular outfield from left to right. OF Brandon Guyer (223 wRC+) and 1B Steve Pearce (69 wRC+) will see platoon duty against lefties. SS Brad Miller (20 wRC+) is the regular shortstop and C Curt Casali (46 wRC+) and C Hank Conger (25 wRC+) have shared catching duties almost 50/50. IF Tim Beckham (-10 wRC+) joins Pearce, Guyer, and the other catcher on the bench.
The Rays sacrificed some defense in an effort to improve their offseason over the winter. Specifically, they replaced James Loney with Morrison/Pearce, Asdrubal Cabrera with Miller, and Rene Rivera with Conger. All three moves were defensive downgrades. Here is the team's projected runs saved visualization, via Sean Dolinar:
Kiermaier is the best defensive center fielder in baseball right now. Jennings is a center fielder playing left, and Longoria has always been good at the hot corner. Everyone else? Yuck. Miller is very error prone at short — he's Eduardo Nunez level there — and everyone else is range challenged.
I would be remiss if I didn't note Conger is the worst throwing catcher in baseball. He threw out one of 43 attempted base-stealers last year. One! That's a 97.7% success rate for the runners. Conger is 0-for-9 throwing out runners this year already. If he starts behind the plate this weekend, the Yankees have to run wild. Force the issue and make him throw you out.
Pitching Matchups
Friday (7pm ET): LHP CC Sabathia (vs. TB) vs. LHP Matt Moore (vs. NYY)
Last year the 26-year-old Moore went through the same thing as Ivan Nova: he came back from Tommy John surgery at midseason and struggled the rest of the way. He had a 5.43 ERA (4.82 FIP) with the worst strikeout (16.6%) and home run (1.29 HR/9) numbers of his career in 63 innings. So far this year Moore has looked outstanding, pitching to a 2.95 ERA (2.99 FIP) in 18.1 innings across three starts. He has great strikeout (28.4%) and walk (4.1%) numbers with career average grounder (43.8%) and homer (0.98 HR/9) rates. Moore, who has historically been better against lefties than righties, works with a four-seam fastball that averages 93 mph and tops out around 97 mph. A hard low-80s curve and a power mid-80s changeup are his two secondary pitches. Three starts is three starts, but I've watched all of 'em and Moore has looked crazy sharp this year.
Saturday (1pm ET): RHP Masahiro Tanaka (vs. TB) vs. TBA
I have no idea who the Rays are going to start tomorrow. At this time yesterday it was likely to be right-hander Erasmo Ramirez, but then the 25-year-old came out of the bullpen against the Red Sox and threw 21 pitches in 1.1 innings. He threw an inning in relief Tuesday night too. I mean, I suppose he could still start tomorrow, but I doubt it would be a full 100-pitch effort. Ramirez has a 1.29 ERA (2.67 FIP) in 14 innings so far, with 12 strikeouts, one walk, one homer, and a 50.0% ground ball rate. At his best he's a low walk/high ground ball guy who gets close to a league average number of strike threes. Thanks to a nasty low-80s changeup, Erasmo has had a reverse split throughout his career. He's better against lefties than righties. A low-90s sinker and mid-80s slider are his other two pitches. Ramirez can really frustrate hitters by changing speeds, and he has pretty good career numbers against the Yankees. If Ramirez doesn't start, my guess is righty Matt Andriese would come up from Triple-A.
Update: The Rays are calling up top pitching prospect Blake Snell to start Saturday, according to Marc Topkin. It will be the 23-year-old left-hander's big league debut. MLB.com ranked Snell as the No. 12 prospect in baseball prior to Spring Training. Here's a snippet of their free scouting report:
Snell sits at 92-94 mph with his fastball but can run it up to 96, and the pitch consistently plays up because of its exceptional late life. His slider is a second plus offering, thrown with sharp tilt that helps him miss plenty of bats, and his command of the pitch improved markedly in 2015. Snell's changeup is still a work in progress, but it shows plus potential because he throws it with fastball-like arm speed and can dip it out of the zone … Snell trimmed his walk rate considerably last season but still possesses below-average control.
Snell had a 1.41 ERA (2.71 FIP) with a 31.3% strikeout rate and a 10.2% walk rate in 134 innings at three minor league levels last year. So far this year he's allowed four runs on 15 hits and seven walks in 14.2 Triple-A innings. He's struck out 21. With Snell starting in place of Ramirez, the Yankees are now scheduled to see four straight left-handed starters, and five southpaws in their next six games.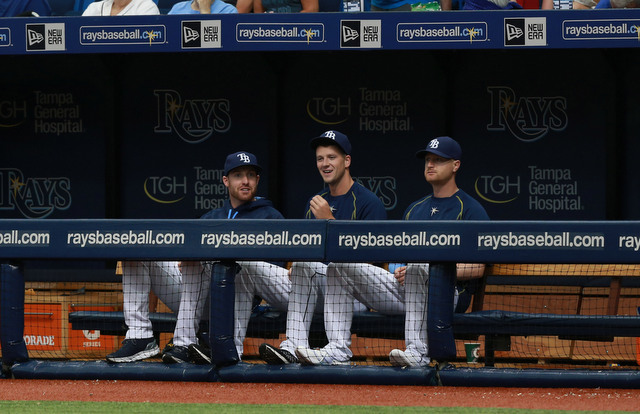 Sunday (1pm ET): RHP Michael Pineda (vs. TB) vs. LHP Drew Smyly (vs. NYY)
Do you think Rays fans say Smyly should've had the surgery the same way Yankees fans say Tanaka should've had the surgery? Smyly, 26, opted for rehab over surgery after being diagnosed with a tear in his labrum last year, and here is he with a 2.91 ERA (2.91 FIP) through three starts and 21.2 innings. His strikeout (34.2%) and walk (5.1%) rates are fantastic in the early going. The grounder (35.4%) and homer (1.25 HR/9) numbers … not so much. Like most lefties, he's better against left-handed batters than righties. His average velocity early this year (92.2 mph) is actually better than what it was last year (91.2 mph) before the labrum injury. Smyly also throws mid-80s cutters, low-80s changeups, and upper-70s curveballs.
Bullpen Status
The Rays and Red Sox played one of those wild back and forth games at Fenway Park yesterday, so the BoSox did the Yankees a solid and forced Cash to dip deep into this bullpen. He used six relievers to get five innings worth of outs. Here is the club's bullpen:
LHP Xavier Cedeno: 5 IP, 4 H, 1 R, 1 ER, 1 BB, 4 K, 0 HR (23 pitches Thurs., 0 Weds.)
RHP Alex Colome: 7.1 IP, 5 H, 1 R, 1 ER, 2 BB, 8 K, 0 HR (5 pitches Thurs., 0 Weds.)
LHP Dana Eveland: 4.1 IP, 6 H, 1 R, 1 ER, 2 BB, 4 K, 0 HR (10 pitches Thurs., 13 Weds.)
RHP Danny Farquhar: 5.1 IP, 7 H, 2 R, 2 ER, 2 BB, 5 K, 2 HR (12 pitches Thurs., 12 Weds.)
RHP Steve Geltz: 4.1 IP, 3 H, 3 R, 3 ER, 2 BB, 2 K, 2 HR (0 pitches Thurs., 20 Weds.)
LHP Enny Romero: 6 IP, 0 H, 1 R, 1 ER, 1 BB, 6 K, 0 HR (20 pitches Thurs., 0 Weds.)
RHP Ryan Webb: 4.1 IP, 5 H, 3 R, 3 ER, 1 BB, 3 K, 1 HR (0 pitches Thurs., 16 Weds.)
The Rays traded McGee over the winter and RHP Brad Boxberger is on the DL after having core muscle surgery in Spring Training, so Colome is filling in at closer right now. Cedeno is Cash's go-to left-on-left matchup guy, and Farquhar is the primary setup man. Geltz has yucky numbers but will get high-leverage innings.
Dellin Betances and Andrew Miller have had the last two nights off, and I'm guessing if the Yankees are even remotely close to a win tonight, Joe Girardi will lean on them heavily. We might see Dellin for five outs. The rest of the bullpen is kinda taxed, though Nova is available to go long if necessary. Our Bullpen Workload page has the details.