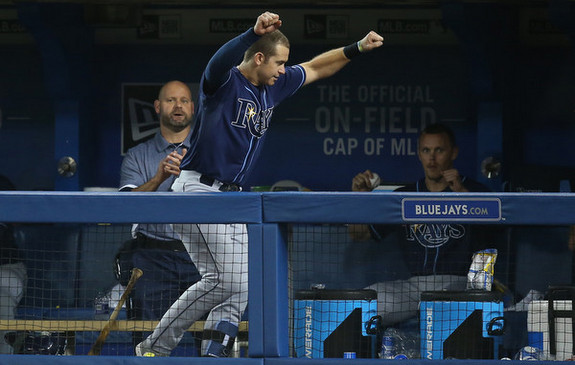 For the first time this season, the Yankees will play another club for the second time. They swept three games from the Rays at Tropicana Field last week and now Tampa Bay is coming to the Bronx for a three-game set starting tonight. The Yankees lucked out again and will miss Chris Archer. He started yesterday and has a 0.84 ERA (2.29 FIP) in five starts this year. Archer hasn't allowed an earned run since Opening Day.
What Have The Rays Done Lately?
The Rays are coming into this series riding a five-game winning streak — they took the last two games of their series with the Red Sox last week and swept the Blue Jays this weekend, all at home. They outscored Toronto and Boston 30-12 in the five games. Tampa Bay is 11-8 overall with a +5 run differential. They're tied with the Yankees atop the AL East, though New York has the better run differential (+21).
Offense & Defense
So far this season rookie manager Kevin Cash's offense is averaging 4.26 runs per game with a team 113 wRC+. The MLB averages this year are 4.16 runs per game and, well, a 100 wRC+. The Rays are slightly healthier than the last time these two teams played, but they're still without IF Nick Franklin (oblique), C/DH John Jaso (wrist), and 2B Ryan Brett (shoulder).
Obviously 3B Evan Longoria (152 wRC+) is the star of the show in the middle of Tampa Bay's lineup. He's been getting a lot of help from 2B Logan Forsythe (135 wRC+), OF Kevin Kiermaier (146 wRC+), and OF Steven Souza (141 wRC+) in the early going. 1B James Loney (217 wRC+ in very limited time), who was injured the last time these two teams played, is a Grade-A Yankees killer. He's hit .351/.397/.511 in 45 career games against the Bombers and .282/.337/.412 against everyone else.
Among those doing solid work in platoon roles are IF Tim Beckham (162 wRC+), OF Brandon Guyer (135 wRC+), and OF David DeJesus (172 wRC+). Beckham has 37.5 K% and a .435 BABIP. Something has to give. SS Asdrubal Cabrera (52 wRC+) has been a drain on the offense so far, as have OF Desmond Jennings (65 wRC+) and C Rene Rivera (23 wRC+). C Bobby Wilson and IF Jake Elmore round out the bench.
Defensively, the Rays are at their best in the outfield thanks mostly to Jennings and Kiermaier. Souza is a quality defender as well but he's not at the same level as the other two. Longoria and Loney are excellent on the infield corners but Asdrubal and the Forsythe/Beckham tandem on the middle infield are really shaky. Not Mets caliber shaky, but shaky. Rivera is a top of the line pitch-framer and about average at everything else behind the dish. Tampa is a very good defensive club despite the eyesore on the middle infield.
Pitching Matchups
Monday: RHP Adam Warren (Career vs. TB) vs. RHP Nate Karns (Career vs. NYY)
The Yankees got a look at the 27-year-old Karns last week, when he held them to two runs on two hits in five innings. He struck out seven and walked four. Karns has a 5.32 ERA (6.14 FIP) in four starts and 23.2 innings this year with mediocre strikeout (19.8%) and walk (13.9%) rates and an awful homer rate (1.90 HR/9). He does get grounders though (48.4%), so when teams square him up, they hit it a long way. Righties (.350 wOBA) have hit him harder than lefties (.314 wOBA) in the early going. Karns uses low-to-mid-90s four-seamers to set up his big breaking low-80s curveball, the pitch that is the reason he is in the big leagues. He also throws a mid-80s changeup.
Tuesday: RHP Chase Whitley (Career vs. TB) vs. RHP Jake Odorizzi (Career vs. NYY)
Odorizzi, 25, may have improved his long-term outlook more than any other pitcher over the last 18 months or so. He has a 1.65 ERA (2.43 FIP) in 27.1 innings across four starts in 2015 with good peripherals — 21.6 K%, 7.8 BB%, 42.3 GB%, no homers allowed — and no platoon split. Odorizzi improved his stock by learning a filthy mid-80s splitter from teammate Alex Cobb. It gave him the swing-and-miss pitch he needed to be anything more than a back-end starter. He also throws low-90s four-seamers, mid-80s cutters, and a few slow upper-60s curveballs. It's almost like an eephus pitch. The Yankees saw Odorizzi last weekend and scored three runs in six innings. He did strike out nine though, including six with the splitter. Whitley is coming up to make the spot start for the Yankees tomorrow, in case you missed it yesterday.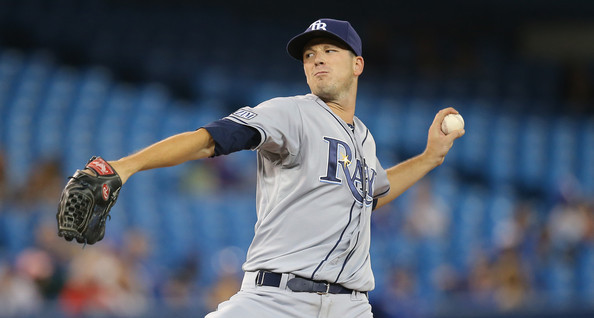 Wednesday: RHP Masahiro Tanaka (Career vs. TB) vs. LHP Drew Smyly (Career vs. NYY)
Smyly was one of the pieces of the David Price trade last summer and he was excellent after arriving in Tampa Bay, pitching to a 1.70 ERA (3.07 FIP) in seven starts and 47.2 innings down the stretch. The 25-year-old southpaw came down with shoulder tendinitis in Spring Training and returned to the rotation last week, holding the Blue Jays to two runs in 4.2 innings with five strikeouts and no walks. Smyly throws both two and four-seamer fastballs in the upper-80s/low-90s as well as a mid-80s cutter. An upper-70s curveball is his top offspeed pitch and he uses a low-80s changeup against righties. The Rays held Smyly to an 80-pitch limit in his first start last week and I'm sure he'll have some sort of cap Wednesday since he's just returning from a shoulder scare.
Bullpen Status
Archer gave the Rays seven innings yesterday and all their key relievers got the afternoon off, so Cash's bullpen is in good shape. RHP Matt Andriese (4.13 FIP) threw two innings as the only reliever used. RHP Brad Boxberger (1.01 FIP) is the relief ace — Cash has used him mostly as the closer but did bring him into a game in the seventh inning last week to face the heart of the Red Sox order in a big spot and put out a potentially big fire. RHP Kevin Jepsen (1.68 FIP) is the team's other high-leverage reliever.
RHP Ernesto Frieri (7.78 FIP), RHP Brandon Gomes (1.47 FIP), and RHP Steve Geltz (4.35 FIP) are Tampa Bay's middle innings righties. Frieri has allowed three homers in 8.2 innings this year and 25 homers in 119 innings since the start of 2013 (1.9 HR/9). He throws hard but man, when he makes a mistake, it gets hit a mile. LHP Everett Teaford was just called up and is the only southpaw in the bullpen. He has yet to appear in a game. Head over to our Bullpen Workload page for the status of the Yankees' bullpen them head over to DRays Bay and The Process Report for some great analysis of the Rays.