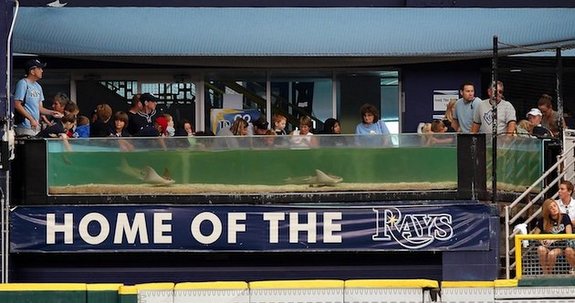 A few weeks ago, this series looked it would be a battle for postseason position. Instead it's a trade deadline seller against an almost non-contender. The AL East isn't what it once was, folks. The Yankees have lost seven of ten games to the Rays this season. They split four games at Tropicana Field back in April.
What Have They Done Lately?
The Rays just took three of four from the awful Texas Rangers and went 6-4 on their ten-game road trip overall. At 60-61 with a +21 run differential, Tampa is in fourth place in the AL East, two games behind the Yankees. The Bombers have to win at least one game this weekend to avoid falling into fourth place.
Offense
With an average of 3.99 runs per game and a team 104 wRC+, the Rays are both below-average and above-average offensively at the same time. They're getting hits, just not bunched together. Tampa is currently without OF Wil Myers (94 wRC+) and OF David DeJesus (134 wRC+), who are on the disabled list with wrist and shoulder injuries, respectively. Myers is on a rehab assignment but is not expected to rejoin the team this weekend. C Ryan Hanigan (88 wRC+) is also on the disabled list with an oblique problem and IF Desmond Jennings (106 wRC+) is day-to-day with a shoulder issue.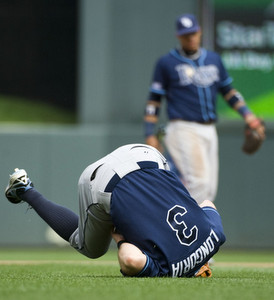 As usual, manager Joe Maddon's lineup is built around 3B Evan Longoria (103 wRC+), though he is having a very down year by his standards. His six-year, $100M extension doesn't kick in until 2017. They better hope this year is just a blip. OF Matt Joyce (130 wRC+) is having a strong year, ditto 2B/OF Ben Zobrist (128 wRC+). OF Kevin Kiermaier (130 wRC+) has been a pleasant surprise since coming up to replace Myers. 1B James Loney (105 wRC+) is having a typical James Loney year, which means not 2013.
C Jose Molina (31 wRC+) splits catching duty with C Curt Casali (41 wRC+ in limited time) now that Hanigan is on the disabled list. OF Brandon Guyer (111 wRC+) backs up in the outfield while UTIL Sean Rodriguez (111 wRC+) and UTIL Logan Forsythe (94 wRC+) play just about everywhere. Rodriguez destroys the Yankees, as I'm sure you know. SS Yunel Escobar (91 wRC+) is the everyday shortstop. Tampa Bay is carrying only three bench players at the moment.
Pitching Matchups
Friday: RHP Brandon McCarthy (vs. TB) vs. RHP Alex Cobb (vs. NYY)
With David Price traded away and Matt Moore out following Tommy John surgery, the 26-year-old Cobb is the team's de facto ace. He has a 3.41 ERA (3.43 FIP) in 18 starts and 108.1 innings this year while missing a few weeks with an oblique strain. His strikeout (8.47 K/9 and 22.5 K%), walk (2.66 BB/9 and 7.1 BB%), homer (0.75 HR/9 and 10.6 HR/FB%), and ground ball (57.5%) rates all range from very good to excellent. Thanks to his knockout mid-80s changeup, lefties (.266 wOBA) have actually had less success against Cobb (.315 wOBA) than righties. His two and four-seamers sit in the low-90s and he'll also throw a bunch of low-80s curveballs. The Yankees have not faced Cobb this year.
Saturday: RHP Shane Greene (No vs. TB) vs. LHP Drew Smyly (vs. NYY)
Smyly, 25, was part of the Price trade, arguably the centerpiece. He has a 3.73 ERA (3.84 FIP) in 118.1 innings across 20 starts and three relief appearances in 2014, though only his walk rate (2.74 BB/9 and 7.2 BB%) stands out. His strikeout (7.91 K/9 and 20.9 K%), homerun (1.06 HR/9 and 9.6 HR/FB%), and ground ball (37.0%) numbers are nothing to write home about. Righties (.376 wOBA) have hit him a ton harder than lefties (.208 wOBA). Smyly has one of the biggest platoon splits in the game. He operates with a mid-80s slider and three fastballs: low-90s four-seamers, upper-80s two-seamers, and mid-80s cutters. He'll also throw a handful of low-80s changeups per start. Smyly has not faced the Yankees this year and he went three runs in 5.1 innings and 7.2 shutout innings in his first two starts with the Rays.
Sunday: RHP Hiroki Kuroda (vs. TB) vs. RHP Jeremy Hellickson (vs. NYY)
Elbow surgery kept the 27-year-old Hellickson on the shelf until early last month, so he's only made five starts and thrown 26.2 innings this year. His walk rate (2.03 BB/9 and 5.5 BB%) is low, as are his strikeout (6.75 K/9 and 18.4 K%) and ground ball (30.5%) rates. Aside from 2013, Hellickson has consistently outperformed his peripherals because he's adept at getting infield pop-ups and other weak contact. His homer rate (1.01 HR/9 and 7.3 HR/FB%) is about average and lefties (.274 wOBA) have had a tougher time against him than righties (.330 wOBA). Hellickson works with both a four-seam and two-seam fastball at right around 90 mph, and his go-to secondary pitch is an upper-70s changeup. He'll also throw some mid-70s curves per start. Hellickson has failed to complete five full innings of work in three of his five starts off elbow surgery.
Bullpen Status
RHP Grant Balfour (4.16 FIP) has struggled this year, so Maddon has been using a closer by committee for several weeks now. LHP Jake McGee (1.22 FIP) has been outstanding and gets the ball in the most important spots regardless of inning. Sometimes the seventh, sometimes the eighth, sometimes the ninth. RHP Joel Peralta (3.73 FIP) and RHP Brad Boxberger (2.66 FIP) also work the late innings.
The rest of the bullpen includes LHP Jeff Beliveau (3.92 FIP in limited time), RHP Brandon Gomes (5.34 FIP), RHP Kirby Yates (3.00 FIP), and LHP Cesar Ramos (4.25 FIP). McGee, Boxberger, and Beliveau all pitched yesterday. The Yankees had two of the last three days off, so their bullpen is generally well-rested. Dellin Betances might not be available tonight after his extended outing on Wednesday, but that's it. Check out our Bullpen Workload page for recent reliever usage, then check out The Process Report for everything you need to know about the Rays.