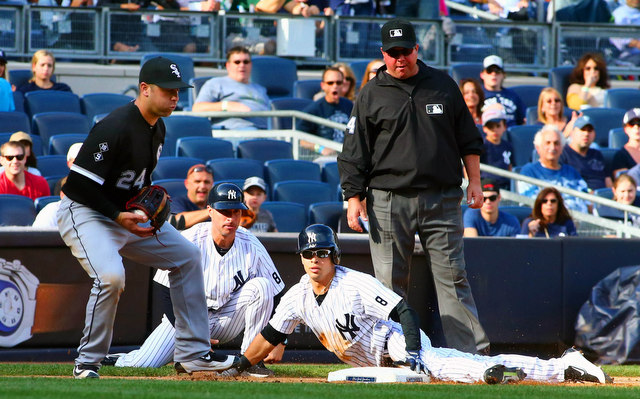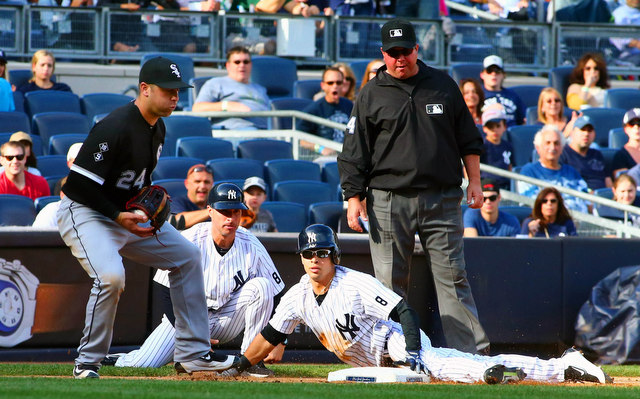 The big league roster portion of our 2015 Season Review series is winding down, and now it's time to wrap-up the position players with the extras. The up-and-down guys who saw brief time in the Bronx this year. Every team goes through a few of these players each season and the Yankees are no different. Here are the final few position players who saw action in pinstripes in 2015.
Cole Figueroa
Last offseason the Yankees inked Figueroa to a minor league contract because they needed some infield depth in Triple-A. They didn't have any obvious shortstop or third base options for the level, so Figueroa was brought in. He played a bunch in Spring Training — .269/.321/.308 in 23 Grapefruit League games — but never really had a chance to make the team, so off to Triple-A Scranton he went at the end of camp.
Figueroa, 28, started the season as the everyday third baseman for the RailRiders, and he had himself a nice little start to the season: .291/.357/.382 (118 wRC+) with two home runs in 68 games through June. He's not a power hitter, he's a contact guy — Figueroa had a 5.4% strikeout rate and an 8.6% walk rate in those 68 games — and he was holding up his end of the bargain.
In early July, when Chase Headley was dealing with a minor calf issue, the Yankees called up Figueroa because his left-handed bat and solid defense made him a capable stopgap. Figueroa started two games with New York, going 2-for-4 with two doubles on July 9th and 0-for-4 on July 10th. Those two doubles helped the Yankees take the lead then tack on some insurance runs in an eventual win over the Athletics.
The Yankees sent Figueroa back to Triple-A after those two games and he remained there the rest of the season, playing mostly shortstop. He was designated for assignment on September 1st to clear 40-man roster spot for other call-ups. Figueroa finished the year with a .292/.355/.359 (108 wRC+) batting line and more walks (8.7%) than strikeouts (5.3%) in 121 Triple-A games. He became a minor league free agent after the season. It wasn't much, but Figueroa did help the Yankees win a game in 2015.
Rico Noel
Noel, who spent the 2010-15 seasons in the Padres' farm system, asked San Diego for his release in June because he wanted to look for a better opportunity. According to Billy Witz, he approached the Yankees about a possible pinch-running role in September. The team agreed and signed him to a minor league deal even though it was the middle of the summer.
Noel, 26, spent a few weeks with Double-A Trenton and Triple-A Scranton, rarely starting. He was instead getting accustomed to his September role. The Yankees used Noel as a pinch-runner and spot starter in the minors — Noel was an everyday guy for most of his career and they wanted him to get used to sitting on the bench all game before coming in to pinch-run — before calling him up on September 1st.  He went 5-for-50 (.100) with 13 steals in 17 attempts in the minors.
Noel made his big league debut on September 2nd, but not as a pinch-runner, as a defensive replacement in right field. His lineup spot came up with a runner on third and two outs in the eighth inning of a hectic back and forth game at Fenway Park, and with Noel literally standing in the batter's box, Joe Girardi called him back to the dugout for a pinch-hitter. It worked, the run was driven in, but man, that's harsh. Noel was in the batter's box for his first MLB at-bat when he was lifted.
Over the next few weeks Rico was limited to pinch-running duty only. He pinch-ran 12 times in the final month of the season, going 5-for-7 in stolen base attempts and scoring five runs. Noel was successful in each of his first five attempts. He finally got his first big league at-bat on October 3rd, on the second to last day of the season. Rico beat out an infield single for his first career hit.
Noel batted again in Game 162, so he went 1-for-2 for the Yankees and stole five bases in a dozen pinch-running assignments. He was on the wildcard game roster but the team didn't generate much offense against Dallas Keuchel and the Astros, so Rico didn't get into the game. The Yankees dropped Noel from the 40-man roster after the season and he elected free agency. He remains unsigned.
Gregorio Petit
Thanks to a sudden rash of injuries, the Yankees were short a utility infielder at the end of Spring Training, so they made a cash trade with the Astros to get Petit on April 1st, five days before Opening Day. The 30-year-old Petit made the Opening Day roster and actually played. He started seven of the team's first 15 games (!) and pinch-hit three other times. April was weird.
Girardi used Petit as a platoon partner for Stephen Drew and he didn't hit (3-for-20 in those 15 games), which wasn't unexpected. Petit's a glove-first infielder who happened to hit right-handed. He did, however, come up with a rather big bases clearing double against David Price and the Tigers on April 22nd. Unexpected!
Petit was optioned to Triple-A Scranton on April 28th to make room for spot starter Chase Whitley, then he was called back the next day when Masahiro Tanaka landed on the DL. He hung around until early-May, when he himself was placed on the DL with a right hand contusion after being hit by a pitch. When Petit was activated almost six weeks later, the Yankees sent him to Triple-A.
Petit spent most of the rest of the season with the RailRiders but he did make another big league cameo in late-June and early-July. The Yankees eventually designated Petit for assignment on July 25th, clearing a 40-man roster spot for Nick Goody. Petit cleared waivers and accepted his outright assignment, then spent the rest of the summer with the RailRiders.
In 20 games with the Yankees, Petit went 7-for-42 (.167) with three doubles and 16 strikeouts while playing second and third bases. He also hit .230/.264/.322 (65 wRC+) in 46 Triple-A games. Petit became a minor league free agent after the season. Can't imagine many have gone from a non-roster invitee with the Astros to the Yankees' Opening Day roster in the span of five days like Petit.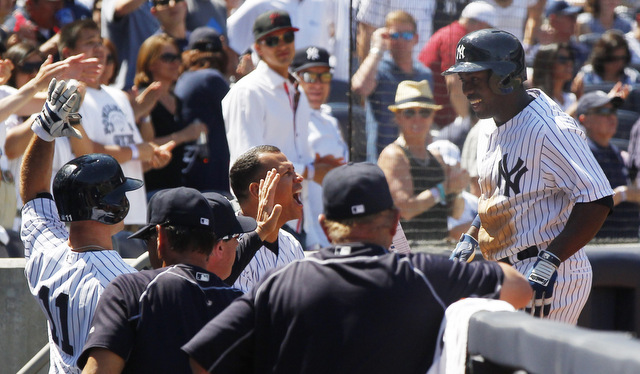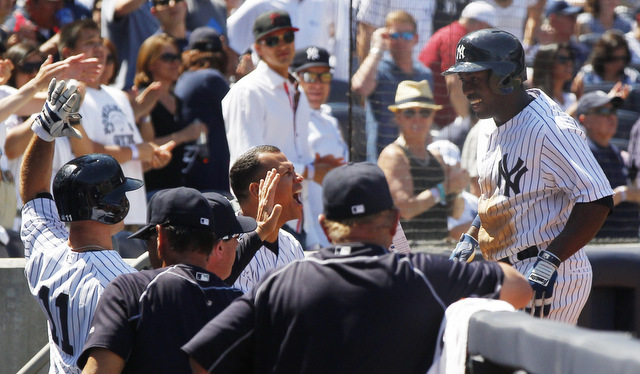 Jose Pirela
When Brendan Ryan went down with a calf injury in Spring Training, it opened the door for the 26-year-old Pirela to make the Opening Day roster. He had a monster camp — .370/.433/.630 in 15 Grapefruit League games — before crashing into the center field wall and hitting his head on the warning track near the end of spring.
Pirela suffered a concussion and missed the first six weeks of the regular season. His injury plus Ryan's injury led to the Petit pickup. Pirela, an infielder by trade, had plenty of outfield experience in the minors and winter ball, he just got turned around and landed hard. Sucks.
Once he returned to the team, Pirela more or less replaced Petit as Drew's platoon partner, and he hit quite well in limited time. At least at first. He went 5-for-14 (.357) in his first four games before falling into a 6-for-29 (.207) slump. Pirela's not a great defender anywhere on the field, so if he's not hitting, he has no value to the Yankees. The team sent him to Triple-A in mid-June.
Pirela spent most of the rest of the summer in Triple-A, though he did get another chance in late-June/early-July, going 3-for-23 (.130) in eleven games. He was called up when rosters expanded in September and went 3-for-8 (.375) down the stretch. He was the pinch-hitter who replaced Noel in what would have been Rico's first at-bat. On October 4th, Pirela grounded out to second base against Zach Britton for the final out of the 2015 regular season.
All told, Pirela hit .230/.247/.311 (47 wRC+) with one homer in 37 games and 78 plate appearances for the Yankees this summer. That includes a .302/.333/.419 (106 wRC+) batting line in 45 plate appearances against southpaws. Pirela played second base and the two corner outfield spots for New York, and also hit .325/.390/.433 (142 wRC+) in 60 Triple-A games.
The Yankees traded Pirela to the Padres for minor league righty Ronald Herrera early last month. Brian Cashman admitted the move was made to clear 40-man roster space. Rather than designate Pirela for assignment and potentially lose him for nothing, they flipped him for a non-40-man roster pitching prospect. If nothing else, the Pirela trade shows the Yankees are pretty confident in Rob Refsnyder as the primary right-handed hitting second base option.
* * *
Special shout-out goes to outfielder Taylor Dugas, who was called up to the big leagues for two days this summer but didn't actually play. Carlos Beltran was nursing an oblique strain, and the Yankees didn't want to place him on the 15-day DL just yet, but they couldn't recall Ramon Flores because he'd just been sent down and the ten-day rule was still in effect. Dugas, who hit .235/.336/.279 (84 wRC+) in 82 minor league games in 2015, got the call instead.
The 25-year-old Dugas was added to the 40-man roster and called up on July 1st, optioned down on July 3rd, designated for assignment July 9th, and outrighted to Double-A Trenton on July 12nd. Sounds crummy, but two days in the bigs is a huge deal for a organizational player like Dugas. He got two days of big league pay (roughly $5,600!) and now has access to a great health care program for himself and his family for life. No, Dugas didn't get to play, but those two days changed his life for the better.