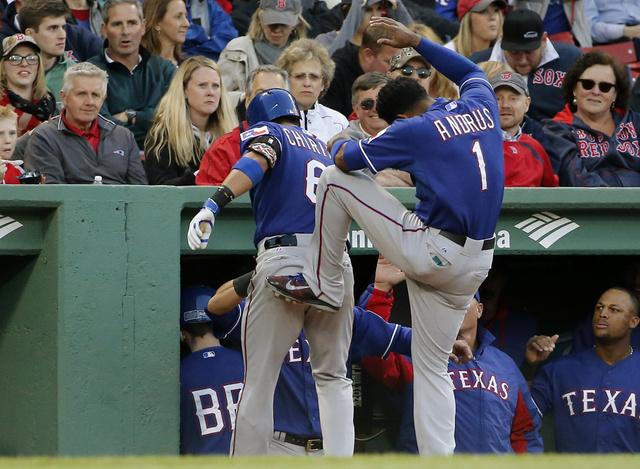 The Yankees are finally back home. The last month felt like one big road trip. I guess that happens when you play at home four times in the span of 19 games. (The Yankees went 9-10 in those 19 games, by the way.) The Rangers are in the Bronx this weekend for a three-game series.
What Have The Rangers Done Lately?
The Rangers just wrapped up a three-game series in Fenway Park, where they took two of three from the Red Sox. They've won just four of their last nine games overall though. Texas is currently 18-23 with a -18 run differential, which has them sitting a distant fourth in the Astros-dominated AL West.
Offense & Defense
With a team 90 wRC+ and an average of 4.05 runs per game, the Rangers have a below league average offense. They're a little banged up too, with IF Jurickson Profar and OF Ryan Rua down with long-term injuries. Profar's going to miss the entire season due to shoulder surgery after missing all of last season trying to rehab the injury. Brutal. OF Josh Hamilton is drawing closer to a return but is not expected to be activated for this series. Maybe next series.
Rookie skipper Jeff Banister's lineup is anchored by his corner infielders — 1B Prince Fielder (151 wRC+) and 3B Adrian Beltre (89 wRC+) — who are off to opposite starts. Fielder is mashing after missing most of last season following neck surgery and Beltre really hasn't gotten going yet. 1B/DH Mitch Moreland (124 wRC+) has been productive despite missing time with an elbow issue, and OF Shin-Soo Choo (110 wRC+) has been great in May (162 wRC+) after a dreadful April (28 wRC+).
SS Elvis Andrus (58 wRC+) has been terrible, even worse than the last two years, and others like OF Leonys Martin (45 wRC+) and IF Adam Rosales (13 wRC+) haven't been good either. C Robinson Chirinos (99 wRC+) has taken over as the every day catcher and Rule 5 Draft pick Delino DeShields Jr. (118 wRC+) has been good in limited playing time. C Carlos Corporan (67 wRC+), 1B Kyle Blanks (149 wRC+), and IF Tommy Fields (104 wRC+) round out the bench and have played sparingly.
Defensively, the Rangers aren't all that good. Martin is great in center field and Beltre is still very good at third, though no longer the best at the position like he was in his prime. Andrus has a reputation for being a great defender but he's slowed down the last two or three years and is closer to average now. Fielder and Choo are a nightmare in the field and DeShields is a recently converted infielder who is rough around the edges. Chirinos is really good behind the plate. Pretty shaky aside from Martin, Beltre, and Chirinos.
Pitching Matchups
Friday: RHP Michael Pineda (Career vs. TEX) vs. RHP Colby Lewis (Career vs. NYY)
After dealing with a bunch of arm injuries from 2012-14, the 35-year-old Lewis has finally gotten back on track this season, pitching to a 3.06 ERA (3.16 FIP) in eight starts and 50 innings. He's enjoying some home run luck — 0.54 HR/9 thanks to an ultra-low 4.4 HR/FB% (career 10.9%) despite a 36.6 GB% — so his ERA could climb as the weather heats up, especially in Texas. Lewis' strikeout (20.7%) and walk (7.1%) rates are about average, and lefties (.331 wOBA) have hit him a lot harder than righties (.219 wOBA), both this year and throughout his career. An upper-80s fastball is what Colby uses to set up his mid-80s changeup, low-80s slider, and mid-70s curveball. He uses the slider almost twice as often as the changeup and curveball combined, hence the platoon split.
Saturday: LHP CC Sabathia (Career vs. TEX) vs. RHP Nick Martinez (Career vs. NYY)
Martinez, 24, has a 1.88 ERA (3.67 FIP) in eight starts and 48 innings this season, but it seems like that is an unsustainable pace. First of all, he doesn't strike anyone out (12.3%). Secondly, his home run rate is microscopic (0.19 HR/9 and 1.9 HR/FB%!) despite a middling ground ball rate (43.0%) and the 14th highest hard contact rate (33.5%) in baseball out of 111 qualified pitchers. Something's gotta give. Martinez's walk rate is okay (7.4%) and righties (.325 wOBA) have hit him harder than lefties (.258 wOBA), unlike his rookie season a year ago. That'll probably change once his .239 BABIP allowed to lefties corrects. Anyway, Martinez has five pitches, including upper-80s two and four-seamers, low-80s sliders and changeups, and mid-70s curves. The slider is his go-to secondary offering.
Sunday: LHP Chris Capuano (Career vs. TEX) vs. RHP Yovani Gallardo (Career vs. NYY)
The Rangers acquired Gallardo from the Brewers in the offseason and he's continued his trend of replacing strikeouts (K% from 2010-15: 24.9%, 23.9%, 23.7%, 18.6%, 17.9%, 15.5%) with ground balls (GB% from 2010-15: 43.0%, 46.6%, 47.7%, 49.2%, 50.8%, 52.4%) this season. The 29-year-old has a 4.26 ERA (4.47 FIP) in nine starts and 50.2 innings while giving out few walks (6.8%) and lots of homers (1.24 HR/9). Lefties (.345 wOBA) have better numbers again him than righties (.308 wOBA), which has been true pretty much his entire career. Gallardo uses his two and four-seamers equally and both sit in the 90-92 mph range. A hard upper-80s slider — it's almost like a cutter, but the break is bigger — is his main secondary pitch. He'll also mix in a few mid-70s curveballs and very rarely throws his mid-80s changeup.
Pitching Matchups
Banister is currently running a role free bullpen. Ex-closer RHP Neftali Feliz (4.43 FIP) blew some saves a few weeks ago and lost the job, but rather than promote someone else to the ninth inning, they're basically going bullpen by committee. RHP Shawn Tolleson (2.40 FIP) got the save the last two nights, with ex-Yankee RHP Ross Ohlendorf (1.12 FIP in very limited time) and his old-timey windup setting him up one night and RHP Keone Kela (2.92 FIP) the other.
The rest of the bullpen includes RHP Anthony Bass (4.10 FIP), who had been working as the long man earlier this season, and southpaws LHP Sam Freeman (7.79 FIP) and LHP Alex Claudio (7.49 FIP). They're the matchup guys. RHP Tanner Scheppers (4.49 FIP) rounds out the eight-man staff. Tolleson has pitched the last two nights and four times in the last six days. No one else in the 'pen has been worked particularly hard recently. The Yankees were off yesterday, so their bullpen is in good shape. Check out our Bullpen Workload page anyway. Then check out Lone Star Ball for updates on the Rangers.