It's gut-check time. The Yankees have spent the last few weeks beating up on the likes of the Twins, Angels, Rays, and Athletics. Now they have to prove their mettle against arguably the best team in the AL and inarguably one of the best in all of baseball. The Rangers are in town for a four-game series. The Yankees want people to believe they can contend? Then go out, put up a fight, and win some games against Texas this week.
What Have They Done Lately?
The Rangers have been insanely hot of late. They took two of three from the Red Sox over the weekend and have won 22 of their last 28 games overall to push their record to 49-27, best in the AL by 3.5 games. The Giants are the only other team in baseball with as many as 49 wins. The Yankees and Rangers played three games in Arlington in late-April. The Rangers won two of the three.
Offense & Defense
Do the Rangers ever have a bad offense? They always seem to be really good at scoring runs. So far this year they've averaging 4.88 runs per game with a team 95 wRC+. (The runs per game/wRC+ disconnect always intrigues me.) Manager Jeff Banister has two injured position players: OF Josh Hamilton, who won't play at all this season due to knee problems, and OF Drew Stubbs. Stubbs is out with a toe injury and it doesn't look like he'll be back this series.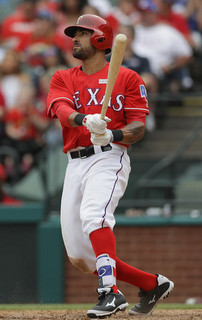 Banister puts his four best hitters right at the top of the lineup. RF Shin-Soo Choo (136 wRC+) leads off, CF Ian Desmond (135 wRC+) bats second, rookie LF Nomar Mazara (101 wRC+) bats third, and future Hall of Famer 3B Adrian Beltre (101 wRC+) cleans up. Choo has a .418 OBP in the leadoff spot and Desmond has been off-the-charts the last two months. He has a 159 wRC+ in his last 57 games. Crazy. DH Prince Fielder (60 wRC+) has been awful, but he stays in the lineup because the Rangers owe him more than $80M through 2020. Egads.
SS Elvis Andrus (94 wRC+) is having his best offensive season in a few years and 2B Rougned Odor (97 wRC+) has been just okay to date. IF Jurickson Profar (134 wRC+) has been something of super utility guy getting regular at-bats all over the infield. 1B Mitch Moreland (84 wRC+) and OF Ryan Rua (123 wRC+) are platoon options. Texas is carrying three catchers: C Robinson Chirinos (105 wRC+), C Bryan Holaday (77 wRC+), and C Bobby Wilson (77 wRC+). Three catchers is a hell of a thing.
The Rangers are a very good defensive team with two major sore spots: right field and first base. Choo is not a good defender — he does throw very well, but his range stinks — and regardless of whether Fielder or Moreland (or Profar) is at first, they're a liability. (Profar lacks experience.) Beltre, Mazara, Odor, and Andrus are all above-average glovemen. So is Desmond in center field, believe it or not. He's never going to play the infield again. The transition to the outfield has worked so, so well.
Pitching Probables
Monday (7:05pm ET): RHP Ivan Nova (vs. TEX) vs. RHP Chi Chi Gonzalez (vs. NYY)
The Rangers are currently without Yu Darvish (shoulder), Derek Holland (shoulder), and Colby Lewis (lat), so they've had to dip deep into their pitching depth. Gonzalez, 24, is coming up from Triple-A to make the start in place of Lewis tonight. He threw 67 innings for the Rangers last summer and was serviceable (3.90 ERA and 4.97 FIP). So far in Triple-A this year Gonzalez has a 5.04 ERA (3.91 FIP) in 14 starts and 80.1 innings. He wasn't missing bats (15.9%) or limiting walks (7.4%), but Chi Chi did limit homers (0.34 HR/9) and keep the ball on the ground (58.0%). Gonzalez is a classic sinker/slider pitcher. He sits 91-94 mph with the sinker and in the upper-80s with his slider, so he throws it hard. A mid-80s changeup is his third pitch. Every once in a while he'll flip a low-80s curveball to keep hitters guessing.
Tuesday (7:05pm ET): LHP CC Sabathia (vs. TEX) vs. LHP Cole Hamels (vs. NYY)
The 32-year-old Hamels is in his first full season with the Rangers, and in 15 starts he's given the team 96.2 innings of 2.79 ERA (4.58 FIP) ball. His strikeout (23.5%) and grounder (50.8%) numbers are very good, though he's been walk (9.1%) and homer (1.40 HR/9) prone, which is out of the ordinary. He's been quite a bit better against lefties than righties this year, though he's had a tiny platoon split throughout his career. Hamels is one of those ultra-rare veteran pitchers who has added velocity over the years. Check it out (via Brooks Baseball):
Every pitcher should be so lucky. Hamels backs up his low-to-mid-90s four-seamer and sinker with a world class mid-80s changeup. It's one of the best changeups in baseball and the reason he's been so good for so long. He throws it with the same arm speed as his heater, so by time it starts fading, the hitter's brain has already said "fastball!" and told his arms to start swinging. An upper-80s cutter and an upper-70s curveball are his fourth and fifth pitches. Hamels uses all five pitches regularly too. The Yankees didn't see him when they were in Texas earlier this season.
Wednesday (7:05pm ET): RHP Masahiro Tanaka (vs. TEX) vs. RHP Nick Martinez (vs. NYY)
Martinez, 25, is in the rotation because of all those injuries. He's made two starts and two relief appearances for the Rangers this year, allowing eight runs on 16 hits and seven walks in 13 innings. Martinez has struck out only five. He had a 4.50 ERA (3.97 FIP) in 64 Triple-A innings this year before getting called back up Texas. Martinez lives and dies with his low-90s sinker and mid-80s slider. He's going to throw some mid-80s changeups and upper-70s curveballs too, but the sinker and slider are his moneymakers. They're why he's in the show. Martinez was still in Triple-A when the Yankees and Rangers played in April.
Thursday (1:05pm ET): RHP Michael Pineda (vs. TEX) vs. RHP A.J. Griffin (vs. NYY)
After losing the 2014 and 2015 seasons to Tommy John surgery and shoulder issues, the now 28-year-old Griffin has a 3.08 ERA (3.55 FIP) in seven starts and 38 innings for Texas this season. He did miss a few weeks with more shoulder problems, however. Griffin has a strong strikeout rate (21.9%) and he's kept the ball in the yard (0.71 HR/9), but his walk (9.7%) and grounder (36.8%) numbers aren't all that good. Left-handed batters have had more success against him this season than righties. Griffin is averaging 88 mph with his four-seamer and 83 mph with his little cutter/slider hybrid. His changeup is in the low-80s and his hilariously slow curveball still sits in the mid-to-high-60s. That slow curve makes his heater play up quite a bit. The Yankees did see Griffin back in April, and he held them to one run in eight innings. I remember that game being the one when it really set in that this year's offense stinks.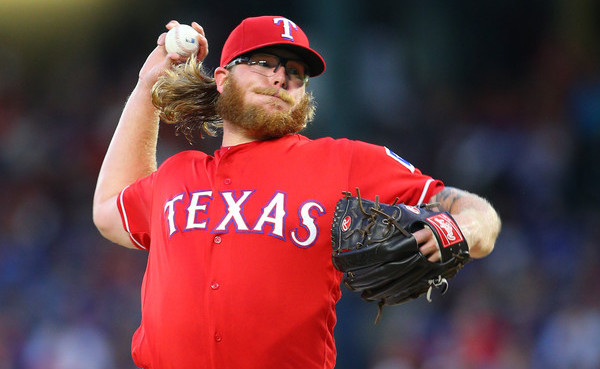 Bullpen Status
Despite their success, the Rangers have one of the least effective bullpens in baseball. They rank 28th in bullpen ERA (4.73) and 29th in bullpen FIP (4.67) among the 30 clubs so far this year. That's going to have to be fixed at some point. I happen to know a team with some spare relievers. Anyway, here is Banister's bullpen:
Closer: RHP Sam Dyson (1.93 ERA/2.81 FIP)
Setup: LHP Jake Diekman (2.83/3.38), RHP Matt Bush (2.29/2.83)
Middle: LHP Cesar Ramos (4.42/5.48), RHP Shawn Tolleson (6.84/5.61), RHP Tony Barnette (3.13/3.35)
Long: RHP Luke Jackson (7.27/7.52)
That's the same Matt Bush who was the first overall pick in the 2004 draft … as a shortstop. He had drug and alcohol problems in the minors and got into some big time legal trouble; Bush spent 51 months in prison following a DUI hit-and-run in Florida in which he hit and nearly killed a 72-year-old man on a motorcycle. Geez. Bush was released from prison a few months ago and the Rangers felt he is truly a changed man, so they signed him, and now he's one of their setup relievers.
Bush (22 pitches), Diekman (5 pitches), and Tolleson (15 pitches) all appeared in yesterday's game. Tolleson pitched Saturday as well, which figures to limit his availability tonight. Head over to our Bullpen Workload page for the status of Joe Girardi's bullpen.