The Yankees really need to get out of the Bronx for a little while. They just went 3-6 (3-6!) on a nine-game homestand and looked pretty bad doing it. I don't know if the change of scenery will help anything, but I can't imagine it'll hurt. The Yankees start a nine-game road trip with the first of three in Texas tonight.
What Have They Done Lately?
The Rangers, who snuck in and won the AL West in the final series of the season last year, are currently 10-9 with a +1 run differential in the early going. They were just swept by the White Sox in Chicago, so Rangers fans must be talking about the Rangers the same way Yankees fans are talking about the Yankees right now. They suck, they won't contend, etc.
Offense & Defense
It always seems like the Rangers have a good offense, doesn't it? They're currently tenth in baseball in runs per game (4.44) despite being 17th in wRC+ (91). Texas is pretty banged up at the moment. They're without their starting corner outfielders (Shin-Soo Choo, Josh Hamilton) and top two catchers (Robinson Chirinos, Chris Gimenez) due to injuries. None are expected back this weekend.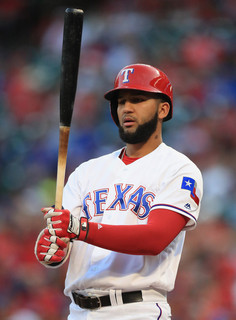 Manager Jeff Banister, who was named Manager of the Year as a rookie skipper last year, has a pretty set lineup. This isn't a team that uses many platoons or mixes up the batting order on a daily basis. The team's lineup generally looks like this:
CF Delino DeShields Jr. (98 wRC+)
RF Nomar Mazara (160 wRC+)
3B Adrian Beltre (143 wRC+)
DH Prince Fielder (37 wRC+)
LF Ian Desmond (73 wRC+)
1B Mitch Moreland (96 wRC+)
SS Elvis Andrus (123 wRC+)
2B Rougned Odor (81 wRC+)
C Bryan Holaday (40 wRC+)
Any changes day-to-day are usually subtle. Beltre and Fielder will be flip-flopped, or Desmond and Moreland will be flip-flopped, that sort of thing. UTIL Ryan Rua (43 wRC+) will see at-bats against lefties, usually in place of Moreland. IF Hanser Alberto (-35 wRC+) and C Brett Nicholas (75 wRC+) are the other bench players. The Rangers are currently carrying eight relievers and three bench players.
Defensively, the Rangers are a very interesting team. They have a 73.2 Defensive Efficiency Rating — that means they turn 73.2% of balls in play into outs — which is seventh best in baseball. Yet when you look at their runs saved visualization, it doesn't look like they should be that good. From Sean Dolinar:
There's a disconnect here. First of all, Choo is hurt and Mazara is playing right field, and that's a big upgrade defensively. Secondly, the Rangers are quite good at shifting, which helps them on the infield. I also think Odor is a bit better than the numbers based on the eye test. There's a lot of red on that infographic, but Texas seems to be better defensively than expected.
Pitching Matchups
Monday (8pm ET): RHP Nathan Eovaldi (vs. TEX) vs. LHP Cesar Ramos (vs. NYY)
The Yankees are catching a break tonight. Cole Hamels, who is perpetually overlooked as one of the game's great pitchers, was scheduled to start tonight's series opener, but he has been scratched with a minor groin injury. He won't start in the series at all. Ramos, the former Rays lefty, is coming up from Triple-A to make the spot start. The 31-year-old had a 3.18 ERA (3.55 FIP) in three Triple-A starts this year, though it's worth noting he did not throw more than 4.1 innings or 79 pitches in any of his three games. That means he'll throw six scoreless tonight, I'm sure. Out of the bullpen Ramos posted average strikeout, walk, and ground ball numbers all throughout his career, and he's historically fared a bit better against lefties than righties. Ramos sits in the low-90s with his four-seamer and sinker — he didn't throw any sinkers with the Angels last season for whatever reason — and backs them up with a mid-80s slider, mid-80s changeup, and low-70s curve. He's always had the stuff to start, but never really did get an extended opportunity in a big league rotation.
Tuesday (8pm ET): RHP Luis Severino (No vs. TEX) vs. RHP A.J. Griffin (vs. NYY)
Griffin, 28, is back in the big leagues after missing the entire 2014 and 2015 seasons due to Tommy John surgery and subsequent complications. He has a 3.18 ERA (4.60 FIP) in 17 innings across three starts this year, though his strikeout (16.7%), walk (11.1%), grounder (34.6%), and homer (1.06 HR/9) rates are all below-average. Lefties have hammered him early on too. Back in the day Griffin had an average strikeout rate with very low walk and grounder rates. After missing two years with arm problems, I'm not surprised his strikeout and walk numbers are out of whack early on. Through three starts this season Griffin is averaging 89 mph with his four-seamer and 85 mph with his cutter. His changeup is in the low-80s and his hilarious slow curveball still sits in the mid-to-high-60s. Look: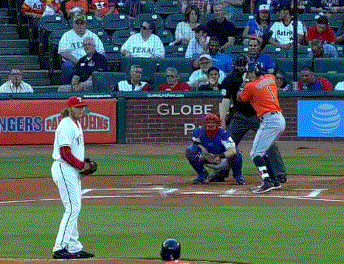 Griffin throws the slow curve regularly too, roughly 16% of the time both this year and historically. It's a different look, that's for sure.
Wednesday (8pm ET): LHP CC Sabathia (vs. TEX) vs. LHP Martin Perez (vs. NYY)
Like Ivan Nova and Matt Moore, the 25-year-old Perez returned from Tommy John surgery in the middle of last season. He pitched better than those two (4.46 ERA and 3.40 FIP) following the surgery, though this year has not gone well (4.50 ERA and 5.11 FIP). Perez has more walks (13.1%) than strikeouts (11.1%) through four starts and 24 innings, and that's always bad. His grounder (54.3%) and homer (0.75 HR/9) numbers are right in line with his career norms. Righties have hit him pretty well this year and throughout his career. Perez sits in the low-to-mid-90s range with his sinker, which he throws about twice as often as his straight four-seamer. A mid-80s slider and low-80s changeup are his go-to offspeed pitches. His overall numbers are not good this year, but Perez can be very tough to handle when his sinker is working.
Bullpen Status
The Rangers are currently without two of their better relievers right now. RHP Keone Kela just had surgery to remove a bone spur from his elbow, and RHP Tanner Scheppers is out long-term following knee surgery. Well, Kela is one of their better relievers. Scheppers is more big name than big production. Here is Banister's relief corps:
RHP Tony Barnette: 8.2 IP, 8 H, 4 R, 4 ER, 0 BB, 6 K, 1 HR
LHP Alex Claudio: 2.2 IP, 3 H, 0 R, 0 ER, 0 BB, 2 K, 0 HR
LHP Jake Diekman: 5.1 IP, 1 H, 2 R, 0 ER, 1 BB, 6 K, 1 HR
RHP Sam Dyson: 9 IP, 8 H, 3 R, 3 ER, 4 BB, 8 K, 1 HR
RHP Phil Klein: 5.1 IP, 2 H, 0 R, 0 ER, 0 BB, 7 K, 0 HR
RHP Nick Martinez: 0.1 IP, 1 H, 1 R, 1 ER, 2 BB, 0 K, 0 HR
RHP Shawn Tolleson: 7 IP, 10 H, 6 R, 6 ER, 1 BB, 5 K, 1 HR
RHP Tom Wilhelmsen: 6 IP, 13 H, 10 R, 10 ER, 5 BB, 1 K, 4 HR
One of those guys is going to be sent down for Ramos today. Claudio is the obvious choice because he threw 31 pitches yesterday — he was the only reliever used Sunday — but the Yankees are so susceptible to left-handed pitching that I wonder if the Rangers will keep him around for the second and third game of the series and send down Martinez instead. We'll see. (UPDATE: Martinez was send down for Ramos.)
Tolleson is the closer and don't be fooled by the numbers. He had one horrible meltdown (five runs, no outs on April 6th) but has been very good otherwise. Wilhelmsen has had two huge meltdowns and has been fine the rest of the time. Dyson and Diekman are Banister's go-to setup crew. Dyson has a crazy sinker (68.2% grounders) and Diekman is one of the hardest throwing lefties in baseball. He runs it up to 98-99 mph regularly.
Joe Girardi's bullpen is in good shape heading into the series, though neither Kirby Yates nor Nick Goody figure to be available tonight following their multi-inning outings yesterday. Our Bullpen Workload page has all you need to know about the Yankees' recent reliever usage.